Just A Thought

@ESPN_Burnside: One surprise early in the Olympic tournament has been the ability of the Finns to generate offense in spite of the absence of arguably their two top centers, Mikko Koivu and Valtteri Filppula, who were lost to injury before the NHL's Olympic break. The Finns have scored 14 times en route to a 2-0 record and an interesting showdown with also undefeated Canada on Sunday in each team's final preliminary-round game. How long can the Finns keep it up? It might get even tougher as super rookie Aleksander Barkov left Friday's 6-1 win over Norway with a lower-body injury. His status remains unknown for Sunday's game but suffice it to say it would be a huge blow to the plucky Finns.
---

@CraigCustance: There's no doubt Sweden's injury situation makes its pursuit of gold harder. The absence of Henrik Zetterberg, Henrik Sedin and Johan Franzen was apparent in a 1-0 win against Switzerland, especially on the power play, and that could be an issue down the line against more talented teams. But Henrik Lundqvist's 26-save performance against Switzerland is proof that the most important Henrik on the team is still healthy. The relentless Swiss gave Sweden a test and Lundqvist was ready for it. Even with their injuries, Sweden has one of the most dynamic and deep blue lines in the tournament and perhaps the best goalie in the world. That's enough to keep banged-up Sweden a contender for gold.
---

@Real_ESPNLeBrun: So you're Martin St. Louis and on Jan. 7 your heart was crushed when you weren't named to the Team Canada roster. So you go out and score a million goals afterward, all month long. Steven Stamkos withdraws and you get his spot. But you know you're not assured of playing and indeed barely make the opening-game lineup versus Norway as the 13th forward. But you play well in your limited opportunity, enough that you find yourself on Sidney Crosby's line for Game 2 against Austria. How you do not love this guy? Now, St. Louis didn't produce offensively on Crosby's line with Chris Kunitz, but I thought he was effective. "It was a great opportunity," said St. Louis of the top-line assignment. "Both guys are unbelievable players and play really well together. I try to add some speed to the line, not that they need more speed, but you need speed to keep up with those guys. I thought we generated some good offensive zone time and some chances but unfortunately they didn't go in, the chances I had."
---

@KatieStrangESPN: Though they managed to edge a spirited Swiss squad Friday, it was not a great day for the Swedes. Already without forwards Sedin and Franzen, they were hit with another huge injury when it was announced that Zetterberg will miss the remainder of the tournament with a herniated disc. The Swedes still have plenty of forward depth, talented defensemen and one of the world's best goaltenders in Lundqvist, but the task just got a lot tougher without their captain on the ice. And you can bet Team Canada's Mike Babcock, also coach of the Detroit Red Wings, was cringing at that announcement, too.
Picture This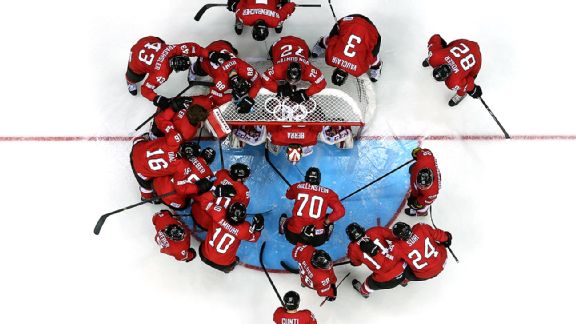 Martin Rose/Getty ImagesThe Swiss crease was anything but neutral ice as the team prepared for Sweden.
Top Performers
Henrik Lundqvist | Sweden
26 SV, 0 GA
vs SUI | Recap

Jeff Carter | Canada
3 G, +5, 5 SOG
vs AUT | Recap

Marek Zidlicky | Czech Republic
1 G, 1 A, 5 SOG
vs LAT | Recap

Standings
GROUP A
| Team | Record | Points |
| --- | --- | --- |
| United States | 1-0-0-0 | 3 |
| Russia | 1-0-0-0 | 3 |
| Slovenia | 0-0-0-1 | 0 |
| Slovakia | 0-0-0-1 | 0 |
GROUP B
| Team | Record | Points |
| --- | --- | --- |
| Finland | 2-0-0-0 | 6 |
| Canada | 2-0-0-0 | 6 |
| Austria | 0-0-0-2 | 0 |
| Norway | 0-0-0-2 | 0 |
GROUP C
| Team | Record | Points |
| --- | --- | --- |
| Sweden | 2-0-0-0 | 6 |
| Czech Republic | 1-0-0-1 | 3 |
| Switzerland | 1-0-0-1 | 3 |
| Latvia | 0-0-0-2 | 0 |
Record: Wins-OT Wins-OT Losses-Losses