Just A Thought
>

@ESPN_Burnside: John Tavares wasn't all that enthused about the refereeing in the Canadians' final preliminary round game.
"It wasn't easy [to get inside]. There was a lot of clutching and grabbing out there and the refs just seemed to put the whistles away. You just try to adjust to your game. We just tried to get some pucks to the net and adjust to the battle in front of the net and obviously try to get a dirty one," the New York Islanders captain said.
"You certainly hope when there are infractions, the calls are going to be made. We haven't had too many power plays. Not trying to use that as an excuse, but we want to play an up-tempo pace and make teams defend and part of that is going to be to draw penalties."
Here's the funny thing. Pretty sure it was Tavares who disrupted a Finnish attack in overtime by whacking the Finnish attacker on the wrists, causing him to lose the puck in the neutral zone. Moments later Drew Doughty scored the winner. No penalty was assessed on the Tavares slash. Just saying.
---

@CraigCustance: With injuries already piling up, Team Sweden flirted with disaster even more closely during Monday's practice. Erik Karlsson's collision with goalie Henrik Lundqvist could have completely wiped out Sweden's gold medal hopes, because aside from featuring one of the best goalies in the world depth in net isn't a strength for the Swedes. According to reports from Sweden's practice, Lundqvist is fine and players were able to laugh off the scary moment. It's worth monitoring, though, because Sweden's ability to play through injuries so far has been admirable but only goes so far. This injury is one that would have slammed the brakes on their hopes for gold.
---

@Real_ESPNLeBrun: He didn't face a lot of shots, but when Carey Price was tested I thought he looked terrific Sunday night in Canada's 2-1 overtime win over Finland. He looked calm and exuded confidence. He also swallowed up rebounds, which is so important as the games get tougher here to try to minimize second chances.
Price was on pins and needles Saturday until finally finding out he was the man the coaching staff had picked to start over Roberto Luongo.
"I got the news last night from Coach Babcock, I was obviously really excited," Price said.
It's most likely his job to lose now but he's trying not to look ahead.
"I wasn't focused on that train of thought, that mindset," Price said. "I was just focusing on what I've done all season and just get prepared to stop pucks. It worked out tonight."
Picture This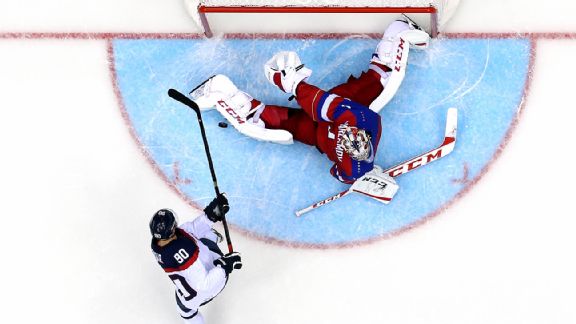 Bruce Bennett/Getty ImagesSlovakia's Tomas Tatar is stopped by Russia's Semyon Varlamov in the shootout.
Top Performers
Phil Kessel | USA
3 G, +3, 4 SOG
vs SLO | Recap

Drew Doughty | Canada
2 G, 4 SOG
vs FIN | Recap

Michael Grabner | Austria
2 G, 1 A, +2, 7 SOG
vs NOR | Recap

Semyon Varlamov | Russia
27 SV, 0 GA
vs SVK | Recap

Standings
• Seedings: Who plays who next? »
GROUP A
| Team | Record | Points |
| --- | --- | --- |
| United States | 2-1-0-0 | 8 |
| Russia | 1-1-1-0 | 6 |
| Slovenia | 1-0-0-2 | 3 |
| Slovakia | 0-0-1-2 | 1 |
GROUP B
| Team | Record | Points |
| --- | --- | --- |
| Canada | 2-1-0-0 | 8 |
| Finland | 2-0-1-0 | 7 |
| Austria | 1-0-0-2 | 3 |
| Norway | 0-0-0-3 | 0 |
GROUP C
| Team | Record | Points |
| --- | --- | --- |
| Sweden | 3-0-0-0 | 9 |
| Switzerland | 2-0-0-1 | 6 |
| Czech Republic | 1-0-0-2 | 3 |
| Latvia | 0-0-0-3 | 0 |
Record: Wins-OT Wins-OT Losses-Losses