Just A Thought

@ESPN_Burnside: It's difficult to get much out of U.S. netminder Jonathan Quick. He's just not a media guy. Very shy. But he was positively giddy when he found out late Tuesday afternoon that his L.A. Kings teammate Anze Kopitar and the rest of the Slovenian national team had advanced to the quarterfinals in their first Olympics by virtue of their 4-0 win over Austria on Tuesday.
"OK, that's awesome," Quick said. "I was very happy that he was able to come here and take part in it. I know he was excited to come out here and compete in this tournament. I knew what his expectations were coming out here, and to see them win a game in the first round and obviously win this game here, it's great. I can't be happier for him."
---

@CraigCustance: Russia's Alexander Radulov continues to be one of the most fascinating players of this Olympic tournament -- both good and bad. With a star like him, you almost have to plug your nose and accept things like bad penalties and inconsistent play because then he produces a game like he did on Tuesday. He had two goals and is part of a line with Pavel Datsyuk and Ilya Kovalchuk that is emerging as the most dangerous in this tournament. You can't help but imagine whether or not the Predators would be better with or without him still on their roster. He might drive his coach crazy, but you can't keep your eyes off him.
---

@Real_ESPNLeBrun: Russia didn't look particularly impressive in beating Norway on Tuesday, and it's going to take more if the host country hopes to live out its golden dreams. Norway's Patrick Thoresen had an interesting take on the host team after his team's 4-0 loss.
"To be honest, to beat Canada, to beat Sweden, Finland, they need to be more compact as a defensive unit," Thoresen said. "If they can come together defensively, I have confidence that they can go all the way. Until I see that, I'm not so sure, to be honest."
Russia's blue-line corps thins out in a hurry once you get past Andrei Markov and Slava Voynov. Will it come back to haunt them?
---

@KatieStrangESPN: Even without their lone NHLer Mats Zuccarello, who was sidelined with a hand injury, a plucky Norwegian squad gave host country Russia a scare Tuesday during the qualification round. The 4-0 score didn't necessarily reflect how close the game was, so credit Norway for making the right move to pull goaltender Lars Haugen with 2:20 left to play in regulation. Trailing by two goals, Norway went for the win instead of opting to preserve a "moral victory" by keeping the deficit close with one of the heavy favorites of the tournament. Russia earned a date with Finland in the quarterfinals Wednesday, but it took a hard-fought win to get there.
Picture This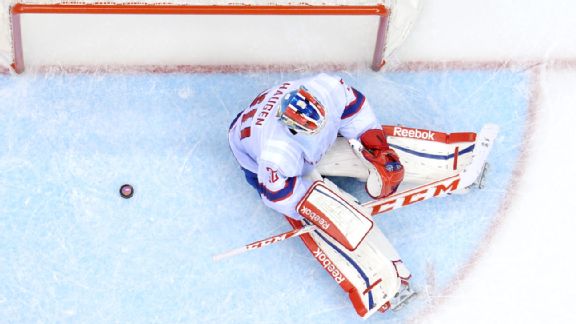 ALEXANDER NEMENOV/AFP/Getty ImagesLars Haugen and Norway have Russia a scare but couldn't get past the host country in the qualification round.
Quarterfinals
Wednesday's matchups:

• No. 1 Sweden vs. No. 8 Slovenia, 3 a.m. ET

• No. 2 USA vs. No. 7 Czech Republic, noon ET

• No. 3 Canada vs. No. 11 Lativa, noon ET

• No. 4 Finland vs. No. 5 Russia, 7:30 a.m. ET
Top Performers

Alexander Radulov | Russia
2 G, 1 A, +3, 3 SOG
vs NOR | Recap

Lauris Darzins | Latvia
2 G, -1, 3 SOG
vs SUI | Recap

Marian Hossa | Slovakia
2 G, +1, 4 SOG
vs CZE | Recap

Pavel Datsyuk | Russia
3 A, +3, 2 SOG
vs NOR | Recap

Robert Kristan | Slovenia
30 SV, 0 GA
vs AUT | Recap