Just A Thought
>

@ESPN_Burnside: Not a banner tournament for former NHL MVP and playoff MVP Evgeni Malkin who scored on his second shift in Russia's first game but didn't find the back of the net the rest of the way and finished with just three points. Pittsburgh teammate Jussi Jokinen approached Malkin after the Finns' 3-1 quarterfinal win Wednesday but there wasn't much communication.
"I tried to talk to him but you know ... he played well, he played a good tournament but at the moment like that he's not in the mood for talking, and like you said, he's been under pressure a lot," Jokinen said. "From my perspective, he didn't get too good of a chance to be successful here playing second power play unit and stuff like that. Like you said, there's lots of pressure for him. Hopefully he'll be extra motivated for us in Pittsburgh in the spring."
---

@CraigCustance: While fellow Russian stars like Alex Ovechkin, Malkin and Pavel Datsyuk get to return to the NHL and put Olympic disappointment behind them, Ilya Kovalchuk has to stay in Russia and deal with the aftermath. It's too bad -- for us. The tournament was a huge disappointment for the Russians, but it was a reminder of the world-class talent and passion for the sport Kovalchuk possesses. The NHL is worse off with him being left behind.
---

@KatieStrangESPN: It isn't entirely accurate to call the Finns "underdogs," after all they entered Wednesday's action as the higher seed. But their 3-1 victory against the host country sure felt like an upset, regardless. What is more impressive than the way the Finns frustrated and outworked the Russians was the way they were able to pull together despite a skew of potentially devastating injuries. Playing without both Mikko and Saku Koivu, Valtteri Filppula and Sasha Barkiv, the Finns bounced the home favorites to advance to the semifinals where they will face rival nation Sweden. Can't wait for that game.
Picture This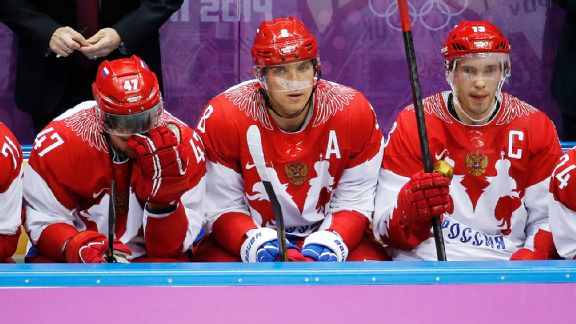 AP Photo/Mark HumphreyAfter years of anticipating playing for gold at home, the Russian team is eliminated in the quarters.
Semifinals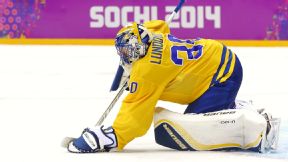 Martin Rose/Getty ImagesHenrik Lundqvist and Sweden quietly roll into the semifinals as the top seed.
Friday's matchups:
• No. 1 Sweden vs. No. 4 Finland, 7 a.m. ET

• No. 2 USA vs. No. 3 Canada, noon ET
Top Performers
Kristers Gudlevskis | Latvia
55 SV, 2 GA
vs CAN | Recap

David Backes | United States
1 G, 1 A, +1, 3 SOG
vs CZE | Recap

Carl Hagelin | Sweden
2 G, +2, 2 SOG
vs SLO | Recap

Tuukka Rask | Finland
37 SV, 1 GA
vs RUS | Recap

Henrik Lundqvist | Sweden
19 SV, 0 GA
vs SLO | Recap