Just A Thought
>

@ESPN_Burnside: New Buffalo Sabres GM Tim Murray couldn't have asked for a better start to the post-Olympic stretch as he prepares to sell off significant assets before the March 5 trade deadline. Goalie Ryan Miller was terrific in the Sabres' 3-2 win over Carolina on Tuesday and Matt Moulson scored his 16th on Wednesday night as the Sabres edged Boston 5-4 in overtime. Moulson, who was injured before the Olympic break, added an assist against the Canes and, like Miller, is expected to be wearing a different jersey before the week is out. We were watching captain Steve Ott, too, who was at one point seen spitting blood after taking an elbow from Carl Soderberg. Ott's name will also come up in connection with teams looking to add a dose of grit and skill for the stretch run.
---

@CraigCustance: During the Olympics it was hard not to watch Los Angeles Kings Drew Doughty, Jeff Carter and Anze Kopitar stand out amongst the best players in the world and wonder how it was possible the Kings couldn't score goals in the run-up to the Olympics. Kopitar had two goals in five games for Slovenia. Carter had three goals in six games for Canada and Doughty was one of the most dynamic defensemen in the tournament, finishing with four goals from the blue line. Perhaps that production is carrying over. On Wednesday night the Kings scored six times against the Avalanche, with Kopitar and Carter combining for half of them in L.A.'s 6-4 win. That's a promising sign for a team trying to reestablish itself as one of the elites in the NHL.
---

@Real_ESPNLeBrun: With the Tampa Bay Lightning, Montreal Canadiens and Toronto Maple Leafs separated by just one point in a three-way race for second place in the Atlantic Division, the Canadiens can ill-afford to have goalie Carey Price on the shelf for too long. The top netminder in the Olympic tournament faced just one shot during Wednesday's pregame skate before heading to the dressing room. Head coach Michel Therrien announced that Price is out at least two games and will be reevaluated before Saturday's game with the Maple Leafs. It's a lower-body injury that also bothered Price in Sochi, Therrien said, although that sure was hard to notice while Price allowed only three goals in five games there. Backup Peter Budaj was solid in securing a point in the standings in Wednesday's 2-1 overtime loss to visiting Detroit, but the Habs need a healthy Price as quickly as possible if they're going to hang on in this race.
---

@KatieStrangESPN: A 1-0 win over the St. Louis Blues was precisely what the Vancouver Canucks needed to get back on track heading into the home stretch of the regular season, but more riveting than Eddie Lack's 20-save shutout was the news that injured center Ryan Kesler is seeking a trade out of Vancouver. If the report is true -- GM Mike Gillis refused to address the matter Wednesday night -- Kesler's availability could have a significant impact on the market at what is already shaping up to be an intriguing trade deadline. Kesler is sidelined with a hand injury sustained while playing in Sochi -- reports on the severity of the injury vary -- so waiting until the draft to trade him might make more sense for the Canucks. Regardless, he'll be a name to keep an eye on in the coming weeks.
Picture This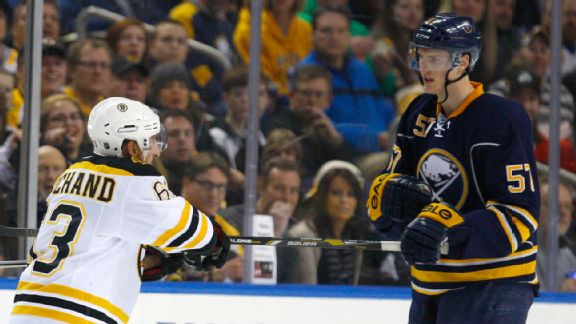 Timothy T. Ludwig/USA TODAY SportsTyler Myers: "What are you doing, Brad Marchand?"
Top Performers
Anze Kopitar | Los Angeles Kings
2 G, 1 A, 4 SOG, +2
vs COL | Recap

Jaroslav Halak | St. Louis Blues
34 SV, 1 GA
vs VAN | Recap

Eddie Lack | Vancouver Canucks
20 SV, 0 GA
vs STL | Recap

Stats Central
• Canucks: Win ends season-worst seven-game losing streak.
• Red Wings: 7-3-2 in past 12 games.
• Bruins: Have earned at least a point in 11 of past 12 games (8-1-3).
• More from ESPN Stats & Information »