Just A Thought
>

@ESPN_Burnside: There is much discussion about the goalie market heading into next week's trade deadline, and we're not sure if Darcy Kuemper is making life easier or harder for Minnesota Wild GM Chuck Fletcher. With Josh Harding's status unclear while fighting medical issues related to multiple sclerosis, Kuemper has supplanted Niklas Backstrom as the top goalie with a 9-3-2 record and solid .921 save percentage. On Thursday, Kuemper blanked Edmonton 3-0 in the Wild's first post-Olympic break game. The Wild have a solid grip on the first wild card spot in the west, but Fletcher has to decide if the 23-year-old from Saskatoon, who has 73 minutes of NHL playoff experience, is the guy to take the Wild into the post-season. More nights like Thursday's 21-save performance and maybe Fletcher won't feel he has to add anyone to help out between the pipes.
---

@CraigCustance: Since November, the Philadelphia Flyers have quietly been one of the NHL's best teams, and they had a chance to validate that success on Thursday night with a season sweep of the San Jose Sharks. Goalie Steve Mason went into the break playing well with a .955 save percentage in his previous five games. It would have been nice to build off that momentum, but instead the Flyers got their clock cleaned by the Sharks, losing 7-3 and raising concerns again about the goaltending and defense in Philly. GM Paul Holmgren is one of the biggest wildcards of the trade deadline. He's capable of making the biggest splash, with some believing center Sean Couturier believe is available for the right price. Holmgren's capable of doing absolutely nothing, too, but a few more performances like Thursday's and standing pat would become much less appealing.
---

@Real_ESPNLeBrun: And Craig, how about those Sharks? Raffi Torres played his first game of the season and scored twice on the checking line. Logan Couture is back from his injury and was flying on a line with Patrick Marleau and Martin Havlat. And Joe Pavelski had the hat trick on a line with Joe Thornton and Brent Burns. If the Sharks can stay healthy they're definitely in a group of five or six teams contending in the Western Conference. Torres was a real difference-maker for San Jose last season after being acquired at the trade deadline. The Sharks had only three players in the Olympics and having the ability to rest the likes of Thornton, Burns, Couture and Dan Boyle will be a very good thing, given that other contenders had more players in Sochi and now worry about their fatigue level.
---

@KatieStrangESPN: The Chicago Blackhawks on Thursday night looked very much like a team that had not played together for almost three weeks. The defending champs, who sent 10 players to Russia to compete in the Olympics, were dominated by the Rangers in the first forty minutes of play while looking disjointed and a bit haggard. The Hawks enjoyed stretches of sustained pressure in the third -- new acquisition Peter Regin spoiled Cam Talbot's shutout with 11.6 seconds to play -- and Patrick Kane did come close to tying things up at the end of the game, but a lack of cohesion and net-front presence really hurt. Chicago remains one of the elite teams in the West, but the Olympic hangover was obvious.
Picture This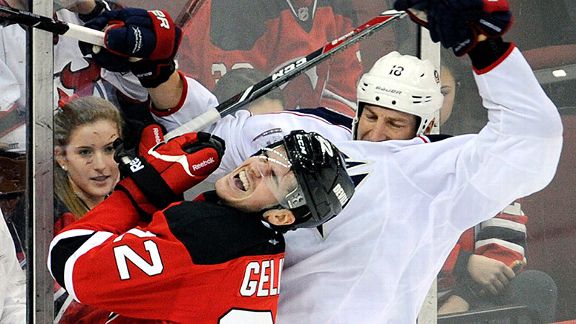 AP Photo/Bill KostrounThat'll leave a mark: Eric Gelinas got up close and personal with R.J. Umberger on Thursday.
Quote Me On That
"To come out and beat the defending champs coming off a break like that is a good measuring stick for us. We know when we play our best hockey we can beat anyone."
-- Rangers G Cam Talbot on a win over the Blackhawks
---
"We had some good luck throughout the team. They were just going in tonight. Life is good. Hopefully they keep coming."
-- Sharks F Joe Pavelski on his hat trick in a 7-3 win over the Flyers.
Stats Central
• Red Wings: 2-0-0 in Ottawa this season; 7-1-0 in Canada.
• Sharks: Won three straight; 4-1-0 in last five games overall.
• Penguins: Have lost two straight games for the first time since Nov. 25 of this season.
• More from ESPN Stats & Information »