Just A Thought
ideo1>

@ESPN_Burnside: Oh, what a wacky team those Vancouver Canucks are. They may be on the brink of a full-blown rebuild with the trade deadline just two days away; their remaining Sedin, Daniel, gets banged-up in the Heritage Classic loss to Ottawa on Sunday; and now there's a goaltending controversy. It doesn't get much better than that if you're covering the team, but it's not so good if you're a player or fan or goalie Roberto Luongo. The veteran was denied the start in the Canucks' marquee home game of the regular season at B.C. Place, with coach John Tortorella deciding to go with Eddie Lack, who lately has performed well. But the Senators scored four unanswered goals in a 4-2 victory, and it's clear Luongo was unhappy with the decision. "He came in, saw me after the game," Tortorella told reporters. "I get that. But I can't have a special night and make a decision where I don't think I'm putting the best lineup up for that particular night because it is special when I have 21 games, 20 games left with players trying to get points. And I know people are upset. I get that. But I can't do it to make people happy. I can't. I'm not going to."
---

@CraigCustance: The Washington Capitals went out and took three of four points against two potential playoff teams this weekend in Boston and Philadelphia, and currently have as many points (68) as the final wild-card team. Yet, if you're a Capitals fan, you can't feel great about this team, even if they manage to hang in the playoff hunt. They still make mistakes while playing with a lead that a veteran team shouldn't be making, whether it be a defenseman jumping into a play on offense at an inopportune time or another defenseman jumping an opposing player at an inopportune time. Washington's schedule in March is just too demanding to leave any points on the table, which is exactly what it did in Sunday's 5-4 overtime loss to the Flyers.
---

@Real_ESPNLeBrun: So you're Ryan Miller, and just 2:56 into your St. Louis Blues career, fourth-line Twitter star Paul Bissonnette scores on you on a flimsy, weird shot to give the Phoenix Coyotes a 1-0 lead. Um, not exactly how you wanted to make your first impression, right? Then the Coyotes' fourth line made it 2-0 just 7:09 into the second period, and you headed to the dressing room down a pair, wondering if perhaps you brought the Buffalo Sabres' bad luck with you. Thank goodness for a four-goal third period -- including two by Patrik Berglund -- as the Blues made Miller's debut a victorious one in a 4-2 decision in the desert. Miller stopped 23 of 25 shots. I've been writing since September that the Blues should make this trade, and I absolutely love the fact that general manager Doug Armstrong had the courage to do it Friday. I covered part of their first-round series with the Los Angeles Kings last spring, and while the Blues outplayed and outchanced the Kings, they eventually lost in seven games because Jonathan Quick outplayed Brian Elliott. Remember Dustin Penner's long goal on Elliott? To me, getting Miller was always the missing link. Watch out, Western Conference. There are no assurances, with the three California teams and the defending champs from Chicago still having a say, but the Blues just bumped themselves up a peg among the contenders.
---

@KatieStrangESPN: Just when you think things can't get any worse for the New York Islanders, things go ahead and get worse. After building a 3-1 lead against Florida, aided by a pair of goals from pending unrestricted free agent Thomas Vanek, the Islanders imploded in the third period, surrendering four straight goals to the lowly Panthers in an epic meltdown. Hard to imagine things get better, what with John Tavares done with a season-ending knee injury, and both Vanek and defenseman Andrew MacDonald likely to move at the trade deadline. Considering all they have endured, it would be hard to blame Isles fans for holding out hope of little beyond landing a top draft pick.
Picture This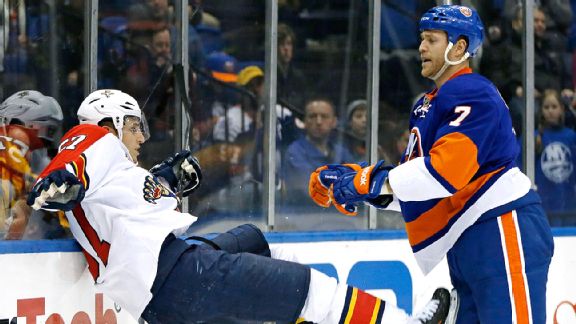 AP Photo/Kathy Willens"Have a seat, pal." Matt Carkner took out some frustration on Marcel Goc on Sunday.
Top Performers
Sunday

Scottie Upshall | Florida Panthers
2 G, 1 A, 5 SOG, +2
vs. NYI | Recap
Frederik Andersen | Anaheim Ducks
49 SV, 3 GA
vs. CAR | Recap
Shawn Matthias | Florida Panthers
2 G, 1 A, 4 SOG, +3
vs. OTT | Recap
Saturday

Jonathan Toews | Chicago Blackhawks
2 G, 1 A, 7 SOG, +3
vs. PIT | Recap
Ondrej Pavelec | Winnipeg Jets
39 SV, 1 GA
vs. NSH | Recap
Ben Bishop | Tampa Bay Lightning
39 SV, 2 GA
vs. DAL | Recap
Quote Me On That
"Coming through in one of the biggest moments of the year right now is great to see. For us to be able to force overtime and get the one point at least and then come through and get the second one against a divisional opponent who is right behind us in the standings, it's huge."
-- Flyers G Steve Mason on a win over the Capitals
---
"Painful. Extremely painful. I thought we played pretty good. They worked hard, but their goals were unbelievable with the bounces they got -- a couple of deflections and a post and in."
-- Rangers G Henrik Lundqvist on a loss to the Bruins
Stats Central
Sunday
• Ducks: Have won three straight after losing three previous
• Bruins: Sweep three-game season series with Rangers, first regular-season sweep of New York since 1982-83.
• Flyers: Have won six of past seven games; trailed Capitals 4-2 entering the third period.
Saturday
• Jaromir Jagr (NJ): Scored his 700th career goal
• Alex Ovechkin (WSH): Two goals; eclipsed 800 career points.
• James Neal (PIT): Goal; five-game goal streak
• More from ESPN Stats & Information »