Just A Thought
>

@ESPN_Burnside: We've fallen into the habit of ceding the top seed in the Eastern Conference to the Pittsburgh Penguins. After all, the Pens have led the conference pretty much since the first puck dropped in October. Not so fast, though. By virtue of their 5-2 win over the Florida Panthers on Sunday, the Boston Bruins have suddenly and quietly jumped ahead of Pittsburgh to take over top spot in the conference. The win was the fifth in a row for a Bruins team that is cooking on both sides of the puck right now, even without defenseman Dennis Seidenberg on the blue line. The Bruins' lead over Pittsburgh is just one point, the Penguins have a game in hand and also more home games remaining (12 compared to seven for Boston) but an interesting battle is for home ice through the Eastern Conference playoffs.
---

@CraigCustance: The St. Louis Blues have discovered one way to catapult to the top of your division: Never, ever lose to division opponents in regulation. Their 3-2 win over the Minnesota Wild on Sunday night improved the Blues' record against the Central Division this season to 18-0-1. C'mon. And it's not like we're talking about the early-season Metropolitan division, either. The Central features the reigning champs in the Chicago Blackhawks, the upstart Colorado Avalanche, the surging Wild and six teams overall that still have a fighting chance at making the playoffs (sorry, Nashville). The biggest thing for Blues coach Ken Hitchcock isn't necessarily a division title, but rather home ice in the playoffs. St. Louis is 23-5-3 at home this season and the veteran coach wants every edge possible when the postseason arrives.
---

@Real_ESPNLeBrun: Four years later, the Washington Capitals finally get their man. Count me among those intrigued to see what Evgeny Kuznetsov is all about when the 21-year-old laces them up in his first NHL game Monday night. Oh, and the Caps are hosting Sidney Crosby and the Pittsburgh Penguins. Here you go kid, show us what you've got. Kuznetsov was taken 26th overall in 2010 NHL draft, the Caps gambling they could eventually convince him to come overseas. It took probably two years longer than they had hoped, but with another KHL season behind him Kuznetsov is finally here. He's apparently staying at Alex Ovechkin's place as he gets acclimatized to North America. The question is how long it will be before Kuznetsov skates on the same line as Ovie. The plan seems to be to simply get Kuznetsov some limited minutes on Monday, but but you have to figure this kind of talent will work his way up the regular lineup before too long.
---

@KatieStrangESPN: Just two days after a seven-goal outburst against the New Jersey Devils, what should've been a desperate Detroit Red Wings squad came out alarmingly flat in Sunday's 3-0 loss to the New York Rangers at Madison Square Garden. Wings coach Mike Babcock called it the worst game the team has played since the start of a new year. Babcock indicted both the team's readiness and compete level in Sunday's matinee, a game in which they mustered little against Rangers goaltender Henrik Lundqvist. Sure, Lundqvist had to make 30 saves to record his milestone 300th career win, but Detroit didn't make him uncomfortable. There wasn't enough traffic in front of the net and the power play failed to cash in on all three of its attempts. The regulation loss dropped the Red Wings from the top eight teams in the east, allowing the Columbus Blue Jackets to move into the last wild card spot. There's no doubt the Wings are capable of keeping their 22-year playoff streak alive despite an injury-riddled roster, but it's going to take a lot better effort than they showed Sunday.
Picture This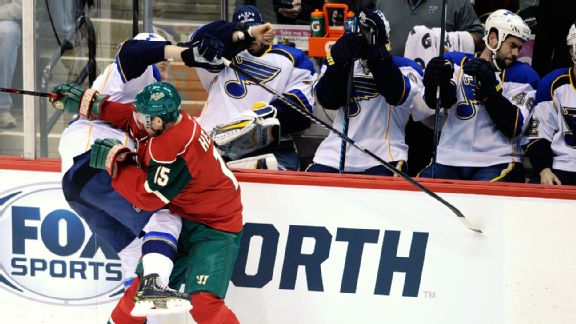 Hannah Foslien/Getty ImagesAvert your eyes: The Blues couldn't bear to look as Dany Heatley took out Jay Bouwmeester.
Top Performers
Sunday

Henrik Lundqvist | New York Rangers
30 SV, 0 GA
vs DET | Recap

Jeff Carter | Los Angeles Kings
2 G, 1 A, 5 SOG, +2
vs EDM | Recap

Patrice Bergeron | Boston Bruins
1 G, 2 A, 4 SOG, +2
vs FLA | Recap

Saturday

Sergei Bobrovsky | Columbus Blue Jackets
28 SV, 0 GA
vs NSH | Recap

Antti Niemi | San Jose Sharks
27 SV, 0 GA
vs MON | Recap

Tommy Wingels | San Jose Sharks
2 G, 8 SOG, +2
vs MON | Recap

Quote Me On That
"It's a lot of fun when you think about it, and I started thinking about it after two periods -- why not go for the doughnut in this game and reach 300 wins? It was a good challenge for me."
-- Rangers G Henrik Lundqvist on his 300th career win, which was also his 49th career shutout
---
"When I see (T.J. Oshie) going in on a shootout, I kind of giggle. I told him afterward that the goalies are starting to play like soccer goalies because they're just guessing left or right. He's got moves left, got moves right, got moves straight ahead. It's pretty special to watch and I've seen it a lot."
-- Blues C David Backes on his teammate's uncanny shootout ability
Stats Central
• Kings: Seven straight wins; outscored opponents 22-10 durng streak..
• Bruins: Improve to 7-0-3 in their last 10 road games.
• Rangers: Second straight shutout against the Red Wings; New York sweeps season series (3-0-0).