Just A Thought
>

@ESPN_Burnside: Maybe it means nothing, or maybe it means everything. The Colorado Avalanche -- we've vowed to stop calling them the "surprising" Avs -- defeated the Chicago Blackhawks 3-2 on Wednesday night in front of a sellout crowd at the Pepsi Center, their fourth win in five tries this season against the defending Stanley Cup champs. The good thing when it comes to these teams is we may well find out what all this means in about a month. The win pushed the Avs ahead of the Blackhawks into second place in the Central Division by one point. Both teams have 16 games remaining in the regular season. If the playoffs started today, they would face each other in the first round. The Colorado win came despite the absences of P.A. Parenteau (knee) and Paul Stastny (upper-body injury). The Blackhawks were without starting netminder Corey Crawford, although Antti Raanta couldn't be faulted for this one after stopping 26 of 29 shots. His counterpart, Semyon Varlamov, was again superlative, facing 28 Blackhawks shots in the last two periods but holding the fort in what may turn out to be a seminal victory.
---

@CraigCustance: The Anaheim Ducks were one of the most fascinating teams to track at the trade deadline. You couldn't help but love the addition of Stephane Robidas, a warrior on defense. And trading away Dustin Penner hinted at something bigger, perhaps a blockbuster to land Ryan Kesler from Vancouver. But then the deadline expired without that other big addition up front, and while waiting for Robidas (leg injury), the Ducks have gone into a bit of a tailspin highlighted by Wednesday night's 7-2 loss to Calgary. The Ducks haven't won a game since shipping Penner out and breaking up one of the league's most effective lines, which is a bit of a concern. With the San Jose Sharks and Los Angeles Kings charging fast, Anaheim doesn't have the luxury of letting this post-deadline slump linger much longer.
---

@Real_ESPNLeBrun: The season from hell continues to get worse for the Vancouver Canucks, who beat the Winnipeg Jets on Wednesday but lost star center Ryan Kesler to a knee injury. Kesler has gone back to Vancouver for testing, and it sounds like he'll be out awhile. In the meantime, the radio talk shows went crazy all week in Vancouver with fans clamoring for change, and you have to ask yourself whether GM Mike Gillis is pondering a coaching change. But is ownership also pondering other changes, and would those changes wait for the offseason? No one knows, but everyone is on edge in Vancouver these days.
---

@KatieStrangESPN: Unfortunate news for the Dallas Stars' Rich Peverley on Wednesday that the cardiac event that caused him to collapse during Monday's game against the Columbus Blue Jackets will ultimately end his season. It was announced Peverley will undergo surgery to address his cardiac arrhythmia -- a procedure that hopefully will regulate his heart rate but will require a few months of recovery. But taking a look at the bigger picture, it's hard not to take some positives from the situation, not only that he received the sort of expert response that may very well have saved his life, but also that his medical team was also able to pinpoint what caused the frightening incident -- a diagnosis that will hopefully help him avoid any future scares. Here's hoping Peverley is back in good health and good spirits when the puck drops for the 2014-15 season.
Picture This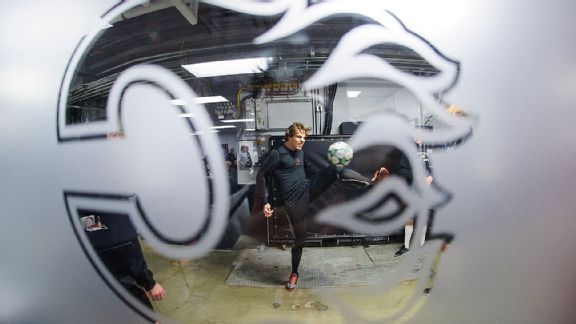 Derek Leung/Getty ImagesThrough the glass: Ducks G Jonas Hiller warmed up with soccer before taking the ice at the Saddledome.
Top Performers
Tuukka Rask | Boston Bruins
35 SV, 1 GA
vs MON | Recap

Mikeal Backlund | Calgary Flames
2 G, 1 A, 4 SOG, +3
vs ANA| Recap

Semyon Varlamov | Colorado Avalanche
37 SV, 2 GA
vs CHI | Recap

Quote Me On That
"We're in this building, and they come at us with a full-court press. Tuukka kept us in there. Whenever we can withstand that pressure, it gives us a chance to win. We did that and we were able to get a few good shifts in at the end of the first that carried over into the second period."
-- Bruins F Milan Lucic on a win over the Canadiens
---
"We are happy to be in second place, but that's not our goal. We want to keep pushing and climb as high as we can."
-- Avs F Matt Duchene after a win over the Blackhawks
Stats Central
• Avalanche: 43-18-5 (91 points), second-best record in franchise history through 66 games.
• Bruins: At least one point in each of their past 11 road games (8-0-3); longest such streak since 11-game run from Jan. 20-Feb. 24, 2004 (6-0-5).
• Flames: 8-2-0 in their past 10 games at Scotiabank Saddledome dating back to Jan. 22.