Just A Thought
>

@ESPN_Burnside: It was quite a weekend for Craig Berube and the Philadelphia Flyersm who they swept their in-state rivals the Pittsburgh Penguins. The Flyers' season began as a train wreck, and even when Berube took over as head coach three games in the future didn't look all that bright. They've not only revived their playoff hopes with strong play the past four months, but their impressive sweep of Pittsburgh -- winning 4-0 and 4-3 -- has moved them into second place in the Metropolitan Division. Philadelphia is entertaining the idea of not just making the playoffs, but earning home-ice advantage in the first round and perhaps doing some damage. Wayne Simmonds was a force in the last two games and Matt Read had two shorthanded goals, including the game-winner, on Sunday to make fans salivate for a possible Pens/Flyers playoff matchup at some point this spring.
---

@CraigCustance: In the end it may not mean a thing, but there are signs of growth from the Edmonton Oilers lately under Dallas Eakins. On Sunday, the Oilers beat the Hurricanes 2-1 on the road. No great accomplishment, but it helped Edmonton earn five of a possible eight points on its four-game road trip. The midseason tweaks GM Craig MacTavish has made in Edmonton have been positive. Goalie Ben Scrivens won again and has a .932 save percentage with the Oilers, so far fending off the expectations that his stats would take a nosedive when he left the protection of the Los Angeles Kings' defensive system. Matt Hendricks has been another positive influence on this young team, scoring occasionally but also setting an example on how to work. There are still offseason changes to be made by MacTavish, but at least there's some hope for Edmonton fans to grab on to.
---

@Real_ESPNLeBrun: It was also a big weekend for the Montreal Canadiens, who got just what they needed with four big points. Sunday's 2-0 win at Buffalo capped two good days that began with what looked to be another loss on Saturday, with the Habs down 4-1 with less than three-and-a-half minutes to play against the visiting Ottawa Senators. But the ghosts of the old Montreal Forum were revived and the Canadiens scored three times in the final 3:22 before winning in overtime. According to the Elias Sports Bureau, the Habs are the first team in NHL history to win a game after trailing by three goals in the final five minutes of the third period. Montreal now begins the week in second place in the Atlantic Division, one point ahead of the rival Toronto Maple Leafs and two ahead of the Tampa Bay Lightning, who have two games in hand on both the Habs and Leafs. That three-way battle appears headed to the wire.
---

@KatieStrangESPN: When Henrik Lundqvist is locked in he's difficult to beat, but that's exactly what San Jose Sharks counterpart Antti Niemi did with a spectacular 41-save performance against the Rangers on Sunday night. Niemi was aggressive in gobbling up every one of the Rangers' Grade-A opportunities, earning his fourth shutout of the season with a 1-0 win over the Blueshirts and helping the Sharks improve to a stunning 10-1-1 in the past 12 games. Granted, he got a little help from the league office in Toronto on a controversial call in the second period, when officials cited "inconclusive evidence" in upholding a shaky no-goal ruling on Carl Hagelin's wraparound attempt that appeared to beat Niemi at the left post, but he was otherwise pristine in helping the Sharks wrap up a three-game road trip on a high note. There are a lot of reasons to like San Jose as a playoff contender, including their group of young skill players and their considerable depth down the middle, but goaltending is proving to be another strength as they push the Anaheim Ducks for the Pacific Division title.
Picture This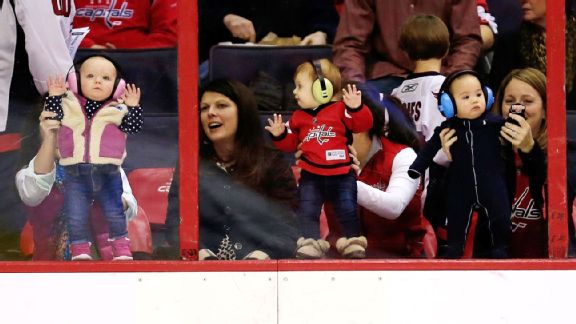 Rob Carr/Getty Images"Did you see that?!?" The Capitals' youngest fans had the best seats in the house for the Leafs game.
Top Performers
Sunday:

Antti Niemi | San Jose Sharks
41 SV, 0 GA
vs NYR | Recap

Semyon Varlamov | Colorado Avalanche
38 SV, 1 GA
vs OTT | Recap

Dustin Byfuglien | Winnipeg Jets
2 G, 1 A, 7 SOG, +3
vs DAL | Recap

Saturday:

Frederik Andersen | Anaheim Ducks
37 SV, 1 GA
vs LOS | Recap

Anders Nilsson | New York Islanders
33 SV, 1 GA
vs BUF | Recap

David Krejci | Boston Bruins
3 A, 3 SOG, +4
vs CAR | Recap

Quote Me On That
"I know the boys in this locker room love playing against them. Whether we're in their head or not, we don't really care. We get amped up to play against them."
-- Flyers G Steve Mason on a weekend sweep of the Penguins
---
"Nemo (goalie Antti Niemi) was unbelievable. That was maybe his best game all year. He stole this one for us."
-- Sharks captain Joe Thornton after a win over the Rangers
Stats Central
Sunday
• Flyers: 9-2-1 in past 12 games; scored three or more goals in seven of last eight games.
• Penguins: Lost two straight regulation games for first time since November; 4-4-2 in past 10 games.
• Capitals: Have won three of the last four against the Maple Leafs, and five of the past six at home.
Saturday
• Bruins: Won eight games in a row (12 GA during stretch); fifth win streak of at least 4 games this season.
• Blues: Improve to 19-0-2 versus the Central Division this season.
• Flyers: First regular-season shutout of Penguins since April 6, 2008, and just their fourth in the last 31 years.
• More from ESPN Stats & Information »