Just A Thought
>

@ESPN_Burnside: Were you wondering if the Chicago Blackhawks were going to fade quietly into the distance? Not so fast. The Blackhawks, treading water of late and having fallen to third place in the wildly interesting Central Division, gave notice Wednesday with an emphatic 4-0 win over league-leading Central Division foe the St. Louis Blues that they're not going away. The Blackhawks chased Blues netminder Ryan Miller en route to handing Miller his first regulation loss since being acquired by the Blues at the trade deadline. The former Sabres netminder had compiled a 7-0-1 record since the deadline. It also marked the first time this season the Blues lost in regulation to a Central Division opponent. They are 20-1-2 within the Central, but this one will sting a Blues team that many believe is Stanley Cup bound. The Blackhawks, who jumped over Colorado and back into second place in the division thanks to the Avs' overtime loss to Winnipeg, did pay a steep price for the victory, though, losing star forward Patrick Kane to what appears to be a leg injury. Head coach Joel Quenneville said Kane is expected to miss about three weeks which would essentially coincide with the end of the regular season.
---

@CraigCustance: It's been one week since an impressive comeback win for the Toronto Maple Leafs in Los Angeles, a win that meant the Leafs took two of three games on a swing through California. It was impressive, and it was also the last time Toronto won a game. Wednesday night's 5-3 loss to the Tampa Bay Lightning was Toronto's third consecutive loss, all against teams fighting for position in the Eastern Conference. Toronto's unwillingness or inability to defend effectively as a team is starting to catch up to the Leafs and their playoff spot is now on the line. According to the playoff projection website SportsClubStats.com, Wednesday's loss dropped Toronto's playoff chances 10.3 percent, down to 65.6 percent. Still better than the Detroit Red Wings and Washington Capitals, but getting worse by the day.
---

@Real_ESPNLeBrun: Craig, speaking of bad defending, the Colorado Avalanche have now given up a pile of goals on back-to-back nights. A night after losing 6-3 at Montreal (including an empty-netter), the Avs exchanged chances all night long on Wedenesday with the Winnipeg Jets, the kind of game we maybe expected more of this season from a Colorado team with question marks on the blue line. Semyon Varlamov has bailed them out so many nights this year -- head coach Patrick Roy earlier this week called Varlamov their best player this season -- but Roy also wanted to give the overtaxed Varlamov a breather this week ahead of the playoff push in April. The result was veteran Jean Sebastien Giguere getting beaten for five goals in Montreal and the recently-acquired Reto Berra giving up the same number in a 5-4 overtim loss in Winnipeg. A reminder, perhaps, of the impact Varlamov has had this season for the Avs.
---

@KatieStrangESPN: Wednesday night was a nice reminder of just how special a player Steven Stamkos is and how much he might mean to a Tampa Bay Lightning team jockeying for position in the Atlantic Division. In front of a hometown crowd, the Markham, Ontario native recorded a natural hat trick in the Bolts' 5-3 win over Toronto on Wednesday. Stamkos now has five goals in seven games since returning from a broken right tibia sustained in November. More importantly, the Lightning assumed second place in the Atlantic with the team's fourth consecutive victory. With a game in hand over third-place Montreal, the Bolts are in a strong playoff position. And now that they have one of the league's most dynamic forwards back in the lineup, it's hard to imagine they will not continue to trend upwards.
Picture This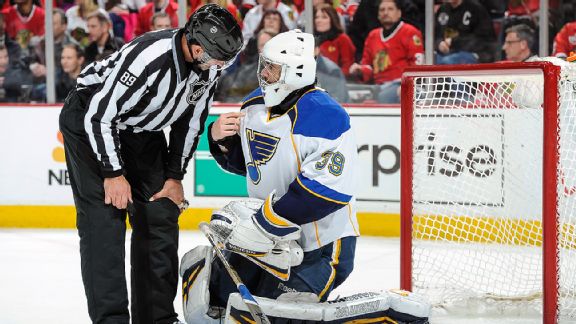 Bill Smith/NHLI/Getty ImagesA little help? Ryan Miller conferred with linesman Steve Miller on a tough night in Chicago.
Top Performers
Eddie Lack | Vancouver Canucks
30 SV, 0 GA
vs NSH | Recap
Blake Wheeler | Florida Panthers
1 G, 2 A, 5 SOG, +2
vs COL | Recap
Corey Crawford | Chicago Blackhawks
23 SV, 0 GA
vs STL | Recap
Quote Me On That
"Tonight we knew was going to be a tough matchup. It was physical -- it seems like it's always physical against these guys. It felt like a playoff atmosphere."
-- Blackhawks G Corey Crawford after his shutout of the Blues
---
"It was a big win for us, especially for the goals we gave up. We're not that bad of a team. We've played some good hockey of late and we haven't got the results."
-- Jets LW Andrew Ladd after an overtime win against the Avs
Stats Central
• Blackhawks: First win in four meetings with Blues this season
• Joel Quenneville (CHI): Third coach in NHL history to reach the 700-win mark
• Lightning: Won four straight games
• More from ESPN Stats & Information