Just A Thought
ideo1>

@ESPN_Burnside: My colleagues Katie Strang and Craig Custance were politely dismissive of my suggestion during our podcast taping Wednesday that perhaps the Toronto Maple Leafs aren't entirely cooked in the playoff chase, despite the horror show of their current six-game losing streak. Take a look at the Leafs' next two games, though: at Philadelphia on Friday and at home against Detroit on Saturday. Tell me those aren't season-saving opportunities. Further, maybe we've been a bit hasty in ceding the resurgent Flyers a playoff spot in the Eastern Conference. On Wednesday night, the Flyers lost their second in a row, dropping a key 3-1 decision to the New York Rangers, with whom they have been battling for home-ice advantage in the first round. The loss not only moves the Rangers three points up on the Flyers but also means Philadelphia remains just three points up on the Leafs, who are in a logjam with Detroit, Columbus and Washington at 80 points heading into action Thursday. After Friday's key matchup with the Leafs, the Flyers entertain Boston on Sunday and then travel to St. Louis before hosting Columbus a week from now. Now, about that game Friday night in Philly...
---

@CraigCustance: Don't look now, but the Canucks' 5-2 victory over the Wild on Wednesday night is three consecutive wins for Vancouver, which got a two-goal performance from David Booth. If you're keeping track, the Canucks are now 5-2 since Mike Gillis emerged from the general managers' meetings and refused to single out coach John Tortorella as the reason for the Canucks' free fall, saying instead that they have to win as a group. Remarkably, they have been. But don't let this little run inflate playoff hopes too much. The hole Vancouver created following Tortorella's meltdown during a January game against the Flames and subsequent suspension is just too deep. Yes, the Canucks are only four points out of a wild-card spot, but they've played more games than anyone in the West. The reality is that this run came a little too late.
---

@KatieStrangESPN: Detroit Red Wings captain Henrik Zetterberg expressed optimism Wednesday that he could return in time for the playoffs, and boy, would that be a game-changer for Detroit. Of course, the 33-year-old isn't coming back from just any minor ailment -- he was forced to undergo back surgery after bowing out of the Sochi Olympics last month. But if the original eight-week timeline holds true, Zetterberg may be ready to play by mid-April. Of course, this is contingent upon the Red Wings actually making the playoffs, and that's no lock. The Wings are holding on to the last wild-card spot by the narrowest of margins, with three other teams also bunched at 80 points. The Red Wings have played fewer games than two of the teams vying with them, though -- Washington and Toronto have nine and eight games remaining, respectively -- so I like Detroit to make its 23rd consecutive postseason appearance. And who knows, with Zetterberg possibly back in the lineup, maybe the Red Wings could even surprise a few folks.
Picture This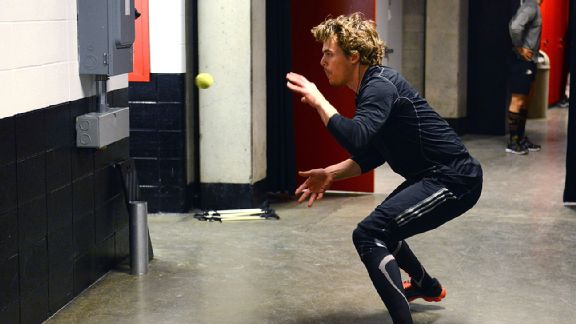 Terence Leung/Getty ImagesDucks goalie Jonas Hiller gets loose before a game.
Top Performers
David Booth | Vancouver Canucks
2 G, +3, 3 SOG
at MIN | Recap
Henrik Lundqvist | New York Rangers
30 SV, 1 GA
vs. PHI | Recap
Quote Me On That
"It's huge, we're in a do-or-die position. If we would have lost this game, we probably would have been out of the race."
-- Canucks winger Alex Burrows
Stats Central
• Rangers: Won five in a row overall; won eight straight home games versus Flyers.
• Ryan McDonagh (NYR): Second straight game with goal; has scored a point in five straight games.
• Henrik Lundqvist (NYR): 30 saves; has allowed 10 goals in his past six starts.