Just A Thought
>

@ESPN_Burnside: Fans of the Minnesota Wild must be feeling a little déjà vu all over again with the Wild turning a comfortable lead for the top wild-card spot in the Western Conference into an unwanted horse race. The Wild were mauled by the St. Louis Blues 5-1 on Thursday night in St. Louis, a loss that came just 24 hours after they were embarrassed at home by the Vancouver Canucks. The Wild have just two wins in their past eight games, and they are struggling on special teams while giving up far too many goals (26 in their past eight outings and 10 in their past two). Although it's hard to imagine that the Wild won't snag one of the two wild-card spots, they now lead Phoenix by just one point and visit the Coyotes on Saturday. "That's going to be a huge test and a huge game for us," said Zach Parise, who scored the Wild's only goal Thursday. As defenseman Ryan Suter noted after Thursday's loss, if they don't find an answer to their malaise, "we won't be around too long." He's right to wonder aloud about the playoffs, because the Wild's remaining schedule includes dates with heavyweights Los Angeles, Chicago, Pittsburgh, Boston and another set-to with the league-leading Blues. Yikes.
---

@CraigCustance: Finally, there's potential for good news in what's been an awful season for Islanders fans. On Thursday night TSN's Bob McKenzie reported that Islanders owner Charles Wang is in talks to sell a majority stake of the team. Although that doesn't necessarily mean a deal will get done, it does provide hope for Islanders fans who are ready for a new direction. The Islanders' struggles can be traced right to the top, and we've seen how new ownership can transform a franchise -- from Rocky Wirtz taking over for his dad in Chicago to Jeffrey Vinik's quiet stabilizing hand and professionalism in running the Lightning. The Islanders' fan base deserves better, and maybe it'll finally get it.
---

@Real_ESPNLeBrun: In the battle to win the Pacific Division and avoid the Los Angeles Kings in the opening round as a result, San Jose hit a bump Thursday night in a 4-3 home loss to Winnipeg in which Sharks goalie Antti Niemi was not at his best. The Sharks had a chance to widen their lead over Anaheim to four points, but instead it's just two points with the Ducks holding three games in hand. We've said it before as a group, and it has to be stressed again, that getting the top seed and facing a wild-card team in the first round, rather than a Cup contender in the Kings, is perhaps the biggest storyline in the NHL down the stretch drive. If the Ducks edge the Sharks by a point or two at the end of the regular season, San Jose may look back at Thursday's game and see two points it should have had.
---

@KatieStrangESPN: And further to your point, Craig, you have to wonder what impact ownership changes might have on Islanders superstar center John Tavares' future with the team. Twitter was also abuzz Thursday night when TSN's Darren Dreger suggested that the former first overall pick may want out. He later clarified that the suggestion was purely speculative, but it raises a good point. If you are Tavares, would you not be at least seeking some sort of indication from Wang and GM Garth Snow about the direction of the team? At the very least, Tavares is owed as much. The precocious, young center is as loyal as the day is long, but it would be hard to blame him for being disheartened with the sort of rampant dysfunction that has the team headed for yet another bottom-five finish. Tavares is entering the prime of his career. Winning has to be a priority, and he has to be somewhat skeptical that the team is equipped to do so with the current leadership in place.
Picture This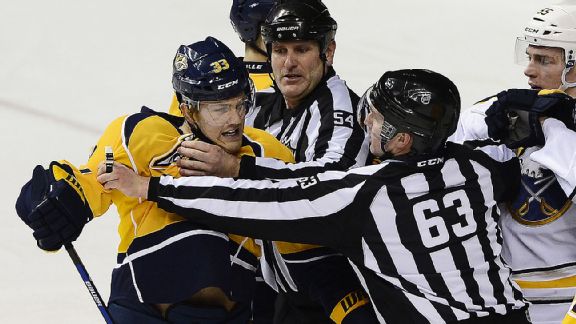 AP Photo/Mark ZaleskiLet me at him! The Predators' Colin Wilson wanted a piece of someone, but officials had other ideas.
Top Performers
Anton Khudobin | Carolina Hurricanes
35 SV, 0 GA
vs FLA | Recap

T.J. Oshie | St. Louis Blues
3 G, 6 SOG, +3
vs MIN | Recap

Tuukka Rask | Boston Bruins
28 SV, 0 GA
vs CHI | Recap

Quote Me On That
"We wanted to make a statement to the league that we deserve to be where we're at. We want that target on our backs."
-- Blues F T.J. Oshie after the win over the Wild
---
"You always feel better about yourself when you play good against good teams like that. I don't think they got too many chances."
-- Bruins G Tuukka Rask after shutting out the Blackhawks
Stats Central
• Kings: Eighth straight road win, fifth straight win overall.
• Bruins: 13-0-1 in past 14 games (first 50-win season since 2008-09).
• Blues: Third straight win, lead NHL with 107 points.
• More from ESPN Stats & Information »