Just A Thought
>

@ESPN_Burnside: Nothing gets the blood flowing in the final days of a regular season marked by pitched battles for playoff spots and seedings in both conferences than, say, a Calgary Flames-Toronto Maple Leafs tilt. Or a visit by the New York Rangers to the Vancouver Canucks. Wait, what? The Leafs are in the midst of an epic collapse, but are still in the hunt for a postseason spot in the Eastern Conference. Instead of Columbus or Washington or any other team from the East, though, the Leafs will entertain Calgary on Tuesday, and they play two of their last six games against foes from the Western Conference. The Rangers? Coach Alain Vigneault visits his old home in Vancouver on Tuesday as the Rangers are in the midst of a four-game western swing that ends in Colorado on Thursday. How about Dallas? This week the Stars are headed to Washington, Carolina, Tampa and Florida. Way to drive up interest back home with a trip across the continent to teams that will play no role in the Stars' drive to a West playoff berth. Hey, we get that making up a schedule is hard work. But is there anything more counterintuitive than teams crisscrossing the continent at this stage of the season rather than taking part in divisional games, or at the very least playing within the conference?
---

@CraigCustance: Monday night was a good night for the Minnesota Wild. Not only did they land the most sought-after college free agent , defenseman Christian Folin, but they earned two huge points in Los Angeles with a 3-2 win over the streaking Kings. Goalie Ilya Bryzgalov continued to prove his worth as a trade-deadline addition with his fourth win for the Wild (4-0-2); Matt Moulson, another deadline addition, tied the game with his third-period goal. The Wild are in the process of locking down one of the two Western Conference wild-card spots, and while their first-round matchup won't be much of a reward -- likely the Blues, Ducks or Sharks -- the Wild proved again they can play with anyone when things are going well.
---

@Real_ESPNLeBrun: Before I went to bed Monday night, I could hear boos through my TV screen, boos from Ducks fans as the home team trailed 3-0 in the second period versus the visiting Winnipeg Jets. Imagine my reaction when I woke up Tuesday morning and watched the rest on tape. Anaheim would go down 4-0 before staging its biggest comeback in franchise history: Nick Bonino getting it going late in the second period to open the Ducks' scoring; Ryan Getzlaf making it 4-2 on a power play 3:06 into the third period; Calder Trophy threat Hampus Lindholm making it 4-3 with a rebound goal at 4:16; Corey Perry forcing overtime late in the third period; and deadline pickup Stephane Robidas scoring 16 seconds into overtime to cap the gigantic victory over a stunned Jets team. Gigantic because it could end up being the key victory in holding off San Jose for the top spot in the Pacific Division, having put the Ducks three points up with a game in hand. The prize, of course, for winning the Pacific is avoiding those scary Kings in the opening round. Huge win? You bet.
---

@KatieStrangESPN: What a shame it will be if Monday night goes down as the last game future Hall of Famer Martin Brodeur plays as a New Jersey Devil. The 41-year-old legend, who has abdicated his net this season to Cory Schneider, was given the hook after surrendering three goals on nine shots -- a move that coach Pete DeBoer described as a "wake-up call" for what should've been an already desperate Devils squad. Schneider replaced Brodeur and stopped all 13 shots he faced from Florida as the Devils recorded a 6-3 victory in a must-win game against the Panthers. With the Devils now just three points out of the last wild-card spot in the Eastern Conference with seven games remaining, it's hard to imagine that DeBoer won't ride the hot hand from here on out.
Picture This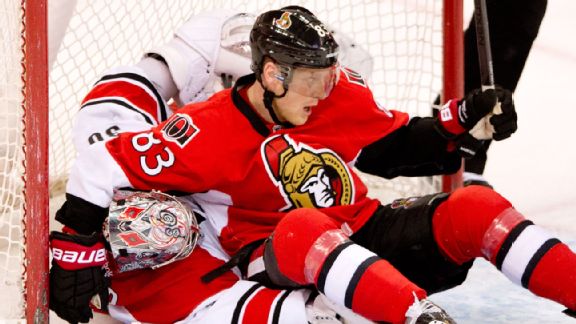 AP Photo/The Canadian Press, Adrian WyldSo how you doin'? Ales Hemsky greeted Cam Ward with a hug after crashing the Carolina crease.
Top Performers
Travis Zajac | New Jersey Devils
3 G, 1 A, 6 SOG, +3
vs FLA | Recap

Craig Anderson | Ottawa Senators
30 SV, 1 GA
vs CAR | Recap

Jaromir Jagr | New Jersey Devils
1 G, 3 A, 3 SOG, +2
vs FLA | Recap

Quote Me On That
"You don't want to be behind, but this shows that we believe in what we're doing. It was big for our confidence, to get a win over a team like L.A., because they're deep. They have a lot of experience."
-- Wild F Mikko Koivu
---
"You're down 4-0 and you come back 4-4, now the pressure is on the other team because they gave up the lead. We just tried to play our game, and I got lucky and it went in."
-- Ducks D Stephane Robidas
Stats Central
• Ducks: 4-0-1 in last 4 games
• Mathieu Perreault (ANA): Assist; extends nine-game point streak.
• Ducks: 49th win of season (sets franchise record previously held by 2006-07 team that won Stanley Cup).