Just A Thought
>

@ESPN_Burnside: For the record, Ilya Bryzgalov is now 4-0-1 since we wrote that the Minnesota Wild would have the worst goaltending in the Western Conference going into the playoffs, and maybe the worst goaltending of all 16 playoff teams regardless of the final grid. We're not necessarily backing off that suggestion -- rookie Darcy Kuemper is an untested element and slumped before being sidelined by an injury, and we have seen Bryzgalov up close in the playoffs and let's just say the results were not sterling. Still, kudos to Bryzgalov for stepping into the breach and delivering the kind of starts many believed were beyond him. His current streak includes back-to-back shutouts, including a 1-0 blanking of Winnipeg on Monday in which he stopped 24 shots. Bryzgalov has allowed just five goals in this five-game span that has seen the Wild all but lock up the first wild card spot in the Western Conference.
---

@CraigCustance: He wasn't overly tested, which is a credit to the team in front of him, but Anaheim goalie John Gibson was perfect in his debut on Monday night, stopping all 18 shots he faced for his first career win and shutout. It's a hint of what's to come for the Ducks, who look like they're going to win the Pacific and also have a system stocked with talent, a credit to the rebuild on the fly by GM Bob Murray and his staff. Gibson is the goalie of the future and it'll be interesting to see how far off into the future that is for the Ducks. Jonas Hiller has struggled in March (.889 save percentage) and April (.841) and goaltending is the biggest question this team faces heading into the playoffs. It might be a question in the short term, but there's no debating the long-term plan. Gibson gave us a glimpse on Monday.
---

@Real_ESPNLeBrun: Vancouver's 3-0 loss at home to the Anaheim Ducks officially eliminated the Canucks from playoff contention -- the first time in six seasons the Canucks won't be in the postseason -- and now we wait for the drama to play out, for Vancouver ownership to show its hand. Will GM Mike Gillis or head coach John Tortorella, or both, be fired? Gillis and Tortorella each have four years remaining on their contracts, but wwner Francesco Aquillini has yet to make his voice heard on the future of the team. Gillis went on local radio last week and said he wanted the club to go back to playing a more high-octane, transition game, which was immediately interpreted as a shot at Tortorella, whose system has been more about chipping and chasing this season. It seems clear the two can't coexist past this season. Will Gillis be fired and Torts spared? Will Trots get gonged and Gillis allowed to stay? Will both get walking papers? Whispers out of Vancouver are that change could come soon, perhaps as early as today or Wednesday, but nothing is concrete. Please, do tell, Mr. Aquillini ...
---

@KatieStrangESPN: With Monday's game against the Calgary Flames a critical one for the New Jersey Devils' long-shot playoff hopes, the Devils really did give it everything they had. Flames netminder Karri Ramo was absolutely perfect, though, blanking New Jersey 1-0 at home. Ramo made 31 saves against the Devils, earning his team's makeshift MVP trophy, a fireman's hat, in the process. Said Flames coach Bob Hartley: "Karri got the fireman's hat. He deserved the truck too." Though Ramo's performance was pristine, it did not help that the Devils were once again without four of their skilled forwards in Patrik Elias, Ryane Clowe, Adam Henrique and Jacob Josefson. You have to give credit to coach Pete DeBoer, who still has his team playing all-out, but the lack of offensive depth is just too great for New Jersey to weather the sort of injuries it has sustained. Combine that with their appalling lack of success in the shootout this season -- they are 0-for-11 -- and Devils GM Lou Lamoriello really has his work cut out for him this offseason.
Picture This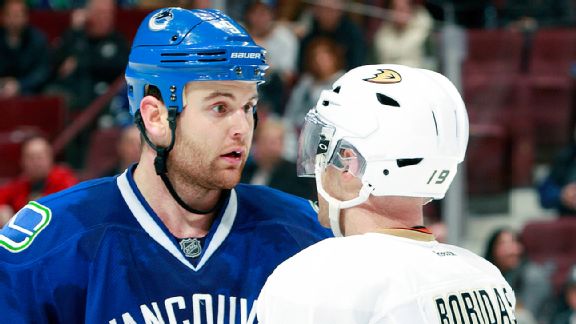 Jeff Vinnick/NHLI/Getty ImagesYou talkin' to me? It seems Zack Kassian didn't like what he heard from Stephane Roibdas.
Top Performers
Karri Ramo | Calgary Flames
31 SV, 0 GA
vs NJD | Recap

Ilya Bryzgalov | Minnesota Wild
24 SV, 0 GA
vs WPG | Recap

Daniel Winnik | Anaheim Ducks
1 G, 4 SOG, +2
vs VAN | Recap

Stats Central
• Ducks: 110 points this season; ties franchise record set by 2006-07 Stanley Cup-winning team.
• John Gibson (ANA): First goalie to post shutout in NHL debut since Al Montoya (PHO) on April 1, 2009.
• Devils: Loss snaps seven-game point streak.