Just A Thought
>

@ESPN_Burnside: It seemed for a few hours that the clock had been turned back a decade or so. There was Martin Brodeur facing only a handful of Boston shots (18 in total) en route to another victory (this one by a 3-2 score). But unlike back then, Sunday's game was a meaningless one for the Presidents' Trophy-winning Boston Bruins and the New Jersey Devils -- with the Devils out of the playoffs for a second straight year -- and was notable only because it likely marked the end of the line for Brodeur, at least as a Devil. The fans called out "Marty, Marty!" after the players left the ice, prompting the netminder to return for an encore goodbye. It's been a bit surprising to hear how many people have offered Brodeur career advice in recent weeks, mostly suggesting he walk away from the game. Who are they to suggest that? Nothing Brodeur does, even if shows up next fall in a New York Islanders jersey or playing backup in Winnipeg, will tarnish the reputation of the greatest goalie of all time. If he feels he's still got stops in those pads, then why not strap them on again next year if there's some team that feels the same way? See you next fall, Marty.
---

@CraigCustance:It was an awesome moment Sunday night in Anaheim when Teemu Selanne was named the winner of all three stars in his final regular-season home game with the Ducks and got to take a well-deserved victory lap to a standing ovation from the home fans. A nice touch by the Colorado Avalanche, too, to come out and line up to congratulate Selanne after the game. And then, in a moment that was perfect, Selanne grabbed former Ducks teammate Jean-Sebastian Giguere for their own lap together to huge cheers from fans at the Honda Center; the two were a big part of the Ducks' Stanley Cup team in 2007. It was vintage Selanne -- turning his moment into one he got to enjoy with others. Hockey just won't be the same without Teemu.
---

@Real_ESPNLeBrun: Some random thoughts this morning: Interesting to see how many people viewed home ice swinging from the Montreal Canadiens to the Tampa Bay Lightning as the determining factor in picking the Lightning over the Habs in seven games, instead of likely picking Montreal had it held on to home ice. There's no question the Bell Centre is an X factor when it comes to the postseason, the most electrifying rink in the NHL at this time of year. And despite Tampa winning three of four from the Habs in the regular season, I'm in the minority: I'm picking Montreal in seven games. The Habs have been playing like a contender since they got Tomas Vanek at the trade deadline ... I've developed a reputation over the years for always picking the San Jose Sharks come playoff time (although in truth that tradition ended a few years ago), and they once again look like a bona fide contender. The Sharks draw the Los Angeles Kings in the first round, though, and it's incredible how few people are giving San Jose a chance (including me). I'm picking the Kings to win in six. What worries me the most is that San Jose goalie Antti Niemi hasn't looked sharp. The good thing for San Jose (where I'm headed for the opening round to cover that series) is that perhaps the Sharks are coming into the series under the radar and as the underdog. ... If I had to pick a Cup champion right now, I'd go with the Bruins, especially because the East should be a more navigable journey compared to the contender-deep West. Yet I'm sure Bruins fans aren't exactly overjoyed their team drew the dangerous Red Wings in the opening round, a team that beat Boston three out of four games this season. I'm still picking Boston to prevail, but the matchup proves yet again that there's no such thing as a layup in the salary-cap era. All 16 teams that made the postseason have a shot.
---

@KatieStrangESPN: There was an eerie silence in Rogers Arena last night after the heart-stopping moment when Vancouver Canucks forward Daniel Sedin went down after an awkward hit from behind by Calgary's Paul Byron. Sedin could be seen wiggling his fingers, a good sign, though he was stretchered off the ice as thousands of Canucks fans looked on in concern. Sedin was taken to the hospital for further evaluation, and the team said he showed signs of improvement after the initial hit and was able to move his extremities. The Canucks' season has been a total disaster, but hockey seems trivial in light of this very frightening situation. Here's hoping Sedin, one of the true gentlemen of the game, makes a speedy recovery and all is well.
Picture This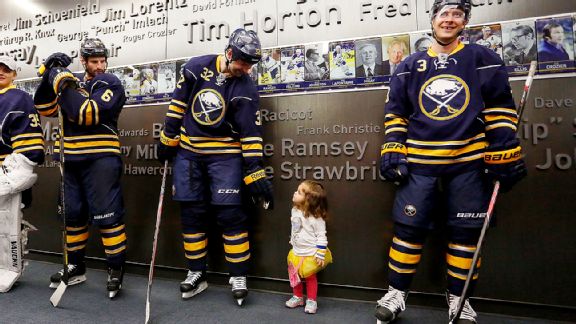 Bill Wippert/NHLI/Getty ImagesHow's it going down there? John Scott shared a moment with daughter Eva during Sunday's game.
Top Performers
Sunday

Craig Smith | Nashville Predators
2 G, 2 A, 7 SOG, +4
vs MIN | Recap

Braden Holtby | Washington Capitals
32 SV, 0 GA
vs TAM | Recap

Petr Mrazek | Detroit Red Wings
23 SV, 0 GA
vs STL | Recap

Saturday

Carey Price | Montreal Canadiens
41 SV, 0 GA
vs NYR | Recap

Craig Anderson | Ottawa Senators
28 SV, 0 GA
vs TOR | Recap

James Neal | Pittsburgh Penguins
1 G, 2 A, 9 SOG, +3
vs PHI | Recap

Quote Me On That
"It was a little emotional. I have spent my life here. All the fans out there know me. They have been calling my name for 20 years. Every time they stop me and talk to me, they are great. It's a relationship that an athlete has with people. It was definitely fun, but it was emotional."
-- Devils G Martin Brodeur after the win over the Bruins
---
"It was more emotion than I ever imagined. Over all the years, these fans have treated me so great. I never expected that, though. It was overwhelming."
-- Ducks F Teemu Selanne after the win over the Avs
Stats Central
Sunday
• Ducks: Finished season with 116 points, one fewer than Bruins for most in NHL.
• Blues: Outscored 22-5 during five-game losing streak.
• Avalanche: Clinch Central Division with Blues' loss.
Saturday
• Bruins: Clinch franchise's second Presidents Trophy; also won in 1989-90.
• Flyers: Clinched third spot in Metropolitan Division; will play Rangers in first round.
• Penguins: Second seed in East, will play Blue Jackets in first round.
• More form ESPN Stats & Information »