Just A Thought
>

@Buccigross: Look who is on top of the East! The Bolts. And how about Marty, Marty, the one-man party? Martin St. Louis is off to a great start. He's a surefire Hall of Famer in my mind.
---

@ESPN_Burnside: Take a look at the top of the Atlantic Division standings. No, it's not a computer glitch. The Tampa Bay Lightning, one of those teams given little regard with the NHL's new realignment, sit in first after their shootout victory over Florida on Sunday. After dropping their season opener to Boston, the Lightning have somewhat quietly gone 8-2 and with Sunday's win have put together their second three-game win streak of this young season. The biggest knocks on the Bolts coming into the season were that their goaltending was suspect, at best, and the defense needed to improve to be just "suspect." But those concerns, if they haven't been erased, have certainly been kept at bay. Although Anders Lindback earned the win Sunday, his first of the season, Ben Bishop has carried the freight thus far in goal with a 7-1 record and .914 save percentage. Meanwhile, the defense has been there, for the most part. The Bolts have allowed just one power-play goal in their past six games.
---

@CraigCustance: The return that Buffalo GM Darcy Regier got for Thomas Vanek is a strong one on the surface, with the first- and second-round draft picks being key for the rebuilding Sabres. But if Regier can spin UFA Matt Moulson into another first-round pick before the trade deadline, this deal will get even better. Regier might want to hurry, though, while Moulson's value is high. Moulson has been productive this season, but he's also been the benefactor of a 21.4 shooting percentage. He was ultraproductive playing next to John Tavares, but there's no John Tavares waiting for him in Buffalo. It's only fair to expect his scoring output to drop.
---

@Real_ESPNLeBrun: Say what you want about Regier, and most fans in western New York have had enough of him, but his returns for both the Vanek deal Sunday and the Jason Pominville deal at the April 3 trade deadline were quite impressive. He dealt Pominville and a fourth-round choice in 2014 for Johan Larsson, Matt Hackett, Minnesota's first-round choice this past June (turned into Nikita Zadorov) and Minnesota's second-round choice in 2014. A organizational source insisted to me last week that despite what is said about Regier in his market, owner Terry Pegula is committed to his GM being the one to tear down and rebuild this team, which means a long season on the ice. I still think no one's job is safe when the losing affects the fan base to a degree that's too hard to stomach, and we'll see where that threshold is this season in Buffalo. But for now, Regier is clearly Pegula's man in the rebuild. As for the Isles, they got the most talented player in the deal in a division where second place is up for grabs. Bold moves take courage, and a Vanek-Tavares combo could be lethal. But the Isles paid a hefty price, one that I doubt Regier would have been able to command from any other team at the March 5 trade deadline.
---

@KatieStrangESPN: There's little doubt that Tavares and Vanek have the potential to be a lethal tandem, but I'm interested in seeing how No. 91 handles the trade of his good friend and linemate Moulson. Best buds both on and off the ice, Tavares and Moulson forged an undeniable chemistry in their four years together in New York. GM Garth Snow acquired a top talent in the two-time 40-goal scorer, but Vanek might turn out to be no more than a very high-priced rental if the Isles can't persuade the pending UFA to re-sign. I have no problem with Snow rolling the dice, but if the intent was to shake things up, the team would've been better off had he traded for a goaltender instead.
Picture This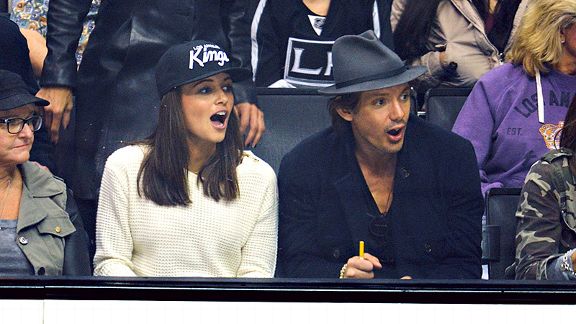 Noel Vasquez/Getty ImagesEither Lukas Haas and his friend were struck by awe at the Oilers-Kings game Sunday night or they were impressed by Darryl Sutter's hair.
Top Performers
Alex Stalock | San Jose Sharks
38 SV, 2 GA
vs OTT | Recap

Corey Perry | Anaheim Ducks
1 G, 1 A, 2 SOG, +1
vs CBJ | Recap

Richard Bachman | Edmonton Oilers
47 SV, 1 GA
vs LOS | Recap
Quote Me On That
"I think it helped a lot being a 5 o'clock game for me and not having to sit around all night and come to the rink and go through the routine. It was a little easier than sitting around all day in my hotel room."
-- Alex Stalock, after his first NHL start
---
"It's probably the quietest 8-3 record in the league, and we like it that way."
-- Steven Stamkos on the Lightning's start
Stats Central
• Sharks: improved to 3-1-0 on current five-game road trip (final game of trip is Wednesday at Kings)
• Steven Stamkos (Lightning): scored deciding goal in Sunday's shootout win; also had goal (8) and assist in regulation
• Panthers: winless in past three games (0-1-2) (third winless or losing streak of three-plus games this season)
• More from ESPN Stats & Information »