Just A Thought
>
---

@CraigCustance: It did seem like an odd place to start a goalie in his NHL debut. Before Sunday's game against the Blackhawks, Flames coach Bob Hartley was asked whether he hesitated throwing rookie goalie Reto Berra out against the defending Cup champions. Hartley pointed out that there are no easy games in the NHL, then added that he's learned not to hold back thoroughbreds. It's a line he liked to use with Ilya Kovalchuk and Dany Heatley when they were breaking into the league. But a 26-year-old, fourth-round pick goalie who has spent most his professional career in Switzerland? It didn't seem like the same breed. In his debut, Berra proved Hartley right. Berra delivered, making 42 saves against a relentless Blackhawks attack in Calgary's 3-2 overtime win in Chicago, providing a calm in net the Flames hadn't seen yet this season. This team, short on talent, already plays hard. If the Flames start getting saves, it might be time to start paying closer attention to what's happening in Calgary.
---

@Real_ESPNLeBrun: Earlier this season the Minnesota Wild dropped a game in Toronto they should have won, outplaying and outchancing the Maple Leafs -- but as was the case for the first few weeks, the Wild couldn't finish. I remember walking into their dressing room and seeing Mikael Granlund with his face in his hands, looking as though he had lost his dog. He had missed breakaways, and the jury was still out as to whether he was going to answer the bell as the No. 2 center, which was one of the important question marks for this season in Minnesota. Well, fast-forward to early November, and I'd say the answer to the question is yes. Granlund scored Sunday in a 4-0 win over New Jersey and now has eight points (one goal, seven assists) over his past seven games, growing in confidence and impact. The ninth overall pick from the 2010 NHL draft appears to have arrived.
---

@KatieStrangESPN: Although the Sens rallied Sunday night to force overtime and secure a point, Ottawa's concern has to be with the health of starting goaltender Craig Anderson, who left the ice on a stretcher board during the 4-3 shootout loss to the Stars. It was a scary moment when Anderson went down in a collision with Stars rookie Valeri Nichushkin, although Anderson gave the thumbs-up to the home crowd and Sens coach Paul MacLean downplayed any serious concern afterward, saying it was simply a stiff neck. (His wife tweeted Monday morning that Anderson was home from the hospital.) Whether Anderson is available Tuesday against Columbus remains to be seen, but regardless the Senators haven't shown the same signature pluck early this season that made them such an underdog story last season. The Sens have picked up the loser's point in each of their past two games, but they are winless in their past five and 3-5-2 over their past 10. Yikes. As you might expect, they are hoping Anderson doesn't miss significant time.
Picture This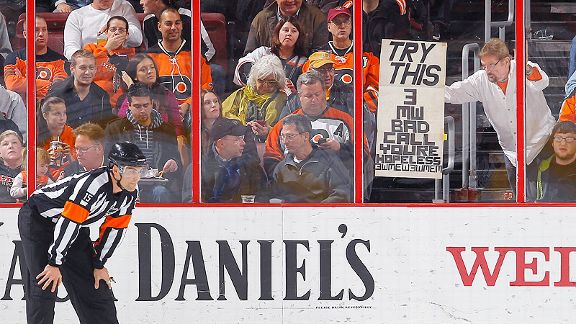 Jim McIsaac/Getty ImagesReferee Jean Hebert gets a little advice from a helpful Flyers fan over the weekend.
Weekend's Top Performers
Reto Berra | Calgary Flames
42 SV, 2 GA
vs CHI | Recap

Nino Niederreiter | Minnesota Wild
0 G, 3 A, 3 SOG
vs NJ | Recap

Derek Stepan | New York Rangers
3 G, 0 A, 7 SOG
vs CAR | Recap

Mike Smith | Phoenix Coyotes
48 SV, 2 GA
vs SJ | Recap

Corey Perry | Anaheim Ducks
2 G, 0 A, 5 SOG
vs BUF | Recap

Quote Me On That
"We can't keep doing this all season."
-- Senators defenseman Erik Karlsson, on his team's slide at home
---
"I thought it was a little bit of a measuring stick. We want to be in the same category as those guys."
-- Lightning goalie Ben Bishop, on his team's 4-2 win over the Blues
---
"I just felt a half-second behind everything. I did not feel like my normal self, but I will get better in a hurry."
-- Sharks defenseman Dan Boyle, on his first game back after missing seven while recovering from a concussion
Stats Central
SUNDAY
• Wild: 5-1-0 in past six games (won past two)
• Devils: second straight loss, both by shutout (shutout by Flyers on Saturday)
• Flames: first win at Blackhawks since March 16, 2008 (were 0-9-1 in previous 10 in Chicago)
• Senators: lost five straight, the past in shootouts; their longest losing streak since March 30-April 9 last season

SATURDAY

• Henrik Sedin (VAN): assist in first period, extends point streak to 11 (longest in NHL this season)
• Canucks: won last 11 meetings versus Maple Leafs (last loss to TOR was Nov. 24, 2003)
• Joe Thornton (SJ): 800th career assist (30th player in NHL history to reach mark)
• Thomas Vanek's career totals of 30 goals, 29 assists and 59 points (in 51 games) make him the leader versus Boston in each of those categories since he entered the NHL in October 2005.
• More from ESPN Stats & Information »