Just A Thought
>
---

@CraigCustance: After losing six of their past seven games, the Jets desperately needed Monday night's win. The last thing Winnipeg wanted to do was head into Chicago coming off another loss. In beating Detroit 4-2, the Jets finally showed life. And, aside from strong goaltending from Al Montoya, the most encouraging thing was the play of Mark Scheifele. If the Jets are going to make progress this season, they need more of the young talent GM Kevin Cheveldayoff is collecting to start contributing. Scheifele, the No. 7 pick in 2011, has been a disappointment, scoring just once this season, but he had a pair of assists against Detroit and was named the game's first star. It's a performance to build on for the talented 20-year-old.
---

@Real_ESPNLeBrun: How about them Anaheim Ducks, eh? They were mighty indeed on their season-high eight-game (15-day) road trip, going 5-2-1 in picking up 11 out of a possible 16 points in games through Toronto, Montreal, Ottawa, Columbus, Philadelphia, Boston, Buffalo and, finally, New York on Monday night, with the Ducks edging the Rangers 2-1. Oh, and the Ducks improved to 12-3-1 on the season to take over first overall in the NHL standings with 25 points. Now, they've played three more games than Colorado (12-1-0) and two more than San Jose (10-1-3), but it doesn't take away from a sensational start by last year's Pacific Division regular-season champs. And I think it was important for the Ducks to have this kind of start; given their first-round playoff exit in the spring, some people felt their division title last season was a bit of a fluke. To me, they needed to come out strong this season to set the tone. And they have.
---

@KatieStrangESPN: One of the most interesting elements of the Anaheim Ducks' success this season is their apparent depth between the pipes. With Viktor Fasth on the mend, Frederik Andersen's emergence has been welcome for the surging Ducks, who are battling a bevy of elite teams in a dominant Western Conference and loaded Pacific Division. The 24-year-old Dane, who stopped 32 of 33 shots against the Rangers on Monday night, has recorded four straight wins since being called up from the AHL. Andersen was 24-18-1 last season for the Norfolk Admirals with a 2.19 goals-against average and .929 save percentage. All this leads one to wonder: What will happen when Fasth returns? Perhaps more importantly, what will happen as the trade deadline nears? Considering 31-year-old Jonas Hiller is an unrestricted free agent and the Ducks have more talent in their pipeline with talented prospect John Gibson playing extremely well in Norfolk, could Anaheim be looking to make a move? Maybe the Ducks could find someone to help their ailing power play. Anaheim remains dead last in the league with only four power-play markers in 60 opportunities. If you're scoring at home, that's good for a measly 6.7 percent. Woof.
Picture This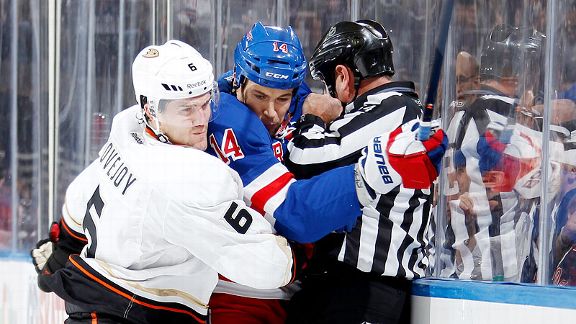 Scott Levy/NHLI via Getty ImagesGetting caught between the boards and two NHL players can't be a fun experience.
Top Performers
Michael Frolik | Winnipeg Jets
1 G, 1 A, +1, 4 SOG
vs DET | Recap

Frederik Andersen | Anaheim Ducks
32 SV, 1 GA
at NYR | Recap

Jimmy Howard | Detroit Red Wings
43 SV, 4 GA
at WPG | Recap

Quote Me On That
"To play in Madison Square Garden is something special. I love New York. There are so many great things to do here, and I guess another one is to win a hockey game."
-- Ducks goalie Frederik Andersen
Stats Central
• Ducks: 5-0-1 in past 6 games (won last 2)
• Ducks: finish 8-game road trip at 5-2-1
• Red Wings: 1st game in Winnipeg since April 28, 1996 (beat original Jets in 6th and final game of 1996 conference quarters)
• More from ESPN Stats & Information »
Socializing
Why are we trying to turn it into a boys game! It does take a man not a boy to face those fears. Most haven't forgot about the fight since

— Krys Barch (@krysbarch) November 4, 2013
One of a series of tweets from @krysbarch about the fight in the Caps-Flyers game Friday night.