Just A Thought
>
---

@CraigCustance: I picked the Senators to win the Eastern Conference this season, so I feel a little bit invested in their success. And that success has been quite minimal, with Ottawa sitting at No. 6 in the Atlantic. Part of that is because of a West-heavy schedule that didn't go particularly well; the Senators are 1-6-2 against the West. But this is my public declaration that I stand by the Senators. Tuesday night's win exemplified exactly what is so appealing about Ottawa. Besides having one of the game's best coaches in Paul MacLean, they have the game's best backup goalie in Robin Lehner, who earned his first win of the season and will need more with Craig Anderson recovering from an injury. They have the most electric defenseman in the league in Erik Karlsson, who scored twice. I loved the smart addition of Clarke MacArthur, whose wrister gave the Senators a 2-0 lead. And best of all? The schedule is about to get East-heavy. Nine of the next 10 games are against the weaker conference. Time to start piling up points, Ottawa.
---

@Real_ESPNLeBrun: Watching Manny Malhotra score the overtime winner for Carolina on Tuesday night was a reminder of why this game can be so special at times. His career derailed by a scary eye injury in Vancouver, Malhotra played only nine games with the Canucks last season and it appeared it was the end of the road for him, especially when no NHL team came calling this summer. He signed a pro-tryout contract with the AHL's Charlotte Checkers and played eight games before injuries in Carolina made the Hurricanes decide to give him another shot, signing him to an NHL deal last week, joining the club as the fourth-line center. His overtime goal Tuesday night made the improbable comeback complete for Malhotra, whose perseverance is uplifting. Good on you, Manny.
---

@KatieStrangESPN: I'll admit that I picked the Columbus Blue Jackets to be a sleeper team in the Eastern Conference, what with their Vezina Trophy-winning goaltender Sergei Bobrovsky and a plucky club that seemed to be on the cusp of a turnaround. How is that pick looking now? Well, not so good considering the Jackets have dropped four straight games, including Tuesday night's 4-1 loss to Ottawa. Columbus is struggling for offense with only three goals in the last three games, two of which have been against backup goaltenders. Bobrovsky, who backed up Curtis McElhinney on Tuesday night, hasn't been the same with a disappointing 4-7-0 record, 2.79 GAA and .910 save percentage. The Blue Jackets had better get things together, and soon, if they want to avoid plummeting in the standings. Starting next week, they play seven of eight games on the road.
Picture This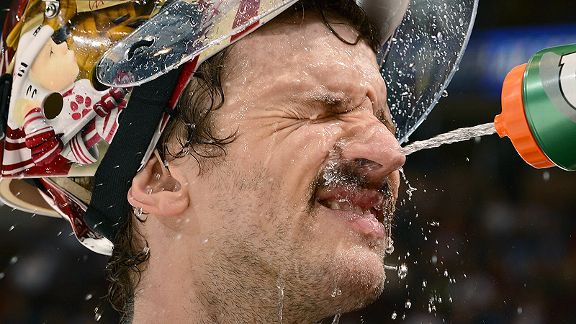 Norm Hall/NHLI/Getty ImagesMike Smith waters his Movember mustache to help it grow.
Top Performers
Zach Parise | Minnesota Wild
2 G, 1 A, +2, 5 SOG
vs CGY | Recap

Erik Karlsson | Ottawa Senators
2 G, +3, 7 SOG
at CBJ | Recap

Alex Ovechkin | Washington Capitals
1 G, 1 A, 4 SOG
vs NYI | Recap

Robin Lehner | Ottawa Senators
32 SV, 1 GA
at CBJ | Recap

Quote Me On That
Three sides to the story in Boston:

"I don't care about that. Give it a break. I'm mad because we lost."
-- Bruins coach Claude Julien when asked about Seguin and Peverley
---
"I have to say it's a special game. I knew where this was on the calendar. I knew my first time in Boston."
-- Stars' Tyler Seguin
---
"I think I was more nervous for this game than I was for any of the Stanley Cup finals. It was emotional for me, but it was fun to be here."
-- Stars' Rich Peverley
Stats Central
• Wild: 6-1-0 in last 7 games (won last 3)
• Hurricanes: snap 5-game losing streak
• Oilers: snap 5-game winless streak
• Senators: snap 5-game winless streak
• Capitals: won 3 straight games (outscored opponents 16-4)
• Bruins: 1-3-1 in last 5 games after starting season 7-2-0
• More from ESPN Stats & Information »