Just A Thought
ideo1>
---

@ESPN_Burnside: Just when you
Just when you think we've reached the final chapter in the historic career of Martin Brodeur, he decides to pen a few more pages. Brodeur stopped 33 of 35 shots Tuesday night as the Devils edged the New York Rangers 3-2. The win was the third in a row for the incomparable Brodeur, who also has won five of six for the suddenly resurgent Devils. In the six-game span that has seen him go 5-1, the 41-year-old Brodeur has allowed just seven goals and earned two shutouts. And just when you thought the goaltending torch was about to be passed in New Jersey ...
---

@CraigCustance: It was hard not to be impressed with the effort shown by the Lightning in their 2-1 shootout win over the Canadiens. It's just one game, but it's another reminder of how much of a team game hockey truly is. Steven Stamkos, out indefinitely with a broken tibia, is irreplaceable, but coach Jon Cooper is creating a wolf-pack team identity in Tampa Bay that has never been about one player. Don't forget, the Penguins were able to win without Sidney Crosby for long stretches. If Ben Bishop continues to play the way he has, it would be a mistake to dismiss the Lightning without Stamkos. Early indications look positive, but it's only going to get harder for Tampa until Stamkos returns.
---

@KatieStrangESPN: A fine piece of reporting from our very own Craig Custance Monday night has sparked an interesting chain of events in Edmonton with regard to former No. 1 overall pick Nail Yakupov. Yakupov's agent, Igor Larionov, expressed concern over the way his client has been used by the struggling Oilers and said he'd be open to a trade. Yakupov admitted on Tuesday that he was frustrated about his ice time. I'm uncomfortable making a quick judgment on that, not knowing firsthand Yakupov's grasp of English and its nuances. Larionov knows exactly what he's doing, however. And right now, that seems to be making an already tenuous situation worse by ratcheting up the rhetoric for a team that really does not need the drama or distraction. It will be interesting to see how coach Dallas Eakins and GM Craig MacTavish handle this one; it could be a defining moment for both.
Picture This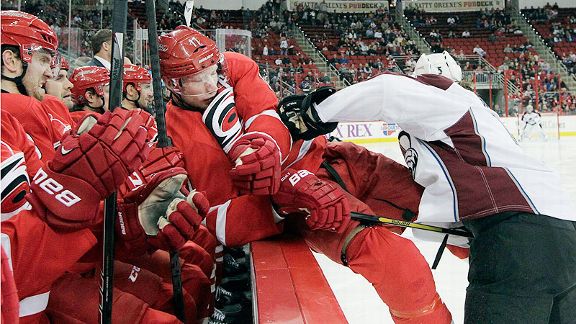 Chris Seward/Raleigh News & Observer/Getty ImagesJordan Staal gets some help getting on the bench from the Avs' Nate Guenin.
Top Performers
Ryan Carter | New Jersey Devils
2 G, +2, 3 SOG
at NYR | Recap

Oliver Ekman-Larsson | Phoenix Coyotes
1 G, 1 A, +1, 1 SOG
at STL | Recap

Jakub Voracek | Philadelphia Flyers
2 G, +1, 3 SOG
at OTT | Recap

Ryan Miller | Buffalo Sabres
43 SV, 2 GA
vs LA | Recap

Ondrej Pavelec | Winnipeg Jets
41 SV, 2 GA
at DET | Recap

Quote Me On That

"I'm not quite sure what happened there. It's an easy first man on the puck. Mind you, it's a routine save."
-- Rangers coach Alain Vigneault calling out Henrik Lundqvist for not making a save
---
"Hopefully they're just looking at the way they think you're playing. Again, it's not really about making the team right now for me, it's about coming off of Anaheim and making a statement coming back that I'm going to be a pro and rebound with these guys and help give them a chance to win."
-- Sabres goalie Ryan Miller on the Olympic talk
Stats Central
• Sabres: 1st home win this season (1-8-1)
• Avalanche: 1st road loss this season; had matched longest road winning streak (6) to begin season in franchise history
• Coyotes: 7-1-0 in past 8 games (past 5 wins all in OT/shootout)
• Blue Jackets: lost 5 straight on road; lost 6 of past 7 overall
• Lightning: won 4 of past 5 games overall; 6-2-0 in past 8 road games
• Jets: won 3 straight and 4 of previous 5 games
• Panthers: 1st win in 10 games (were 0-5-4 in previous 9)
• Devils: 2-0 vs. Rangers this season; 3-0-1 in past 4 games (3 goals allowed)
• More from ESPN Stats & Information »