Just A Thought
>

@ESPN_Burnside: Look out, Eastern Conference, the Boston Bruins are starting to behave like the Boston Bruins of recent memory. Shawn Thornton, a healthy scratch Monday in the Bruins' 4-1 win over Carolina, was back Tuesday and scored the first goal in a big 2-1 win over the surging New York Rangers at Madison Square Garden, beating Henrik Lundqvist with a high wrist shot in the second period to give the Bruins a 1-0 lead. The Bruins also got a short-handed goal from Daniel Paille and strong goaltending from Tuukka Rask (what else is new?) to illustrate once again just how deep and formidable this team is. On a night when big boys Milan Lucic, Jarome Iginla and David Krejci didn't show up on the score sheet, the Bruins still got the job done. How many times have we said that in the last three seasons? With Tampa learning how difficult life is going to be without Steven Stamkos and the Detroit Red Wings banged-up and bewildered, would it surprise anyone if the Bruins, now in first place in the Atlantic, ran away with the division?
---

@CraigCustance: One of the things that made HBO's first "24/7" so compelling was the contrast between a struggling Capitals team in the midst of a losing streak and a successful Penguins team leading up to the Winter Classic. It's looking like we might have similar drama this time around. HBO is in Detroit doing background interviews and preparing to follow the team full time, and if conflict makes for good TV, this should be a strong drama. The Red Wings haven't won a game since Nov. 2, with rotating injuries making it hard for GM Ken Holland to get a read. Danny DeKeyser, who left Tuesday night's shutout loss against the Predators early, is the latest. Asked Wednesday to assess his team, Holland couldn't. "We don't have any rhythm to get going," he said. "I can't really tell you about my team because I haven't really seen our team." The Maple Leafs? They won their fifth straight home game.
---

@Real_ESPNLeBrun: A look at the overall standings Wednesday morning revealed what has been awfully obvious so far this season: The West is best. The top eight spots were occupied by Western Conference teams, four each from the Pacific and Central Divisions. Boston was ninth in the league to lead the Eastern charge, but was behind Chicago, Anaheim, St. Louis, San Jose, Phoenix, Los Angeles, Colorado and Minnesota -- and all eight Western teams are separated by only two points, amazingly. According to Bob Waterman of Elias Sports, those eight teams have a combined record of 57-17-9 versus the Eastern Conference. As for the Kings, they've reeled off four straight wins, and backup netminder Ben Scrivens is 4-0-0 with a 1.00 goals-against average since replacing the injured Jonathan Quick late in last week's shootout win at Buffalo. The Kings -- who had trailed Pacific rivals Anaheim, San Jose and Phoenix for most of the season -- are now tied in points with the Sharks and Coyotes and are just one point behind the Ducks. It's going to be one heck of a final four-and-a half-month race for the Pacific Division crown.
---

@KatieStrangESPN: It has been an uphill battle for the Philadelphia Flyers through the first quarter of the season, but it appears the Flyers have put their tough stretch behind them as they try to elbow their way back into the thick of the Eastern Conference playoff picture. With their 5-2 victory against the Senators on Tuesday, the Flyers are now within two wins of .500 -- certainly an attainable feat considering they host the Buffalo Sabres and New York Islanders to wrap up their three-game homestand this weekend. Winners in four of their last five, goaltender Steve Mason has been one of the team's saving graces: He made 32 saves Tuesday night. Meanwhile, some of the team's key contributors are beginning to break out; Claude Giroux, Sean Couturier and Kimmo Timonen chipped in with goals Tuesday. One month ago, it would have seemed laughable to say the Flyers still have a fighting chance to sneak into the playoffs, but with the widespread mediocrity in the Eastern Conference, is it really outside the realm of possibility?
Picture This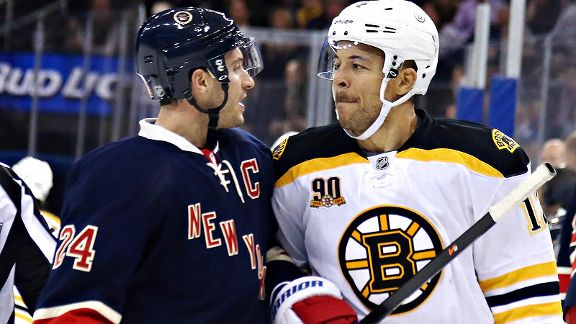 Bruce Bennett/Getty ImagesBoston's Jarome Iginla confronts New York's Ryan Callahan during their game at the Garden.
Quote Me On That
"When you skate hard, create chances, good things will happen. The team looks good right now. A lot of things are going well for us now and we have to keep it going."
-- Flyers' Kimmo Timonen
---
"It's just a frustrating time for us right now. It just doesn't seem like anything's going our way out there."
-- Red Wings' Jimmy Howard
Stats Central
• Red Wings: winless in last 7 games (0-2-5)
• Flyers: 4-0-1 in last 5 games
• Blues: 3-1-0 in last 4 games
• Kings: 6-0-1 in 7 straight games, allowing just 5 goals in that span
• Islanders: lost last 5 road games (last road win: Nov. 1 at Senators)
• More from ESPN Stats & Information »