Just A Thought
>

@ESPN_Burnside: After a couple of inspired performances in the wake of Steven Stamkos's broken leg, reality has set in for the Tampa Bay Lightning, and it's not pretty. The Lightning were hammered 5-1 in San Jose Thursday night, their third straight loss. They have been outscored 16-6 in losses to Phoenix, Los Angeles and the Sharks, and the power play has sputtered in Stamkos's absence, going 1-for-7 with the man advantage during the losing skid that has cost the Lightning top spot in the Atlantic Division. They finish this four-game trip from hell Friday in Anaheim and then are home for three games next week against the New York Rangers, surging Philadelphia and Pittsburgh. In short, life without their top player isn't about to get any easier any time soon.
---

@CraigCustance: We saw what it looks like when things aren't clicking for the Oilers, and it was ugly. Suddenly, the league is getting a taste of how this team can play when things are going well and confidence is high -- and it's just as eye-opening. This time, in a positive way. Edmonton won again Thursday night, beating Florida 4-1 to earn its third consecutive win. Beating the Flames, Blue Jackets and Panthers isn't cause to fire up the playoff-ticket-printing machine, but the lopsided manner in which they've done it is impressive, outscoring those teams 15-3. The fact that they still have a minus-20 goal differential shows you just had bad it got early in the season. Perhaps more important than the goal-scoring is that goalie Devan Dubnyk now quietly has a .913 save percentage in nine November starts. Up next come the Blackhawks on Monday, a chance for the Oilers to show if this small surge is the real thing.
---

@Real_ESPNLeBrun: If the St. Louis Blues and Boston Bruins hook up in the Stanley Cup finals later this season, they might just run out of ice packs. Holy jumping, that was a man's game Thursday night as the Blues outlasted the Bruins 3-2 in a shootout. Talk about a heavy tilt, two physical clubs pounding each other in a terrific affair. It reminded me of the Kings-Blues first-round series last spring. It's just too bad Thursday's game ended in a shootout, the kind of individual, artistic trick event that didn't merit finding its way in a game that was a war. Red Wings GM Ken Holland finally convinced his colleagues last week in Toronto to extend overtime next season, a matter that will be more formally detailed at the next general managers meeting in March, and Thursday night's game in Boston was the ultra-perfect example of what Holland is talking about. That's a game that deserved to end with a more traditional hockey play. Not with a shootout.
---

@KatieStrangESPN: Anyone wondering if Henrik Lundqvist would return to form this season should take a long look at his first-period performance Thursday night. The 31-year-old 2012 Vezina Trophy winner was spectacular while turning away all 23 shots faced from the Stars, who vastly outplayed the Rangers in the opening frame. According to Elias Sports Bureau, that marked a career high for Lundqvist for saves during a single period. The King went on to make 18 more saves -- and added an assist on Rick Nash's power-play goal -- throughout the night as the Rangers knocked off the Stars 3-2 and the Rangers snapped a two-game skid. Lundqvist has held opponents to two goals or fewer in 10 of his 16 starts and has posted a stellar 1.71 goals-against average, and .940 save percentage since returning from an unspecified injury earlier this season. The franchise goaltender sure has turned things around since a shaky start to the season.
Picture This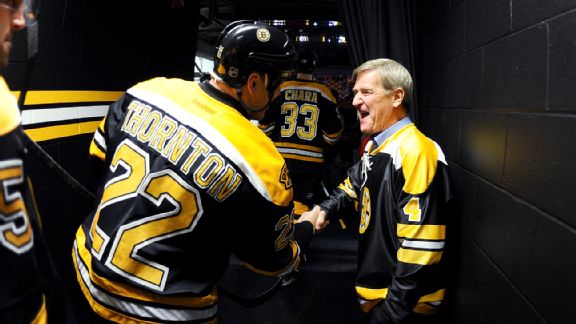 Steve Babineau/NHLI/Getty ImagesShawn Thornton greets Bobby Orr before the Bruins' game.
Top Performers
Craig Smith | Nashville Predators
2 G, 1 A, +2, 4 SOG
at TOR | Recap

Jonathan Toews | Chicago Blackhawks
1 G, 3 A, +3, 3 SOG
at WPG | Recap

Henrik Lundqvist | New York Rangers
41 SV, 2 GA
at DAL | Recap

Quote Me On That
"We'll see, we'll see what happens here. Obviously this is where I want to play and I want to be a part of this team and hopefully we'll be able to work that out."
-- Gustav Nyquist on possible return to AHL
---

"I usually look at body language on the bench, and Roysie was perked up he wanted to go. So we had him go."
-- Ken Hitchcock on picking Derek Roy for shootout
Stats Central
• Devils: 4-0-1 in last 5 road games
• Red Wings: 1st win in last 8 games (1-2-5)
• Sharks: won 5 straight home games vs Lightning (outscored TB 27-7)
• Blackhawks: 6-2-0 in last 8 games overall; 1-1-0 on 7-game road trip (next game on trip: Saturday at Canucks)
• Rangers: won 5 straight road games (this was first game of 5-game road trip)
• Flyers: 5-0-1 in last 6 games
• Coyotes: 8-1-2 in last 11 games (8 games decided by 1 goal)
• Blues: 7-1-1 in last 9 games, 22/25 on penalty kills in those games
• More from ESPN Stats & Information »