Just A Thought
ideo1>

@ESPN_Burnside: Folks have been predicting one form or another of a Detroit Red Wings collapse for a decade now. These dire predictions often accompany a period of tepid play, a lack of scoring and poor goaltending that seem (to some observers) to portend a long-term disaster. All the Red Wings do in the face of such murmurings is right the ship and move on. So it was Wednesday night in Detroit, where the Red Wings had been brutal all season, that they jack-hammered the hottest team in the Eastern Conference, the Boston Bruins, 6-1. The Red Wings were without Pavel Datsyuk and Todd Bertuzzi and had backup Jonas Gustavsson in goal, but they got goals from six players before the Bruins managed their only goal with fewer than three minutes left in the game. The win was just the third in the past 11 games for the Red Wings and they are still just 5-4-6 at home, but it moved them to within three points of the Atlantic Division lead and suggests, unlike all those previous predictions, that it's best never to count them out.
---

@Real_ESPNLeBrun: The bloom is officially off the rose for the Toronto Maple Leafs, who blew 4-1 and 5-3 leads in Pittsburgh while failing to register a single shot on goal in the third period and overtime en route to a demoralizing 6-5 shootout loss on Wednesday night. This on the heels of a 6-0 waxing at the hands of struggling Columbus on Monday night. Yet again, the Leafs were outshot on Wednesday, this time 48-24, as that ugly trend continued. The Leafs have outshot the opposition only three times in 25 games this season. Before recently, it didn't seem to matter because the Leafs used hot goaltending, timely scoring and solid special teams to overcome defensive coverage issues. But that can last only so long. After a 10-4-0 October, the Leafs have gone 4-5-2. The Leafs are 28th in shots for and 30th in shots against per game. That's just not going to cut it. Coach Randy Carlyle is driving himself crazy. His teams in Anaheim were defensively responsible. He's got to get through to these guys in Toronto.
---

@KatieStrangESPN: One thing I am thankful for? That I am not in Jack Capuano's shoes. No doubt his seat has to be getting pretty toasty after the Islanders' fourth straight loss, 3-2 to the Winnipeg Jets on Wednesday night. Capuano is regarded as a passionate coach, but I'm just not convinced he has the experience necessary to mold the Islanders into a consistent playoff team. Granted, he's got a banged-up squad, but the lowly Isles, now in 14th place in the Eastern Conference, have won only two of their last 10 games. Capuano shouldn't be the only one scrutinized, however. At some point, general manager Garth Snow has to be held culpable for the team's shortcomings as well. Before the season, goaltending and defense were pinpointed as the team's weakest links. Instead of shoring up those positions, Snow made a blockbuster trade that addressed neither of those pressing needs. How is that looking now?
Picture This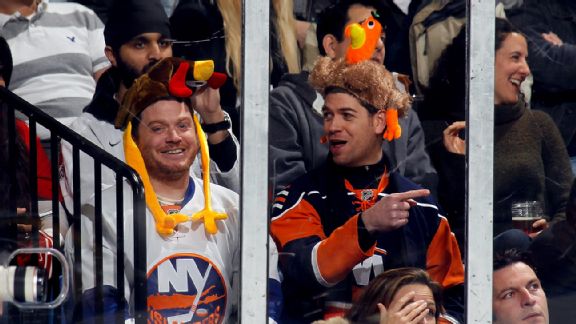 Bruce Bennett/Getty ImagesThere's a joke in there somewhere about the Islanders playing like turkeys.
Top Performers
Evgeni Malkin | Pittsburgh Penguins
2 G, 1 A, -1, 6 SOG
vs. TOR | Recap
Victor Hedman | Tampa Bay Lightning
2 G, 1 A, +2, 3 SOG
vs. PHI | Recap
Jaroslav Halak | St. Louis Blues
25 SV, 1 GA
vs. COL | Recap
Quote Me On That
"We need everyone to have the same mindset, play hard every shift and do all the little extra things on the ice. When we don't do that as a team, we are pretty easy to play against. No question this is frustrating and we need to address it."
-- John Tavares
---
"Yes, I'm surprised. I'm trying to work and do what I can, but I'd like to see the ice a little bit more."
-- Cory Schneider on Martin Brodeur getting his third straight start
Stats Central
• Blues: won 5 straight games (allowed 5 total goals)
• Avalanche: 5-5-0 in last 10 games after starting season 12-1-0
• Blackhawks: won 4 straight games (all on the road)
• Sharks: won 3 straight games that went to OT/SO (lost previous 4)
• Flyers: first regulation road loss since Oct. 12
• Penguins: 4-1-1 in last 6 games
• Maple Leafs: 0-3-2 in last 5 road games
• Bruins: 1st regulation loss in last 6 games
• Capitals: 1st regulation loss in last 14 home games vs. Senators; lost 3 straight home games, 0-3-1 in last 4 games overall
• More from ESPN Stats & Information »