Just A Thought
>

@ESPN_Burnside: Turns out Vancouver GM Mike Gillis could have traded both his prime goaltenders last season. And who knows, if Eddie Lack keeps it up, maybe Gillis will take another run at trading Roberto Luongo before this season is out. OK. Maybe not. Still, good on Lack, the big (6-foot-4) native of Norrtalje, Sweden, who recorded his first NHL shutout Monday night, blanking the Carolina Hurricanes 2-0. Lack, who was signed as a free agent by Vancouver back in 2010 and who toiled for Manitoba and Chicago of the American Hockey League until a spot opened up on the Canucks' roster after Gillis dealt Cory Schneider to New Jersey at the draft in June, has been more than solid, compiling a 4-2 record, including two straight wins (both over Carolina, go figure) with a .925 save percentage. He didn't just sleepwalk through Monday's win, either, stopping all 31 shots the Hurricanes poured on the 25-year-old. All he needs now is a Twitter account and a fully developed sense of humor to completely take over for Luongo.
---

@CraigCustance: Considering the long history of mistakes general managers make during the annual free-agency signing frenzy in July, it's worth pointing out when a move works out shrewdly. Ottawa GM Bryan Murray signed Clarke MacArthur to a two-year deal worth $3.25 million per season this summer and it's looking like it could be one of the best value signings of the summer. In helping the Senators earn their first shootout win of the season, MacArthur scored twice against the Flyers on Monday night, giving him four goals in the past five games. He now has 11 goals in just 30 games, three more than he scored all last season with the Maple Leafs. In a season when much has gone wrong for the Senators, MacArthur has been a player who gives hope a turnaround might still be possible.
---

@KatieStrangESPN: The Islanders will call up top prospect Ryan Strome in advance of Tuesday night's game against the Sharks, and while there is no debate that the former first-round pick has earned it, let's also not confuse the move with one the Islanders actually need. It would be unfair to saddle the 20-year-old with the expectation of being the remedy to the Islanders' problems because the kid is entering an absolute mess. The wayward club dropped its 10th straight Monday night, a 5-2 loss to the Anaheim Ducks, after squandering a lead and giving up two goals in a 33-second span during a critical second period. That marks 10 consecutive road losses without earning even a point for the beleaguered group. Bringing up Strome might provide a boost to the offense and it might temporarily appease a frustrated fan base, but it is hardly a cure-all. Team owner Charles Wang and general manager Garth Snow have been there to witness this free fall first-hand. Large-scale changes are needed and an AHL call-up isn't going to cut it.
Picture This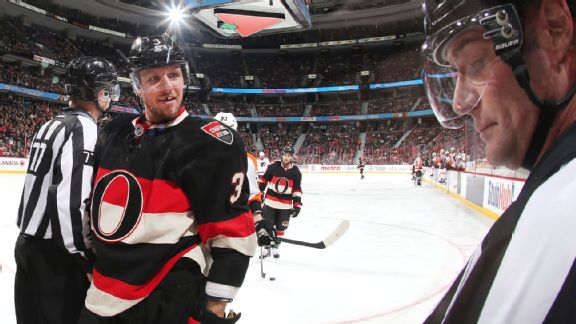 Andre Ringuette/NHLI via Getty ImagesOttawa's Marc Methot doesn't appear to be pleased with Greg Kimmerly.
Top Performers
Clarke MacArthur | Ottawa Senators
2 G, +1, 2 SOG
vs. PHI | Recap

Marc-Andre Fleury | Pittsburgh Penguins
32 SV, 1 GA
vs. CBJ | Recap

Cam Fowler | Anaheim Ducks
1 G, 2 A, +2, 3 SOG
vs. NYI | Recap

Eddie Lack | Vancouver Canucks
31 SV, 0 GA
vs. CAR | Recap

Quote Me On That
"There's no doubt they're good together. They're both really good players. When they don't have each other, they're capable of making plays, too."
-- Sidney Crosby on Evgeni Malkin and his linemate James Neal
Stats Central
• Canucks: 5th straight win (allowed 2 goals or fewer in all 5 games, 6 goals total)
• Islanders: 0-8-2 in last 10 games
• Senators: First shootout win this season (0-4 in previous games)
• Penguins: 3-0-0 vs CBJ this season, allowing 3G
• Sidney Crosby (PIT): 16th goal of season; Penguins are 10-2-1 when Crosby scores this season
• More from ESPN Stats & Information »