Just A Thought
ideo1>

@ESPN_Burnside: Our pal Craig Custance referenced a potential Hart Trophy duel between Sidney Crosby and Alex Ovechkin the other night (we know this because we were sitting beside him in San Jose when he wrote it), but what about Patrick Kane? Is there room for the Chicago star in the Hart discussion? Why not? Kane had a pair of assists in Wednesday's 7-2 crushing of the Philadelphia Flyers and moved within a point of an idle Crosby atop the NHL scoring list with 42 points in 34 games. Kane has, incredibly, recorded at least a point in 19 of his past 20 games. The Blackhawks are a handful right now as they lead the NHL in goals per game by a wide margin and boast three players in the top 30 in scoring (Kane, Patrick Sharp and Jonathan Toews) as well as two players (Duncan Keith and Brent Seabrook) in the top 10 in points by defensemen. The whipping of the Flyers marked the 15th time this season the Blackhawks have scored at least four times, and they have poured in at least six goals in three straight games.
---

@CraigCustance: If playing the reigning champs is a measuring-stick game, then the Flyers' blowout loss to the Blackhawks on Wednesday night was an indication that there's still lots of work to be done by Craig Berube's group. Five second-period goals by the Blackhawks spoiled Ray Emery's return to Chicago. But let's be real: Very few teams measure up with the Blackhawks right now. Even fewer in the East, which is the silver lining for Philadelphia. The Flyers might not measure up with the best in the West, but they don't have to if the goal is to stay in the playoff hunt. Not in today's NHL. The better measuring stick is Thursday night's return home for a game against Montreal, an immediate opportunity for the Flyers to respond.
---

@Real_ESPNLeBrun: It was a night of goalies facing their former teams Wednesday night with Jonathan Bernier taking on his old buds from Los Angeles and Ray Emery against his old pals from Chicago. It didn't go as planned for either. Bernier was solid in a 3-1 defeat, but you just know it must have eaten at him to not just lose to his former team, but to the kid who was behind him on the organizational depth chart in Los Angeles. Martin Jones won again, a night after blanking the Habs in Montreal. Ho-hum, right? Geez, what a story with the Kings continuing to win games without MVP netminder Jonathan Quick. For Emery, it was a little uglier. He was shelled by the Hawks, giving up six goals on 18 shots before being mercifully replaced by Steve Mason. That's got to sting for Emery, who was dynamite last season as Corey Crawford's backup in Chicago before bolting to Philadelphia for what he hoped would be a chance at more starts. Thing is, Mason has essentially grabbed a stranglehold on the No. 1 job in Philly.
---

@KatieStrangESPN: With their fourth straight win, the Anaheim Ducks continue to roll and challenge the Chicago Blackhawks for the top spot in the Western Conference. Although the Blackhawks delivered a dominant performance of their own in a 7-2 drubbing of the Flyers on Wednesday night, Anaheim protected a pristine record at the Honda Center with a 2-1 victory against the Minnesota Wild; the Ducks remain the only team in the league yet to suffer a regulation loss at home (12-0-2). Corey Perry, on pace for what would be his second 50-goal season, extended his goal streak to seven games -- tops in the NHL -- when he notched his 21st, coming against one of the league's best netminders in Josh Harding.
Picture This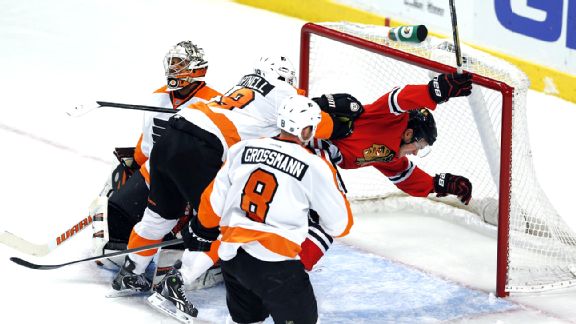 Scott Strazzante/Chicago Tribune/Getty ImagesNow, Scott Hartnell, is that any way to treat Jonathan Toews?
Top Performers
Patrick Sharp | Chicago Blackhawks
1 G, 2 A, +1, 4 SOG
vs. PHI | Recap
Martin Jones | Los Angeles Kings
38 SV, 1 GA
at TOR | Recap
Quote Me On That
"You're going to be frustrated. There's an old saying, 'You show me a good loser and I'll show you a loser.'"
-- Flyers' Ray Emery on loss in Chicago
Stats Central
• Flyers: largest losing margin against Blackhawks since February 1973
• Blackhawks: have outscored opponents 19-6 during current 3-game win streak
• Kings: have won 5 straight games and have earned a point in 16 of their past 17 games (12-1-4)
• Maple Leafs: 2-5-2 in their past 9 games
• Ducks: 12-0-2 at home this season (only team without a regulation home loss)
• More from ESPN Stats & Information »