Just A Thought
ideo1>

@ESPN_Burnside: The Washington Capitals are building quite an interesting résumé this season. On Sunday they followed a familiar script, getting behind the eight ball early, looking like they were going to give up a couple of points to a lesser opponent, only to storm back in unlikely fashion to steal two points of their own post-regulation. They allowed the Philadelphia Flyers to build a 4-1 lead before erupting for three goals in the last half of the third period, including the tying marker by Alex Ovechkin with netminder Philipp Grubauer on the bench for an extra attacker. The Caps, naturally, won it in a shootout, bringing their season record to 8-3 in the skills competition (their 11 shootout games are tops in the league). In fact, they have played in more shootouts (10) than they have collected regulation or overtime wins. That number represents one of the lowest ROW totals in the league, which could become a factor for the Caps vis-a-vis seeding and home-ice advantage in the postseason, because regulation or overtime wins are the first tiebreaker. Only the Florida Panthers, New York Islanders and Buffalo Sabres have fewer ROW in the Eastern Conference. Not that the Capitals will complain as long as they keep collecting the two points. Sunday's win gave the Caps points in seven of their last eight games (6-1-1).
---

@CraigCustance: Count us among those amazed to see video of Steven Stamkos on the ice participating in light drills in New Jersey before the Lightning's morning skate on Saturday -- barely a month after breaking his right leg after running into a goal post. Not only is Stamkos a scoring machine, but apparently some sort of scientific marvel as well. In talking to him Sunday evening it's clear he's struggling with the balance of pushing for an Olympic return without damaging his body in the process. You don't want him to do anything stupid just to play in Sochi, a notion he seems to get. "You have to be smart," Stamkos said. "There's certain movements and motions I can't do until it's fully healed. That's the part for me that's tough. I am feeling good and wanting to do more. Until that bone is 100 percent healed, you can't."
---

@Real_ESPNLeBrun: After a sensational 10-game points streak (9-0-1) from Nov. 19 to Dec. 7, the Montreal Canadiens have come back to Earth during a four-game stretch (1-3-0) that began with a 6-0 rout at the hands of the Los Angeles Kings, and a 2-1 home loss to the lowly Panthers on Sunday in which the Habs managed only 18 shots. Their lone win over the past four games is against the Islanders, a 1-0 overtime result Saturday night which was hardly a work of art against a team that can't beat anybody right now. The offense has suddenly dried up, with the Canadiens scoring only three goals in their past four games. They need to figure it out soon, because after a home game with Phoenix on Tuesday, the Habs embark on a six-game holiday trek through St. Louis, Nashville, Tampa, Florida, Carolina and Dallas.
---

@KatieStrangESPN: It does not appear as if the hockey gods are looking down on George Parros. It was revealed Sunday that the hulking enforcer sustained a concussion after a fight with Islanders tough guy Eric Boulton on Saturday night. For those counting at home, that's the second concussion of the season for Parros, who also sustained a frightening head injury after falling to the ice during a fight with Toronto's Colton Orr on opening night, and subsequently missed 12 games. Here's hoping the Princeton-educated Parros, one of the most articulate, affable and well-liked players in the game, recovers quickly. Scary stuff, and enough with the staged fights already.
Picture This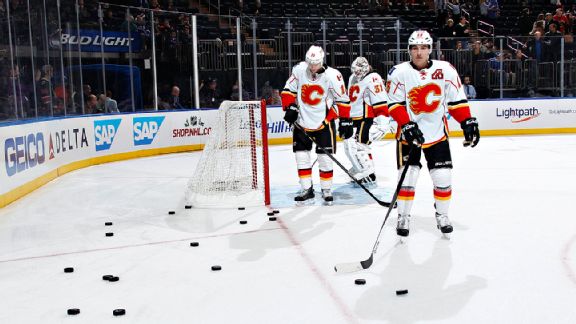 Scott Levy/NHLI/Getty ImagesWhen you're today's Calgary Flames, it just seems like the other team has more pucks.
Top Performers
SUNDAY:

Ben Bishop | Tampa Bay Lightning
28 SV, 0 GA
vs. DET | Recap
Alex Ovechkin | Washington Capitals
2 G, 0 A, 7 SOG
vs. PHI | Recap
Michael Raffl | Philadelphia Flyers
0 G, 3 A, 1 SOG, +2
vs. WAS | Recap
SATURDAY:

Martin Brodeur | New Jersey Devils
33 SV, 0 GA
vs. TAM | Recap

Tyler Seguin | Dallas Stars
2 G, 2 A, 3 SOG, +2
vs. WPG | Recap
Sergei Gonchar | Dallas Stars
0 G, 4 A, 0 SOG, +1
vs. WPG | Recap
Peter Holland | Toronto Maple Leafs
2 G, 1 A, 5 SOG, +1
vs. CHI | Recap
Quote Me On That
"It doesn't take us long to get back to our good habits."
-- Blackhawks captain Jonathan Toews
---
"It's kind of baby steps right now. To be able to get back on the ice, to be out there when the guys are coming for morning skate, pass the puck with some of the guys, you miss that part. Things are definitely on the right track."
-- Lightning's Steven Stamkos
Stats Central
SUNDAY:
• Alex Ovechkin (WSH): game-tying goal with 48 seconds left in 3rd; (7th multigoal game this season)
• Blackhawks: 13-3-2 in last 18 games vs. Kings
• Patrick Sharp (CHI): Goal (16); 9 points in last 5 games (5 G, 4 A)
• Red Wings: Lost 5 straight and 6 of last 7 games
• Panthers: 5th win in last 6 games
• Canadiens: 3rd loss in last 4 games after zero regulation losses in previous 10 games
• Alex Galchenyuk (MTL): Power-play goal (10); 3rd goal in last 5 games
SATURDAY:
• Evgeni Malkin (PIT): Goal (9), 2 assists; left game in 3rd period (left leg injury)
• Penguins: Improved to 8-1-0 in last 9 games
• Jets: Winless in last 6 home games (0-3-3) (last home win: Nov. 15 vs. Flyers)
• Flames: 5-2-0 in last 7 games (won last 2)
• Anze Kopitar (LA): 2 goals (11) (has 4 goals in last 4 games)
• Kings: Won 6 straight games; 6-1-0 in last 7 meetings vs. Senators (won last 3)
• Stars: Snap 2-game losing streak; 2-2-1 in last 5 games
• More from ESPN Stats & Information »