Just A Thought
ideo1>
---

@ESPN_Burnside: We often talk about measuring-stick games, and if you're one of the unfortunate Western Conference teams outside the top nine currently in control of the playoff picture, your only hope of making up ground and sneaking into the discussion is to measure up when you play those teams. Perhaps the most telling of these games will come against the Minnesota Wild and Colorado Avalanche, the two teams logic suggests might be most prone to being reeled in from below. If that's the case, Monday represented a giant slap in the face for the Dallas Stars, who were embarrassed 6-2 by the Avs in Denver. The Stars gave up four second-period goals and allowed 48 shots. The Stars have not won back-to-back games in a month and now sit eight points behind the final wild-card spot in the West. They get a chance at instant redemption, with Colorado visiting Tuesday, but good luck with that.
---

@CraigCustance: Because of the looming Olympics, every injury to high-end players has extra gravity. So it isn't just Blues fans who will watch the recovery of David Backes closely. During the second period of Ottawa's overtime win over the Blues Monday night, Backes collided with Senators forward Colin Greening, and Backes' wobbly exit to the dressing room suggests the worst for a guy who typically never leaves the lineup. It's a scary moment for the Blues and Team USA, two squads that depend on Backes for his leadership and presence on the ice. His absence would have as big an impact on the Americans as nearly anyone else on the projected roster.
---

@Real_ESPNLeBrun: The Ottawa Senators are scratching and clawing and trying to get into the Eastern Conference playoff race, and Monday night's 3-2 overtime win against Western powerhouse St. Louis was a huge win for them. The Sens are 3-1-1 in their past five games and sit three points back of Toronto, which currently holds the last wild-card spot in the Eastern Conference. Given how the Leafs are playing, there's certainly an opportunity for Ottawa to stay in the race despite a disappointing start to the season. Robin Lehner was terrific in net for the Senators, stopping 30 of 32 shots. Lehner was starting against St. Louis after relieving Craig Anderson against the Kings on Saturday. Is Lehner beginning to take the No. 1 job away from Anderson?
---

@KatieStrangESPN: The mark of a good team? Rising above adversity and finding ways to win even when the chips are down. That's what the Pittsburgh Penguins continue to do with a roster ravaged by injury. Despite an utterly depleted back end -- the Pens are missing four defensemen -- Pittsburgh edged the Toronto Maple Leafs 3-1 at Consol Energy Center Monday night, with (who else?) superstar Sidney Crosby tallying the game-deciding goal. And it's not just the defensive corps that is looking more like the team's AHL affiliate from Wilkes-Barre/Scranton. Pittsburgh is missing 10 regular players due to injury and suspension (James Neal) -- yet they have still rattled off nine wins in 10 games, including four straight. Credit to coach Dan Bylsma, because even with half his club healthy, it remains the team to beat in the East.
Picture This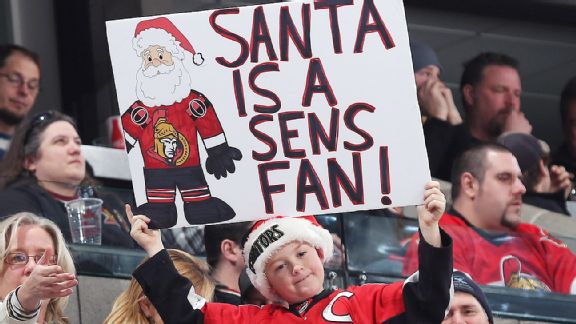 Bruce Bennett/Getty ImagesA young fan in Ottawa cheers on the Senators.
Top Performers
Paul Stastny | Colorado Avalanche
2 G, 2 A, +2, 4 SOG
vs. DAL | Recap
Evander Kane | Winnipeg Jets
1 G, 1 A, +2, 6 SOG
vs. CBJ | Recap
Marc-Andre Fleury | Pittsburgh Penguins
25 SV, 1 GA
vs. TOR | Recap
Quote Me On That
"It's a pretty unique situation. One rookie and five young guys playing. ... These guys have been coming up and playing with confidence and doing a good job. That's exciting for the organization."
-- Penguins' Matt Niskanen
---
"Next thing I know I get the puck at the blue line and there's a lot of traffic crossing in front of the goalie. I just kind of floated it through and it found the net. I'll definitely remember this."
-- Senators' Cody Ceci
Stats Central
• Pittsburgh has allowed a total of five goals in its four-game winning streak.
• Toronto is 1-6-3 in its past 10 road games.