Just A Thought
ideo1>

@ESPN_Burnside: The stark reality for the Minnesota Wild is that if Josh Harding doesn't get the job done in goal, the team doesn't get the job done. Harding is out at least temporarily as he adjusts to a new medication regimen to treat multiple sclerosis and will not return until after the NHL's Christmas break. The results, then, were pretty predictable when the Wild visited Madison Square Garden on Sunday night, with Niklas Backstrom struggling again in goal and the Wild dropping a 4-1 decision to the New York Rangers. The loss was the sixth straight for Backstrom, who hasn't won a game in more than a month. On Sunday he allowed four goals on 36 shots, including an embarrassing third-period goal on a flubbed shot by Chris Kreider that somehow managed to sneak between Backstrom's pads. With two years remaining on a three-year deal with a cap hit of just more than $3.4 million annually, Backstrom and his 2-7-2 record and 3.19 GAA look like an early buyout candidate for next summer. In the short term, the playoffs look to be a touch-and-go proposition for a Wild team that is a miserable 6-10-3 on the road and clinging precariously to the last wild-card spot in the Western Conference.
---

@CraigCustance: We're feeling a little bit for the Blue Jackets right now. Todd Richards gets his group to compete every night despite a slew of injuries, including to Vezina Trophy-winning goalie Sergei Bobrovsky, who has played just once this month. When it looks like the Blue Jackets might get guys back in the lineup, another injury strikes. In his first game back from a knee injury on Saturday, Marian Gaborik played four shifts before breaking a collarbone. That's it, four shifts. And yet this team seems to find a way to hang around the fringes of the Eastern Conference playoff race. That may say more about the playoff race in the East than anything else, but at some point this team deserves a break.
---

@Real_ESPNLeBrun: We're so close to rosters being named for the Olympics that whenever there's an injury to a star player, you take extra notice. In this case, it's Vancouver Canucks goalie Roberto Luongo, who left Sunday's win over Winnipeg in the first period after appearing to strain a groin (the Canucks are calling it a lower body injury). Coach John Tortorella said after the game the defending Olympic gold medal netminder is day-to-day. The good thing is the Canucks don't play again until Sunday, six full days between games. So perhaps there's nothing here to worry about, but I'm sure all Luongo was thinking about last night was Sochi, which matters a ton to him. He told me in a recent interview that he's making it no secret that he wants to start for Team Canada. His main competition comes from Carey Price and Mike Smith, and all eyes will be on Luongo when we return from the Christmas break.
---

@KatieStrangESPN: The Rangers finally delivered on Sunday the type of dominant performance that has been lacking during a woeful nine-game homestand, downing the Minnesota Wild 4-1 at Madison Square Garden for their first regulation win since Dec. 5. The Blueshirts rallied from an early 1-0 hole with four straight goals, dominating from the midway point of the first period until the buzzer. We also caught a glimpse of what kind of hockey Alain Vigneault has envisioned for his club -- capitalizing on speed and skill to apply pressure in the offensive zone. Vigneault will have a tough choice to make Monday night against Toronto, because it was backup netminder Cam Talbot who picked up his seventh win of the season Sunday night while starter Henrik Lundqvist watched from the bench. There's no arguing that the team has played better in front of Talbot, and with the Rangers looking to salvage some pride before the holiday break, Vigneault might just have to return to the 26-year-old again.
Picture This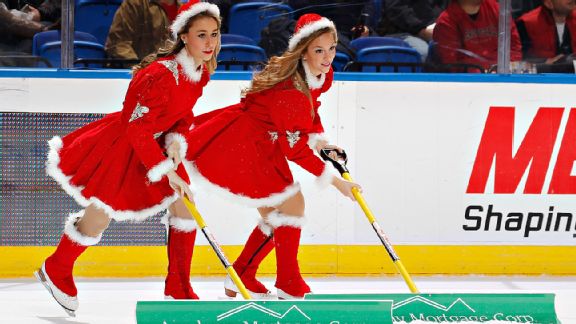 Paul Bereswill/Getty ImagesThis is as close as the Islanders will get to having a series sweep.
Top Performers
SUNDAY:

NAME | TEAM
1 G, 1 A, 4 SOG
vs NSH | Recap

NAME | TEAM
1 G, 1 A, 4 SOG
vs NSH | Recap

SATURDAY:

Chris Stewart | St. Louis Blues
3 G, 1 A, 4 SOG, +3
vs EDM | Recap

Alex Stalock | San Jose Sharks
44 SV, 2 GA
vs DAL | Recap

Ryan Getzlaf | Anaheim Ducks
3 G, 1 A, 3 SOG, +3
vs NYI | Recap

Antoine Vermette | Phoenix Coyotes
3 G, 1 A, 3 SOG, +3
vs OTT | Recap

Quote Me On That
"Winning always makes things better. There's no secret there. It doesn't matter what team you play on, winning solves everything."
-- Penguins' Sidney Crosby
---
"Honestly, I don't even know what the record is. It's a good start and it's something to build off of. I just wanted to make sure I came in here and did the things that made me successful in the past.
-- Kings' Martin Jones
---
"I honestly can't remember the last overtime goal I scored."
-- Devils' Andy Greene
Stats Central
SUNDAY:
• The Canucks improved to 9-1-1 in December with their 2-1 win over the Jets.
• The Rangers' Cam Talbot is now 7-2 on the season, only three fewer wins than Henrik Lundqvist in 17 fewer games.
SATURDAY:
• Matt Duchene (COL): 2 assists; 4 goals, 8 assists in his last 6 games (1 G, 1 A in his previous 10 games)
• Coyotes: 1st win at Ottawa since Dec. 12, 1998 (0-6-0 at OTT during that span)
• Penguins: on 7-game winning streak (4th win streak of 7-plus games in NHL this season)
• Alex Ovechkin (WSH): 30 goals this season; the last player to score 30 goals before Christmas was Teemu Selanne of the Ducks in 1997.
• Ovechkin has started his career with 9 straight 30-goal seasons. That is tied for the 5th longest streak in NHL history.
• Marc Methot (OTT): 2 goals (4) for 1st career multigoal game (had 11 goals in 354 NHL games entering Saturday)
•
More from ESPN Stats & Information »