Just A Thought
>
---

@ESPN_Burnside: Just how good is the Pacific Division? The Anaheim Ducks win 10 straight games and are only five points up on second-place San Jose, the team that ended the Ducks' franchise-record win streak Sunday night with a 3-1 decision. Not only that, but winning 10 of 11 only gets the Ducks a tie with Chicago for first overall in the Western Conference. Gee, talk about setting the bar high. Still, in spite of Sunday's setback, the Ducks remain one of the NHL's elite teams and are still unbeaten at home at 14-0-2. And maybe it's not such a bad thing to be looking over your shoulder all the time. Helps keep the group on task. One streak that remains in place, though, is Anaheim netminder Jonas Hiller's eight-game win streak. Frederik Andersen was in net for the Ducks on Sunday, allowing three goals on 23 shots to take the loss.
---

@CraigCustance: The path to his first NHL goal was a long one for Bracken Kearns, including stops in two Ohio minor league towns, as well as Milwaukee, Norfolk, Reading, Rockford, San Antonio, Worcester and limited NHL time in San Jose and Florida. But with the Sharks' forward group thinning out due to injuries, Kearns got the call from the AHL to aid San Jose in its attempt to end the Ducks' 10-game winning streak. He's 32 years old, closing in on 33, and became the Sharks' franchise record holder for the oldest player to score his first NHL goal. The Sharks' victory is an indication they won't be letting Anaheim run away with the Pacific, but for one night Kearns was the bigger story. He's the perfect picture of perseverance.
---

@Real_ESPNLeBrun: How about Ryan Miller? His 49 saves led the Sabres to a 2-1 win over the Caps on Sunday, yet another gem in a season in which Miller has maintained his status among the NHL's elite netminders despite playing behind the NHL's worst team. It's a credit to his professionalism that Miller hasn't let everything else transpiring in Buffalo affect his play. Of course, he's also a motivated fellow, keen on starring for Team USA again at the Olympics. With Jonathan Quick returning soon from an injury that's kept him out since late November, it will be very interesting to see who is the No. 1 goalie for the Americans in Sochi. If I were Dan Bylsma, the choice would be Miller.
---

@KatieStrangESPN: We've spent ample time in this space speculating about the job status of Islanders coach Jack Capuano, but what about the guy on the opposing bench Sunday night? After his Minnesota Wild inexplicably blew a three-goal lead, coach Mike Yeo struggled to explain the team's utter meltdown in Sunday's 5-4 loss to the Islanders. That makes it five straight losses for the Wild, now in 10th place in the Western Conference. What's worse is that the latest devastating defeat happened in front of a home crowd with the Wild hosting a lowly Islanders squad that played the night before. A demoralized team and what appears to be a crumbling defensive structure may have Yeo feeling the pressure if things don't turn around soon.
Picture This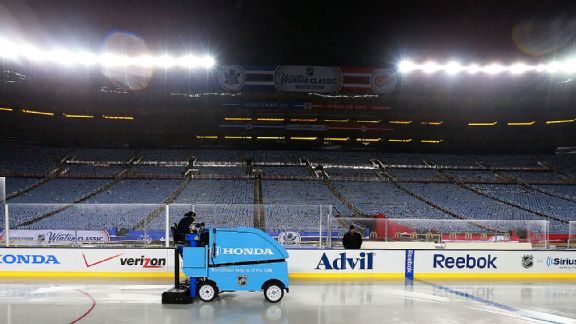 Dave Sandford/NHLI via Getty ImagesBig House, small ice resurfacer. It's like the short bus, only cooler.
Top Performers
SUNDAY:

James Neal | Pittsburgh Penguins
3 G, 2 A, 0, 5 SOG
vs. CBJ | Recap

Ryan Miller | Buffalo Sabres
49 SV, 1 GA
vs. WSH | Recap

Kyle Okposo | New York Islanders
2 G, 1 A, 6 SOG
vs. MIN | Recap


SATURDAY:

Saku Koivu | Anaheim Ducks
2 G, 1 A, 5 SOG, +3
vs. PHO | Recap

Mike Fisher | Nashville Predators
2 G, 1 A, 5 SOG, +2
vs. LOS | Recap

Cory Schneider | New Jersey Devils
30 SV, 1 GA
vs. NYI | Recap

Quote Me On That
"I know they're not going to quit. I knew they were going to play hard and they were going to get lots of pucks to the net. That's the style they play, aggressive."
-- Oilers goalie Ilya Bryzgalov on playing against the Flyers
---
"We had it in our mindset all night long that we were going to come out with two points."
-- Senators winger Bobby Ryan after his team's win over Boston on Saturday night
---
"I got a large chunk, but not enough. It's an extremely frustrating way to lose a hockey game."
-- Kings goalie Ben Scrivens
Stats Central
SUNDAY:
• Islanders' Kyle Okposo: Two goals in third period (14), including the go-ahead goal with 5:48 left. He also had an assist.
• Buffalo's Ryan Miller: 49 saves against the Capitals is a career high.
• Capitals: Have just two wins in their past six games (2-2-2).
• Pittsburgh's James Neal: Scored his fourth career hat trick (first this season) against the Blue Jackets, and also had two assists for his first career five-point game.
• Penguins: 14-2-0 in their past 16 games (won past two).
SATURDAY:
• Blues: 11-0-1 vs. Central Division, best intra-division mark this season.
• Blackhawks: 4-0-2 in past six games.
• Canadiens: 2-1-0 on their six-game road trip.
• Red Wings: 9-1-4 all-time in Florida.
• Ducks: 28-7-5 (61 points), second best 40-game start in franchise history (2006-07: 28-6-6, 62 points).
• Ducks: 14-0-2 at home. Only other team since 2005-06 to play its first 16 home games without suffering a regulation defeat was the 2008-09 Sharks (20-0-2).
• Ducks: recorded points in 13 consecutive games (11-0-2).
• Predators' Mike Fisher: first player to score a pair of go-ahead goals in the final five minutes of regulation since Feb. 21, 1988, when Peter Stastny did so for the Nordiques in a 6-5 victory over the Sabres.
• Flyers' Wayne Simmonds: third player in Flyers history to record multiple goals in three straight team games of one season.
• More from ESPN Stats & Information »