October is a glorious month. Being a hockey fan and hockey dad adds to the bliss. After a series of long and hot August nights and a tantalizing September to sweetly escort most of us from summer to fall, October is here.
Like Opening Day for baseball fans and the Masters for golf followers, October is a hockey fan's (and dad's) season of renewal. The game is part of our lives again. The moments before the puck drops are like Christmas Eve. October also brings back the rancid-smelling minivan and the speed, skill, difficulty and, most importantly, community of neighborhood rinks, home or away.
I imagine the schedule is simple for most youth hockey teams besides, perhaps, the out-of-control "select" teams. The way my son Jack's South Windsor squirt schedule works right now, road games are on Saturdays and home games are on Sundays. In January, I wish all the games were at home. In October, I wish they were on the road.
One-third of Connecticut is covered with trees. At this time of year, the changing leaves splatter the state in a colorful, Fruity Pebbles backdrop of red, yellow and orange. The leaves will slowly fall during the next few weeks and dance to the ground like nature's confetti, making every road hockey game in October a seasonal parade. In New England Octobers, there's no place like the road. Especially when your 65-pound son goes roof daddy to make it 2-1.
Game on. Season on. Blogumn on.
I love doing the play-by-play-as-I-watch-the-game-from-my-couch blogs. This season, I will try to write one every month. It's a good way for me to watch the game, and it forces me to be keenly aware of everything. On Monday night, I blogged defending-champion Pittsburgh's road game against Ottawa. (For the record, I wanted to blog the Calgary-Chicago game, but I have DirecTV, which does not carry Versus right now. It is what it is; there is no need to go deeply into it. It wasn't a very good game anyway. Pretty standard stuff.)
On to our game! Pittsburgh versus Ottawa.
First period
20:00: Penguins coach Dan Bylsma is wearing a slate-blue shirt and a slightly lighter shade for his tie. Bylsma has a tendency to go with dark dress shirts; he really should throw them all away. He should stay with light-blue shirts and sprinkle in some striped whites and pinks. His skin tone calls for it. This is very important stuff.

19:59: Sidney Crosby wins the faceoff. Like Larry Bird and Magic Johnson in the 1980s NBA, Crosby has that gene that wills him to improve his weaknesses. After being weak in the faceoff circle early in his career, No. 87 is suddenly an ace. This is why I always say he is my No. 1 pick of any player in the NHL draft.

19:51: Chris Kunitz draws a penalty, and the Penguins go on the power play nine seconds in. Sergei Gonchar, Kris Letang, Crosby, Evgeni Malkin and Bill Guerin. On a scale of Bernie Parent to Jean Ratelle (1 to 10), the Penguins' power play is about an Eddie Shore (2).

16:14: The NHL Center Ice package is taking in the Penguins' high-definition feed. The Penguins have one of the best local broadcasts. Paul Steigerwald is very knowledgeable and clearly in love with the Penguins and hockey. He also doesn't use Reader's Digest vocabulary to call attention to himself. Bob Errey, one of the best color analysts in the NHL, has that Darren Pang enthusiasm for the game that I am a sucker for. The Penguins just had the starting lineup introduce itself like they first did on "Monday Night Football." That was a great idea.

14:59: Back-to-back good saves by Ottawa goaltender Pascal Leclaire and Pittsburgh's Marc-Andre Fleury. Fleury is 18-2-3 in his past 23 regular-season games. 18-2-3! I went on a Pittsburgh sports radio show for a 10-minute phone interview during the playoffs this past spring, and the hosts were making Fleury out to be a goaltender combination of Jay Leno and a chipped ham sandwich in net. If he wins this game, he will be 19-2-3 in his past 24. Pittsburgh hasn't seen a win-loss record like that since Elroy Face went 18-1 for the Pirates in 1959.

13:50: Oh yeah, Ottawa is playing, too. This team probably has a chance to make the playoffs because it appears to be an average skill-high effort team. Power play now for Ottawa. Just think, there was a time when Ottawa could have rolled out a power play with guys such as Zdeno Chara, Marian Hossa, Martin Havlat and Daniel Alfredsson in his prime. Then, Dany Heatley with Jason Spezza. Nonetheless, the Sens' power play is good, and it has energized this game.

This contest has great pace and jump. Ottawa looks organized and is playing with much effort. You can't ask for more than that. This team will be in the playoff mix. It kind of reminds me of the Rangers from last season: has good effort but lacks finishers. Their effort might get them into the playoffs, but it will be a battle. The margin between their goals scored and goals allowed probably will end up being very narrow.

4:01: Ottawa scores first. A beautiful goal. Malkin turned the puck over at the blue line. Spezza, using a wood stick, fed Jonathan Cheechoo, who set up Milan Michalek. Michalek and Cheechoo had entered the game with a combined one point (no goals, one assist).

3:22: Guerin scores a spectacular goal 39 seconds later. That goal has to be among Guerin's top 10 of all time. That's sweet. Guerin looks really good so far for the Penguins.

Score after one period: 1-1.
Second period
20:00: The Penguins are on the power play to start the second period. This power-play effort is much better, but it doesn't result in a score. The Sens have done a good job taking Malkin out of the game. Ottawa is doing everything right, but you get the sense Crosby and/or Malkin eventually will do something to make the difference.

14:26: Still no shots for Ottawa this period. Penguins have three. As I write this, Shean Donovan hits the post.

13:44: Tyler Kennedy scores. Chris Neil turned it over in front of the net, and Kennedy poked the puck over the goal line like a downhill putt at Oakmont. Kennedy is only 23 years old and should score 20 goals this season. He has a $725,000 cap hit for the next two seasons. I would offer Kennedy a three-year extension at $1.8 million, $2 million and $2.2 million right now. How could he turn that security down? Meanwhile, the Penguins would get Kennedy in his prime for five seasons. That is incredible value for a selfless, high-effort player like Kennedy.

4:56: I'm not sure whether Alexei Kovalev fits with this Ottawa team. He is not much of a five-on-five threat anymore. He probably still can help on the power play, though, and the Sens' playoff chances will greatly improve if they get that unit sizzling. Kovalev has a $5 million cap hit this season and next.

1:58: Wow! Kennedy just blasted one in from 10 feet above the top of the circle. That was an old-school-1980s-big Aquanet hair-Warrant's "Cherry Pie"-Swatch watch-Lyndon Byers playing air guitar in an Extreme video slap shot. GM Ray Shero, get that Kennedy extension done! The Penguins won't need Crosby and Malkin on this night.

Score after second period: 3-1 Penguins.
Third period
19:02: Big-time save by Fleury on Spezza and his all-wood stick. Spezza will be thinking about that chance when he drives home in his Chrysler K-car to his suburban igloo. He will still thinking about it as he plays his harmonica around a fire, taking a break from wood-whittling, while the rabbit he caught in his rabbit trap is cooking in the chilly Ottawa air.

15:44: New Penguins Jay McKee and Mike Rupp have fit right in. Rupp looks especially good, skating well and playing a physical game. The Penguins roll out four high-effort lines all night long. Jordan Staal gets two minutes for tripping and goes in the wrong penalty box. Hey, the door was open. The Sens need a power-play goal here.

13:42: Crosby almost makes it 4-1 on a short-handed attempt. Nice glove save from 15 feet by Leclaire. That would have been Crosby's first career short-handed goal. No one takes a pass on his backhand like Crosby. The flat blade probably helps.

10:06: Staal scores. 4-1 Pittsburgh. Spezza whiffed on a pass from Chris Campoli, Rupp slapped it and Staal scored on the rebound. Remember, Staal just turned 21.

7:06: The Penguins have a three-on-one opportunity, and the entire focus is getting Kennedy his first career NHL hat trick. This is my favorite thing about NHL hockey. No one has to say anything in this situation. Everybody knows Kennedy has two goals. And, in the course of this physical, collision-based sport in which one has to look out for himself at all times, there is an awareness for others. This does not come naturally to kids; it has to be taught. The game is filled with these kinds of gems, gems that must be taught.

For me, that unspoken charity and kindness that players have for one another in the middle of a nasty game is the most beautiful part of the NHL game. Of all the things I want my boys to learn and take from the game, it is to think of others first while you try your best to win every battle on your own. It's what the Penguins have done on this night and so far this season, except for that rancid home game against the NHL's most boring team, the Phoenix Coyotes. (The Coyotes will suck the hockey joy right out of your marrow.)

This team effort is why the Penguins win 4-1 despite no points from Crosby and Malkin. It's why they are 5-1-0 on the season and 4-0-0 on the road.

John Buccigross' e-mail address -- for questions, comments or crosschecks -- is john.buccigross@espn.com.
Bucci's Power 5
No team has two superstars of this level (Sidney Crosby and Evgeni Malkin) with a young supporting cast that still has room to grow.
Sturdy defense and a scrappy bunch of forwards. They also have that aura of a special season around them. But they do have to find a way to give up fewer goals.
They have the most frightening talent in the NHL in Alex Ovechkin. But they have to tighten things up a little. Getting Michael Nylander off their cap and adding help is a big key here.
You could interchange the Caps and Flyers. They are very similar teams, fast and furious. I'd be shocked if John Stevens is the coach by the end of the season.
A rough start and the Wings aren't what they were without Marian Hossa and Johan Franzen, but they can still rise to the occasion. Until I feel better about Chicago's goaltending, the Red Wings get the nod over the Hawks despite their miracle comeback Monday.
Shot of the Week
It's back. You know how it works: We present an NHL photo, and Bucci provides a caption. E-mail him your suggestions (include your name and hometown/state), and we will use the best ones and provide a new photo the following week.
THIS WEEK: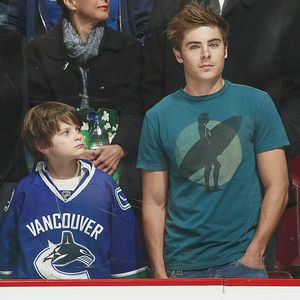 "I'll bet you 10 loonies this poser can't name one Canuck. Not a one." (Getty Images)
Tuesday Poll
(Sponsored by Ken the Otter)