This is the ninth year of my hockey column on ESPN.com, and I am still naively surprised when people e-mail me to say they have just discovered my weekly rocket-vomit hockey musings.
At first, I am energized by the introduction of new readers; then, I'm enraged that the word still hasn't gotten out to the entire hockey community to help justify my nearly decade-long string of all-nighters and late-night viewings of the Florida Panthers visiting the Phoenix Coyotes.
Over the years, I've made proposals to ESPN to help increase the exposure of my hockey gospel, whether investing in product placement or these ideas:
• A 30-second Super Bowl spot.
• A picture of my size 7-7/8th head with a link to my column on Tiger Woods' golf bag, Tom Brady's forehead, and every roll of hockey tape and soccer ball on Earth.
• Paying Lil Wayne to sample "Twisted Wrister" the next time he drops a CD.
• Putting my column on the NFL page of ESPN.com and renaming it, "Hey, we are separated by only one letter, and those letters are only TWO letters apart! Allow myself to introduce yourself to Jan Hejda!" (The title is a work in progress.)
Over the years, the goal here has been to constantly improve the presentation and content. We still are perfecting the technology to give the column that hockey bag smell (body odor plus moisture plus darkness plus unwashed practice jersey) as we seek a true behind-the-scenes feel.
For those of you who have been here since day one, you know this "blogumn" has a little bit of everything from the universe of hockey, music and fried foods. It's primarily an NHL column, but we touch every level of hockey from the local rink to the pros. Whether you are new to this space or a veteran, here is what you can expect this season as elements are added or reconfigured.
My column, or blogumn, or whatever you wish to call this collection of words, will now be dispersed over two days, Tuesday and Wednesday. I believe this was my boss' way of doubling my productivity all at the same low price. Crafty, those bosses.
Tuesday
Tuesday will be comprised of four components for your studying/work-distraction enjoyment:
1. The traditional column space. This could include anything from an interview with hockey people such as Bob McKenzie, who is a hockey journalist in Canada, for those of you not familiar with his work. Bob recently wrote a book on his life as a hockey dad; I will have a Q&A with him next Tuesday. I know a decent number of you will be interested.
I also could write about a player or my experiences between the benches of an NHL game and my backyard rink, do a running blog from a game on TV or give you my take on something I find interesting.
I also could give you a list of terms for scoring a goal that I've heard or made up (Twisted Wrister, Snipe, Top Cheddar, Roof Daddy, Where Momma Hides the Cookies, Giving Uncle Kenny the Ol' Frozen Silly String and Loob Job). Then, I would ask you to send me every scoring term that you've used or heard. I guess I kind of just did that. OK, e-mail me your goal descriptions, and I will use my favorites next week. My goal is 100 … goals. Or 12. Anything goes for this space on Tuesdays.
2. Every Tuesday, I also will have Bucci's Power 5 power rankings. This is a different kind of power rankings. I am looking to rank the top five teams in the NHL based on their chances to win multiple seven-game series. You know, the real contenders for a Cup. So although Ottawa and Phoenix and Edmonton have gotten off to good starts, they won't make Bucci's Power 5 unless I could see them beating at least 25 other teams in a seven-game playoff series.
3. The Shot of the Week. The premise is simple. A picture is submitted. I come up with a hi-LAR-i-ous caption, then you send five funnier ones that make me look as if I have the comedic stylings of Radek Bonk.
4. The Tuesday poll. It's sponsored by Ken the Otter until someone else sponsors it, preferably Marisa Miller or Dunkin' Donuts. This will be a simple question posed to serious and semiserious hockey fans to help us get a sense of what the community is feeling. It is very important that you take part in the poll every week. Multiple voting from multiple computers is strongly encouraged. For instance, we learned last week that hockey fans still favor the shootout by an 80 to 20 percent margin. Please vote on this week's question now. All proceeds go to increase Hal Gill's foot speed.
Wednesday
Wait, there's more!
Every Wednesday, we will unveil the latest, freshest e-mail bag. The e-mail bag is a collection of actual e-mails from actual readers. Anything goes. Somewhere along the line in this column's history, some members of the world population felt it necessary and comforting to ask me for baby name suggestions, so I've complied. It is short and harmless, but as a service to the hard-core hockey fan who thinks this is wasted space, I provide a hockey fact whenever I give a baby name suggestion. That way, everyone wins!
Music, parenting tips, wedding song advice and the proper way to eat a doughnut all might be addressed in the e-mail bag. The ratio of hockey topics versus nonhockey topics is still about 95 to 5, so if you are offended by some of the nonhockey topics such as music, children, bacon or proper voice mail technique (greeting, your phone number, message, phone number again), just pass them over and we will quickly return to James Neal's forechecking acumen.
The past few years, I have ended each column with a fan photo, usually a picture of a small child. I really liked the perspective it gave the column because it was the last thing to see at the end of the e-mail bag. It always gave me a warm feeling. The fan photo has been shifted to the right side of the screen. Hopefully, we can take advantage of this new location by including more photos each week, because I receive way more than the 35 we used to show per season. So, keep sending in your unique, funny and touching hockey photos to help decorate this space.
And finally, we also are tinkering with the idea of providing some video each week, whether it be great goals, YouTube material or maybe me just sitting and talking hockey with some of my friends, such as Barry Melrose or Matthew Barnaby or whoever else might walk through the doors of ESPN. This will give me an excuse to wear all those hockey sweaters in my closet.
Now, that's value. Hey, I just submitted more words on this page than the Declaration of Independence. All for a great price. Let freedom ring off your goalposts of life. Yo, ding dong. Ding dong, yo.
John Buccigross' e-mail address -- for questions, comments or crosschecks -- is john.buccigross@espn.com.
Bucci's Power 5
Talented, detailed, deep and organized. Best centers in the NHL by far. And maybe the most complete group of defensemen. They still need a top-line winger, though. Marc-Andre Fleury has to be a lock for the Canadian squad at the 2010 Olympics. Mike Rupp and Jay McKee have been great, and Maxime Talbot's return will give the Pens a mini midseason energy boost that could be perfectly timed.
Remember, Bucci's Power 5 is based on a team's probability of winning a seven-game series, not a fast start. The Capitals have defensive flaws they must address, but they are a locomotive on offense. I assume the Capitals are trying to slowly work in 21-year-old goalie Semyon Varlamov and not hinder his development because he is the best goalie on the team.
Once Marian Hossa returns, the Hawks undoubtedly will have the most complete group of skaters in the West. The issue is Cristobal Huet in net. He was a strange signing to begin with two summers ago. He has no playoff résumé and has been brutal this season. Chicago's Cup chances rest with him, and that's just the way it is.
Joe Pavelski has played only two games because of an injury, and the Sharks are spending the first two months of the season in airplanes and hotels -- 18 of their first 28 games are on the road. They have a deep group of forwards, solid defense and a good goalie. San Jose's November and December schedule is set up for it to open up a big lead in the Pacific Division.
The fifth spot on the Power 5 is excruciating to select. Calgary, Philadelphia and, yes, Columbus and Atlanta have been worthy. The Rangers have had no significant travel yet. November's schedule will be telling, but they are an interesting team. The Rangers have good overall skill and scoring, outstanding special teams and Henrik Lundqvist in goal. My one concern is their durability throughout the regular season and whether they are built for a long playoff run.
Shot of the Week
It's back. You know how it works: We present an NHL photo, and Bucci provides a caption. E-mail him your suggestions (include your name and hometown/state), and we will use the best ones and provide a new photo the following week.
LAST WEEK: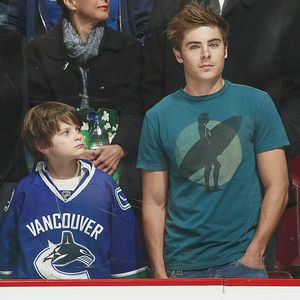 "I'll bet you 10 loonies this poser can't name one Canuck. Not a one." (Getty Images)
Your captions:
"Mousse Crossing."
Welles Snyder (Rock Hill, S.C.)
He could only look on with empathy as Zach realized the water was frozen.
Karen Schumacher (Fairfax, Va.)
"I finally get good seats to the game and I have to sit next to the guy with the portable wind machine."
Phil Keidel (Phoenixville, Pa.)
"Dude, is that this year's third jersey for the New South Wales Tubers? Sweet!"
Mike Mahady (Austin, Texas)
"Who brought the cardboard cutout from Urban Outfitters?"
Sean Donaher
THIS WEEK: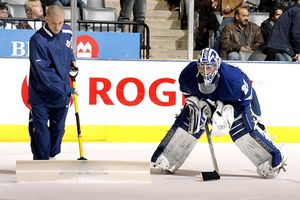 Maple Leafs goalies can only dream such a shovel will become legal by this weekend. (Getty Images)
Tuesday Poll
(Sponsored by Ken the Otter)