I grew up in small-town America, living and loving just about every athletic contest. I watched, listened, played, read, illustrated (horribly) and daydreamed about most of them. This includes the "Battle of the Network Stars" and "The Superstars" competition, which I took just as seriously as the Super Bowl and the Stanley Cup finals. Gabe Kaplan was part of my childhood hero roster.
I didn't realize it during my youth, but I was, and still am, enraptured by the marrow of competition, as well as acts of striving, achieving, overcoming, bonding and celebrating. It's why my eyes get wet at the end of "The Natural" and "Searching For Bobby Fischer."
Looking back, the NHL was, without question, the most theatrical of the athletic bunch. The old arenas were like Sunday cathedrals with their emotive images of blood, sweat and tears accompanied by the intimidating sound track of a haunting organ.
Steve Babineau/NHLI/Getty Images
One image burned on Bucci's brain: the mask of former Bruins goalie Gerry Cheevers.
In those basilicas of brawn, spirited players engaged in bare-knuckle fighting, and, holy smoke, there were mosh-pit free-for-alls! One of the indelible images from my youth is witnessing a bench-clearing brawl at a minor league game involving the Johnstown Jets. It was a field trip for my brother's Cub Scouts group, and I rode behind the Webelo wake. I vividly recall a player in the brawl who looked like he was about 62 years old, gray and balding, pinning down an opponent on the ice like he was Jack Palance subduing Billy Crystal.
All of these sticks and bones gave the game ferocity and a uniqueness that couldn't be matched. Football in the 1970s was tough, but these toothless hockey guys had blades on their feet and sticks in their hands. And most didn't have helmets. That included goaltender Andy Brown, who was the last goaltender to play in an NHL net without a goalie mask. That happened when I was 8, as I rode my bike around town with no helmet and was driven to school without the mandatory use of seat belts.
However, all of the other NHL goalies not named Andy Brown did wear facial protection and few sporting artifacts meant more to me as a child than the early NHL goalie mask. It had an appeal and gravitational pull that was undeniable. The creativity, campiness and organic look of early goalie masks helped usher the NHL game into its popular, punk-rock subculture that true fans still long for. They gave NHL goalies an eerie and creepy look of mystery. Eyes without a face.
The goalie mask remains the most unique piece of equipment in the history of team sports. For a child, every NHL game was Halloween. For an adult in the 1970s, perhaps an "Eyes Wide Shut" reaction. The goalie mask truly made these men other people, other mysterious things. To actually slip one on to play street or pickup pond hockey? Well, there was nothing cooler. If players were as market savvy then as they are today, Gerry Cheevers could have sold a million "stitches" masks for $20 apiece in the United States and Canada. He could have bought the Bruins, given himself a raise, bought Wayne "straight cash, homey" Cashman a new Plymouth Duster and never would have had to leave for the WHA.
Where else in professional sports have athletes been permitted to express so much individual personality and nonuniformity? Ironically, it was the NHL, where nearly every action of individuality is taught to be repressed for the benefit of the team. Then again, these were goalies, viewed by some with the scorn and suspicion of an NFL kicker. I guess the whole paint-my-mask-like-a-growling-tiger thing slipped through the "there is no 'I' in team" cracks in the ice. "They are goalies ... whatever."
Today's subtle and somewhat cookie-cutter goalie masks with their limited space don't approach the mysteriousness and original art-room charm and appeal of those original face protectors. But they do still give goalies a rare opportunity to personalize a piece of their equipment and reveal a bit of themselves.
So, we pay homage to 50 years of common sense, survival and an every-night-is-Halloween party on my hockey mask. We take a look around the NHL at some of the paint jobs in today's game, understanding it all started 50 years ago this past Sunday with the courage, quirkiness and ingenuity of hockey's most revolutionary player, Jacques Plante.
(All photo credits: Getty Images; you can also vote for your top goalie mask here.)
Marc-Andre Fleury, Pittsburgh Penguins
The initials on the back of his mask, E.F.G.T., are a tribute to his grandparents, Estelle, Francois, Gaston and Therese, and do not stand for Emile Francis Grew Tomatoes.
Henrik Lundqvist, New York Rangers
Where is the Hakan Loob tribute? Terrible job!
Martin Brodeur, New Jersey Devils
The initials of Brodeur's kids are on the back of his mask, not a picture of Megan Fox or a juicy cheeseburger.
Bucci's Power 5
I almost dropped the Pens out of the top spot with Evgeni Malkin and Sergei Gonchar out of the lineup. But even without them, Tyler Kennedy and Maxime Talbot, the Penguins still have drive and push and talent. They have scary depth and are led by Team Canada's soon-to-be captain Sidney Crosby, who will win Hart Trophy No. 2 in June in Las Vegas. Chaka Khan, your thoughts?
Superb special teams, a veteran goalie and a team with size and speed. Joe Thornton could reach 100 assists and Dany Heatley will set a career high in goals. This team will start to really soar soon.
The Alex Ovechkin injury is going to be a very tense thing for Caps fans to monitor. To me, "week to week" sounds like rehab over surgery for now. I hope I'm way off and the Caps are being conservative like the Penguins are being with Malkin. With the 2010 Olympics in February, it's going to be a long, hard war. This could be tricky for the Caps. They are not built to win without Ovechkin. His presence is gigantic and it would take a training camp and new players to play any other way than they have been.
They are scrapping along waiting for Marian Hossa, Cristobal Huet and Jonathan Toews to find their games for different reasons. Remember, the Power 5 is based on which teams have the best chance to win a best-of-seven series, not points totals. I think Chicago will be a tough out if the Blackhawks are able to get healthy.
I've soured a bit on Calgary, still not buying Colorado as an elite playoff team, and keeping an eye on Buffalo, New Jersey, Vancouver and Los Angeles. The Flyers really haven't gotten it going yet and will lose Simon Gagne yet again, but I still think they would be a tough out. They can score and they are tough. I think they might need a coach with a big-time personality and reputation to keep all of this mayhem focused. The Flyers have mad skill, but have a tendency to waver and drift. They need a pugnacious coach who will drop an anchor on their butts unless the leadership starts to set the tone, on and off the ice.
Shot of the Week
It's back. You know how it works: We present an NHL photo, and Bucci provides a caption. E-mail him your suggestions (include your name and hometown/state), and we will use the best ones and provide a new photo the following week.
LAST WEEK: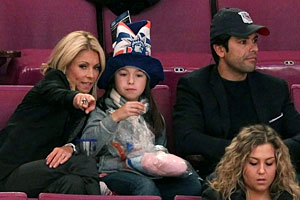 "I'm gonna get that Orr guy to punch Regis in the mouth." (Getty Images)
Your captions:
"I wanted to sit down there, but instead we got stuck next to Peter Sampras."
Adam Jenkins (Buffalo, N.Y.)
Man, now she's telling him that she doesn't want him to ever fight like that. This is going to take weeks to fix.
Eric Luukko (Sutton, Mass.)
"See, honey, that's called a Zamboni. Mommy is going to drive it over that mean umpire the next time he blows a call."
Jeff Neistein (Woodland Hills, Calif.)
"If you look at the ice just right, you can do your makeup in it."
John Tomasetti (Arlington, Va.)>
THIS WEEK: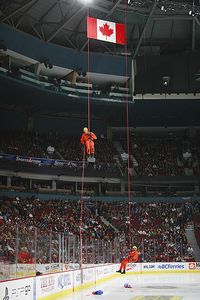 And the Maple Leafs make a line change. (Getty Images)
Tuesday Poll
(Sponsored by Ken the Otter)