Bucci,
Question: As a Bruins season-ticket holder who watched Phil Kessel play every night, I have to agree, but also respectfully disagree, as I think there are some things you are overlooking. Kessel is a bit of an enigma. I could see him scoring 50 goals a season, or I could see him never scoring 36 again. I think he runs the risk of making himself useless, as he can tend to try the same down-the-wing toe-drag move long after a given defender has figured it out. Plus he's not big enough or defensively inclined enough to create a lot of turnovers on his own, so that speed all could go to waste if he can't go get the puck himself and has no one to get it to him. The picture painted by local media here in Boston and reading between some of the lines is that Kessel was all set playing for [Claude] Julien and was looking to land elsewhere, and sounds like the Bruins placed a value on him. Probably somewhere around $3.5-4 million per year and wouldn't pay more than that.
John Brodbine
Andover, Mass.
Phil Kessel has a lethal release and will never be close to useless. He contributes to a team's overall speed and can break down defenses and score easy goals or goals scored because of pure talent and not a lucky deflection. He makes players around him better with that talent, and yes, he does make nice passes!
But I also think the Bruins' fans, who pay a lot for season tickets, deserve to see special talents. The Bruins had such a cool array of players last season with Milan Lucic and Marc Savard, Kessel and others. I thought they lost a tangible hockey player who's fan-friendly and makes the experience of seeing a game in person more special.
Bucci,
Why are hockey players so cool? For Halloween, Dustin Penner dressed up as Santa Claus with a name bar on the back that said "No Trade" (aka No Trade Claus). To make it even better, Andrew Cogliano dressed up as Dany Heatley. That's unreal. What beauties.
Denis Kirstein
Bethel Park, Pa.
Canadiens fans are hoping Carey Price starts dressing up like a goaltender more often.
John,
I have to admit, I was reading the goalie mask column without much amusement -- the one-liners weren't coming anywhere near my funny bone -- until you got to Jonathan Quick and dropped the perfect Marvin the Martian quote. I laughed so loud that three co-workers came to see what all the fuss was about. That was a game-winner out of nowhere.
Jason Van Arkel
I think I just got slew-footed while being patted on the back.
Mr. Buccigross,
Enjoyed your article on goalie masks. I remember when I first became a fan of hockey in 1972, noticing the mask worn by Rocky Farr of the AHL Cincinnati Swords and how his was different from those won by Denis Herron and Bob Johnson of the Hershey Bears, John Garrett of the Richmond Robins and Denis DeJordy of the Baltimore Clippers. The first mask I remember being painted was by Doug Favell of the Philadelphia Flyers in 1972-73. Gilles Gratton when he was with the Rangers, Gary Bromley when he played for Vancouver and Gerry Cheevers had the best masks of all time.
In 1974-75, I had an opportunity to watch Andy Brown play for the Indianapolis Racers of the WHA. It was strange seeing him in net without a mask.
Don Helbig
Fairfield, Ohio
To see last week's column and all the columns, click on the archive icon. Icon. I like that word. In fact, if Connecticut ever gets a hockey team again, that would make for a good team name. The Connecticut Icons. It flows. And the logo would be whatever you wanted it to be. Imagine the hat collections!
Bucci,
Love the feature on the goalie masks, but being a music lover, you missed one of the coolest masks with
Brent Johnson
's Led Zeppelin tribute with the Pens. It's the black magic that has kept us going despite the injuries.
Nick

Hey Bucci,
I'm a student at the University of Minnesota and season-ticket holder of Gophers puck. I would like to invite you to attend a game at the most beautiful college hockey venue in the world, Mariucci Arena. Minnesota amateur hockey is something that every hockey fan needs to experience, including you. Experience the tradition and honor that people like Herb Brooks, John Mayasich and
Neal Broten
helped build.
Anders Victor
Minneapolis
I was able to catch a game at Mariucci during the 2004 NHL All-Star weekend. Thomas Vanek and Keith Ballard were Gophers then. Awesome arena. You may see Shjon Podein and I there someday. But Podes might have a Minnesota-Duluth hat on.
Hey John,
Just a request to continue the segment listing the sweet team names that are floating out there in fantasyland. As I sat watching Habs-Leafs last weekend, a few solid ones occurred to me: Metropolit Bureau, Latendressed for Success, Toskala Vista Baby. I could go on. Keep up the good work. Tell Melrose he must
never
cut the mullet. Never.
Dan
Marquette, Mich.
Unlike Andre Agassi's, Barry Melrose's salad is real. In fact, he cuts that lettuce every night before going to bed. Melly wakes up, and BLAM-O! The hair is back. Dude has a protruding hairline.
Booch,
Greetings from Australia! Avid NHL follower here (Devils fan). Here's hoping they can make more than a first-round appearance in the playoffs this season. Just thought I'd give you a heads-up on a great band I've come across: Civil Twilight. They've got their debut album out and are definitely worth a listen -- kind of a cross between Radiohead/Thom Yorke, Muse, Coldplay and, at times, an early U2. Truly music to enjoy chicken parm with!
Warren

I listen to only Dean Martin when devouring my parm.
Bucci,
Greetings from onboard the USS McFaul (DDG-74). First off, I absolutely love your column and read it religiously. As a lifelong Red Wings fan growing up in the fabulous Upper Peninsula of Michigan, I was taken aback at your comments about [Pavel] Datsyuk and [Henrik] Zetterberg. I believe they both have about three to four years left at their peak. My reasoning behind this is because they grew up playing in a European system. Heck, the most games Datsyuk played before coming over was 42. Secondly, both Datsyuk and Zetterberg are great playmakers. When you can pass and think your way around the ice, you can adapt to make up for the loss in explosiveness. Also, [Nicklas] Lidstrom's cap number won't be around much longer. That will free up $7 million to go out and get another sniper to play the wing. Same with Drapes [Kris Draper] and [Kirk] Maltby.
ET2 (SW) Ryan Anderson
USS McFaul (DDG 74)
Happy and safe Veterans Day, Ryan. Thanks for bobbing and reading. All fair points, and for your sake, I hope you are right. I just don't think their next four years will equal their previous four years. And as players age in today's fast game, you need big-time young players to do some of the heavy lifting, as Lidstrom had with Zetterberg and Datsyuk. You are right: Lidstrom's $7.4 million will come off the books after this season, and if he retires, that'll be a nice chunk of change. Although if things continue, the Wings may finally have to pay for a goaltender.
Bucci,
Two things: First, I know you live in Connecticut, so do you ever watch prep school hockey? It's definitely some of the best high school hockey in the country. I went to Westminster, and while I was there, the team was amazing. You should definitely stop by for some quality games. Secondly, I heard that you are a cheese lover. If this is not true and this is the weirdest e-mail ever, then I'm sorry. If you do, however, I want to ask: What is your favorite cheese? The best cheese, for me at least, is a very, very sharp-aged cheddar.
Will

It's good to see a fine, educated man focused on cheese. We all should be proud. If you wrapped a piece of provolone around a diaper full of olives, I would be tempted to eat it. I love saying "provolone" as much as saying "icon."
John,
Is this the year
Dino Ciccarelli
makes the Hall of Fame? Also, do you think they'll hold off Alexander Mogilny and
Pavel Bure
for
Sergei Fedorov
's first year of eligibility?
Kyle Rhodes

Ciccarelli's time will come. I don't have Mogilny as a first-ballot guy, but I do have Bure and Fedorov as such.
JB,
A few random things that make me love watching hockey: 1. Goalies banging their sticks at the end of penalties. (Wonder who started it and why.) 2. The glove face wash. 3. Hopping over the boards instead of using the door. (NFL players won't even squirt their own water bottles; if the leagues were switched, you'd have some intern stationed at both doors, water bottle in hand, opening the door for players.) 4. Saucer passes and one-timers (sounds like the name of a good book). Go Sabres
Mike Monaghan

1. Yes! It advertently started with Gump Worsley smacking a fly on the ice just as Earl Ingarfield of the Lethbridge Broncos stepped out of the penalty box in 1962. 2. Especially after dipped in turpentine. Stings the nostrils. 3. Many a beer league player has pulled a groin trying this move. 4. Hull and Oates -- The Mullet Years.
John,
As a lifelong resident of Columbus, I'm wondering what you think of the Blue Jackets' lease woes and the possibility of losing our team.
Steve Underhill
Canal Winchester, Ohio
I would just put it all on the Underhills' bill.
John Buccigross' e-mail address -- for questions, comments or crosschecks -- is john.buccigross@espn.com.
BUCCI'S FAN PHOTOS
John,
I enjoyed the breakdown of the goalie masks, great stuff. I recently took my 3-month-old son to his first Sabres game. They blanked the Isles 3-0, and he stayed awake for a decent amount of the win. The score could have been worse if not for a former Buffalo fan favorite, Marty Biron. With
Rick DiPietro
coming back, it is fairly obvious New York will have to make a move. Any chance Marty will make a return to Buffalo and help its push to get back to the playoffs? Since Biron left, the backup goaltending spot has really hurt the Sabres. Marty has mentioned settling into Buffalo eventually, and the move would be well received by the community. Let's go Buffalo.
Todd
Amherst, N.Y.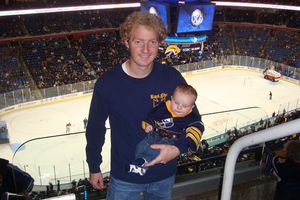 Bucci,
New pair of comfy Chuck Taylors for my daughter and me to stand in line? $50. Persuading the wife to stand in line for five hours, nachos and a pretzel? A lot. Getting my 21-month-old daughter to actually look at the camera for the one picture that counts? Priceless. It's a great day for hockey.
Joshua D. Cochran
Pittsburgh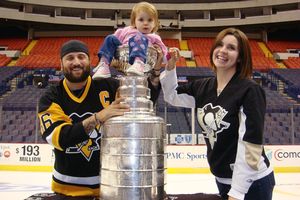 DON'T FORGET THE COLUMN ...
Poof! Just like that, NHLPA executive director Paul Kelly was terminated. And expect plenty of repercussions -- not all of them good. Column
VIDEO OF THE WEEK
(PRESENTED BY MOZZARELLA STICKS)
-->