Phillip MacCallum/Getty Images
Would omitting Stephen Stamkos from the Canadian Olympic team be a mistake? Bucci thinks so.
What do you say we name the U.S. and Canadian Olympic hockey teams? Officially, Canada will name its team on New Year's Eve during a Gordon Lightfoot concert in Banff, Alberta. Team USA will announce its roster on New Year's Day during the wicked good Wintah Classic at Fenway Pahk in Boston.
The Winter Olympics in Vancouver are just 87 days away. Brian Burke is Team USA's general manager, while Steve Yzerman is Team Canada's executive director. The rink size for the Vancouver Games will use NHL dimensions (200 feet long by 85 feet wide) instead of the normal international rink size (200 feet long by 98 feet wide).
Much like the Ryder Cup captain's picks, the committees will want to select "hot" players coming into the tournament. Both teams have no-brainers and some picks that will be based some on this season's play. From what I've seen, I'd go this way (please send all hate e-mail to Pierre LeBrun and Scott Burnside):
Team USA

Goalies
Ryan Miller: The clear-cut starter. He has the best goals-against average in the NHL this season, and he is great in shootouts if it comes to that.
Tim Thomas: He is a likable and inspirational player. His play has slipped a bit this season, but he deserves the nod. Also good in shootouts. He's the fastest skater off the ice after a shootout loss in history. He could win Olympic gold in short-track speedskating with his goalie gear on.
Craig Anderson: He and the Avs have slowed a bit from their hot start as expected, but he has been a really good goalie for a while, not just this season.
Defensemen
This is a good group. There certainly is flexibility for Burke with a couple of these picks. Erik Johnson, Rafalski, Suter and Martin are the likely locks. The second four is more difficult to whittle down. I definitely would put Jack Johnson on my team; I think he would play well. Orpik or Mike Komisarek, but not both, likely will make the team. I would take Orpik. Matt Carle has had a great season, but his positive sample size is small, and he wouldn't have Chris Pronger to lean on. This must be an agonizing decision for Burke and his staff. Whitney's slot has competition. Alex Goligoski has been really good for the Penguins but played in just two playoff games last season. I also like Zach Bogosian a lot, but he is only 19 years old. However, if you are good, you are good.
Forwards
Zach Parise-Paul Stastny-Phil Kessel
Bobby Ryan-Joe Pavelski-Patrick Kane
Dustin Brown-Ryan Kesler-Brian Gionta
Ryan Malone-Chris Drury-David Backes
Taxi squad: Ryan Callahan, Scott Gomez
I would name Parise the captain of this team. He is the best Team USA player in the NHL today, and if he were Canadian, I would have him on a first line with Sidney Crosby. My Team USA might not have enough grit, size and meanness for Burke. He might believe that the way to beat Canada or Russia is to fill the bottom six forwards and taxi squad with mean, nasty, aggressive players, and some picks here probably surprise some people. Ryan is a big key to this team in my mind. He needs to play big. Kesler is one of my favorite players in the NHL. I could see him as a second-line player on this team. USA Hockey needs to start developing big-time centers.
Team Canada

Goalies
With Cam Ward's injury, these three choices are easy.
Defensemen
Chris Pronger
Scott Niedermayer
This is clearly the best defensive group that will play in the Olympics, and the team with the best defensive group usually wins hockey tournaments.
Forwards
Rick Nash-Sidney Crosby-Jarome Iginla
Jeff Carter-Ryan Getzlaf-Corey Perry
Dany Heatley-Joe Thornton-Eric Staal
Steven Stamkos-Mike Richards-Martin St. Louis
Taxi squad: Patrick Marleau, James Neal
The things that stand out to me when looking at Team Canada are the hands and releases of the forwards. All four lines have finishers, and Team Canada will need them when it plays Russia. It also has good size to match up against teams that might try to grind it out on the NHL-sized rink. Stamkos is a lock in my mind for Team Canada. He is a supreme talent with a lethal shot. No decision will match not putting Crosby on the 2006 Canadian Olympic team, but not taking Stamkos also would be a poor decision. He was born for these moments.
St. Louis is such a good playmaker in tight spots, so I like him on that fourth line even though I understand that many players can fill that spot. Neal is the most underrated player in the NHL. And Marleau would give coach Mike Babcock flexibility and contribute to the team speed of Canada.
John Buccigross' e-mail address -- for questions, comments or crosschecks -- is john.buccigross@espn.com.
Bucci's Power 5
Their difficult, travel-heavy start to the season has two weeks left before the Sharks play lots of home games in December and January. They score, have a good power play and have a really good goalie. They've done this despite injuries to Rob Blake, Devin Setoguchi and Joe Pavelski. Remember, the Sharks had the most points in the NHL last season with 117.
The Flyers have gone with Ray Emery in every game but one. (They lost that game 4-1 to San Jose.) They have beaten New Jersey twice. I am really curious to see how they play the rest of the month. Six of their next seven are on the road with few days off and lots of plane rides. It will be interesting to see whether they can win the close, low-scoring games when they are a little tired or a little off.
The power-play unit has scored three goals in its past 30 opportunities, and a long-term concern that one might have with the Flames is their lack of finishers. I'm surprised I put them in front of the Penguins now that Malkin is back. But I will go with Calgary for now.
The injuries in Pittsburgh have reached the absurd level. But as long as the Pens have Malkin and Crosby playing at the same time, they will win games as they did against the Bruins on Saturday. Long-term, these injuries should help because the Penguins will manage the games-played number during this long, drawn-out Olympic season and give young players more ice time.
The Devils get the nod over Chicago and Washington. Jacques Lemaire's defensive acumen and the Devils' system in front of Martin Brodeur make them a potentially dangerous playoff team. The Devils have experience, size, toughness, mobility and Zach Parise's brilliance and exhilaration. When I think of the five most exhilarating players in the NHL to watch, I think of Ovechkin, Malkin, Crosby, Pavel Datsyuk and Parise. Your average sports fan and casual hockey fan has no idea of this fact.
Shot of the Week
It's back. You know how it works: We present an NHL photo, and Bucci provides a caption. E-mail him your suggestions (include your name and hometown/state), and we will use the best ones and provide a new photo the next week.
LAST WEEK: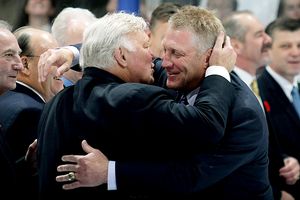 "Watch the hair, son. Watch the hair." (Getty Images)
Your captions:
"I know it was you, Fredo. You broke my heart."
K.C. Shannon (Steubenville, Ohio)
"Brett, I promise it's not Bernie Madoff behind me. It just looks like him."
Danalyn Savage (Phoenix)
"You smell good, kid … but if you keep dipping into my Old Spice, you're buying me a new bottle!"
Todd Richard (Orange, Conn.)
"Man, it used to be so much easier to give you a hug!"
Troy (Billings, Mont.)
"Ah, Brett … your foot … it's in my crease."
Brian Townsell (Stroudsburg, Pa.)
THIS WEEK: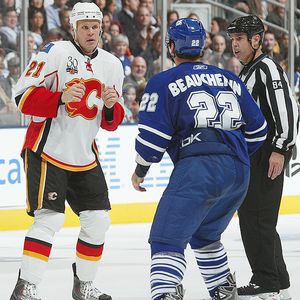 "Please break this up. Please break this up. Please break this up." (Getty Images)