John,
Patrick Marleau is quietly putting up Ovechkin-like numbers with consistency as the Sharks start to surge after their ho-hum first few games. He doesn't seem to be getting the props that Anze Kopitar is getting. Maybe because it's not so much of a breakout for Patty. If this is what it took to get him to the next level, Doug Wilson should have ripped that "C" off his sweater a couple of seasons back. Marleau skated with Dany Heatley and Joe Thornton during Team Canada's Olympic orientation camp practices. Although the three usually play together only on the power play with the Sharks, that line seems to be making more and more sense for the Canadian Olympic team. Your thoughts?
Geoff
McLean, Va.
Patrick Marleau is the kind of player every coach would love to have. He has good size, is a great skater and can play center and wing. So many people look at a player like Marleau and focus on the things he can't do, such as perhaps not being an ideal captain, but then they ignore all the things he can do. Hockey is a team game. If Marleau were on the Penguins last season, they still would have won the Stanley Cup. He doesn't have hockey cooties. I would think Mike Babcock would love to have him on Team Canada. A Heatley-Thornton-Marleau line certainly would be potent and reflect good chemistry.
Bucci,
Just thought you'd like to know: At the preseason meet-and-greet for the
San Jose Sharks
, I told Patrick Marleau I was glad that management didn't trade him. I think my comment has inspired him to play the best hockey of his career so far this season.
Joshua Amunrud
San Jose, Calif.
Do you also stare at goats?
Bucci,
There are two American defensemen I am crazy about. One of them I have admired for a couple of years:
Joe Corvo
. I think he has gotten better and better each year. The other is
Matt Carle
. How much of his early success is due to playing alongside Chris Pronger, and do you project him to be on the U.S. Olympic roster? I have seen every Flyers game this season, and the guy seems to be exploding with confidence. What do you think?
Even
Philly
As I discussed in my projected Olympic blogumn this week, Brian Burke and Team USA will have options on defense. Brian Rafalski, Ryan Suter, Paul Martin and Erik Johnson probably are four locks. From there, I'm sure Team USA would like some physical players to pound and wear down their opponents. They could take Mike Komisarek and Brooks Orpik to double up on nastiness, but I think Team USA would take only one, and Orpik is probably the slight favorite. Corvo is a skillful right-handed shot who might work well with Orpik. And Burke might take Carle and put him with Komisarek playing the stay-home nastiness of Pronger. So we could see:
Suter-Rafalski
Martin-Johnson
Carle or Corvo-Komisarek or Orpik
Hey John,
That Fletch reference in your mailbag made me feel like $100.
Adam
San Diego
Hopalong Cassidy. Killed himself here. Bow and arrow. Strange.
Bucci,
I loved the Underhill crack at the end of the last mailbag. "Can I borrow your towel? My car just hit a water buffalo." Despite your baby-name advice, we went with Tyler Michael Bangild for the heir. (Ty after Ty Webb. I tried for Fletch but was denied.) Went out for beers the other night with some of the caddies, and the question came: "Who was the hockey player in 'Strange Brew?'" Of course, it's Rosey, but the first name took some thinking. Jean LaRose. Thought you'd like the idea of a bunch of golfers in Hawaii talking about the third-best hockey movie ever.
Jason Bangild, Director of Golf
Nanea Golf Club, Kailua Kona, Hawaii
Full name?
Fletch. F. Fletch.
I see. What do you do for a living, Mr. Fletch?
I'm a shepherd.
Bucci,
Just what exactly do you have against the
Dallas Stars
? Never any love in the mailbag for my team! They've got to be worth a couple of sentences at least. Heck,
Steve Ott
's play alone deserves a whole paragraph!
Kevin McKenna
Dallas
So far the Stars have been an average NHL team. Their goals for and goals against are almost equal. I look at a team like the Stars and don't see a real identity. They have some nice offensive players and nice grit with Brenden Morrow and Ott, but it doesn't all seem to congeal in perfect harmony. They really could use a big-time/dynamic defenseman. Until then, the current group needs to come together and figure out the best way to win. I guess that's Marc Crawford's job. He needs to take all this stuff and make it into a comprehensible quesadilla. Quesadillas have multiple ingredients, but they are organized quite well. What's the over/under on the number of chicken quesadillas Harold Snepsts could inhale after mowing his lawn? I'm thinking 14.
John,
Reading your normally entertaining column this week made me sick. As you mentioned in the open, people like us normally don't care about the dark side of sports, which has now infiltrated our beloved game. But important information like this needs to be disseminated throughout the ranks of hockey fans everywhere. I haven't been following this whole situation, because I choose to focus on the game itself rather than all the off-ice nonsense. I never even knew who Paul Kelly was until he was fired. However, now that I'm informed on the issue, I'm outraged. There are too many good people in and around the game of hockey to let what few bad apples there are undermine a good man who sincerely has the best interests of the players and the game in his heart. Especially deplorable (and this is on the player reps) was, as you mentioned, many of them voted without even checking with their respective "constituencies," so to speak. We can only hope that after the NHL has finally completely recovered from the lockout, these fools in the minority of the NHL community who wield so much power don't destroy everything that has been built in the years since the arenas went dark.
Scott Akanewich
San Diego
More from my sources:
In no certain order, the NHLPA needs to find a new executive director who can come in running and address several critical issues such as a broken and unworkable constitution, a forthcoming collective bargaining agreement that would settle important items like the salary cap, guaranteed contracts and escrow caps, the PA's position on struggling franchises (e.g., Phoenix) and weighing and legislating the penalties around physical play and dangerous head shots. This list does not begin to mention the more time-pressured areas such as repairing the NHLPA's image with both the fans and its constituents; renewing a crumbling corporate base, which will pinch revenues; planning for next year's premiere games, planning a possible World Cup of Hockey and making financial decisions for the 2010 Vancouver Olympics, which start in approximately three months.
This is why it was such a mistake to get rid of Kelly. He and his group had a handle on these issues. He knew which battles to fight and where to draw a line in the sand. Issues such as escrow, growing revenues, international tournaments, television partnerships and guaranteed contracts were important, while arguing minor grievances was a waste of NHLPA resources. Kelly inherited a partnership and was in the process of protecting the players under that partnership. He understood that what was best for hockey was also best for the NHL players. He understood that growing the game and protecting the players was his most critical job.
On the other hand, the group led by interim executive director Ian Penny, ombudsman Buzz Hargrove and advisory board member Ron Pink wanted nothing to do with an NHL/NHLPA partnership. They subscribed to the antiquated idea that the NHL players could and should "bury" the league. They felt that terms such as "a players' war chest" would scare the NHL owners into making major concessions. There was a scorched-earth strategy, which was doomed to fail and ruin hockey. They were ill-prepared and ill-equipped from a business and negotiating standpoint to deal with the issues that are most important to the future of hockey, the NHL and the NHL's players. They wanted to protect their power base and their position at the expense of everything that makes sense, and I'm sure they never asked themselves, "What happens if we actually are successful in getting rid of Paul Kelly?"
John,
I'm a huge Islanders fan. I read your NHL articles and appreciate that someone at ESPN still cares about hockey.
Chris
Saint James, N.Y.
I went to the Islanders-Bruins game Monday night in Boston in Section 304 of the Upper Bowl with my cousin Eddie Buccigross. Some observations:
1. The Islanders are terrifically coached. Scott Gordon likely will be a coach of the year finalist. He has the young players playing with such discipline and focus. You really could see this sitting up high. Whether it's football or hockey, I've always liked sitting up high so I could see the plays develop. And you really could see the Islanders' discipline and focus on line changes. They immediately found a man in the neutral zone as they came off the bench.
2. Because John Tavares is not a great skater, there are times you don't really notice him and the game kind of flies around him. But then in an instant, he makes a play in small spaces. I don't know whether he will ever be a great five-on-five player, but he will be a beast on the power play and will make his linemates wealthy.
3. I asked my cousin whether there had been any fights up here in Section 304. He said no. Moments later, two women got into it 10 rows behind us. One was a redhead who easily could have taken Milan Lucic out with the rage she was showing as she was escorted out.
4. The craving of the Bruins' fans to cheer goals, fights and wins was palpable. They got a good fight out of Shawn Thornton, but that was about it. Marc Savard and Lucic being out is obviously a huge void that will be filled once they are healthy, but part of buying season tickets in the Upper Bowl is looking down on that 200-by-85 venue and seeing a player who exhilarates when he gets the puck in his end and soars through the neutral zone. That player is now in Toronto. Phil Kessel's first return to Boston is Dec. 5.
Hey Bucci,
Considering I saw three people from Buffalo in your last mailbag, I thought I'd give it a try. The Sabres are a rough bunch who play a hard, aggressive style of hockey focused on defense first. How do you think they match up with a fast, offensive-minded team like the Caps? Is it possible to have a Stanley Cup-contending team with a bunch of hardworking nobodys like
Patrick Kaleta
,
Tyler Kennedy
and
Paul Gaustad
? I do realize that if
Ryan Miller
keeps this up, though, it is very possible.
Rob

I had the Sabres as a playoff team before the season, and as we approach the quarter pole of the regular season, that's looking like a pretty safe bet. The Sabres have a very balanced attack but are behind their 250-goal pace of last season. They don't have a very dynamic defense in terms of offense, and maybe that has hurt the offense a little. But if their forwards can have a productive finish, the Sabres should win the Northeast Division. They look like the best team to me.
Hey Bucci,
First off, I want to thank you for helping spread the news about the glory we know as hockey. Not too many rinks down here in Costa Rica (just one, actually), but your columns help me feel like I'm still back in one of the great hockey towns, the Mile High City. Anyway, I know he just lost to the Oilers, but with
Craig Anderson
starting off the season 11-4-2 with a .929 save percentage, he's got be a lock for the U.S. Olympic team in Vancouver, right? I understand it's probably Ryan Miller's job to lose, but
Tim Thomas
hasn't showed much this season of his former self. In a short series you want to ride the hot goalie, and there doesn't seem to be anyone hotter than Anderson so far. Thanks again,
Jim A.
Bejuco, Costa Rica
I would think Anderson will be named to Team USA. The Sabres' Miller looks to be the clear-cut starter at the Olympics. Miller is emerging as a force in net, which is exactly what the Americans need in Vancouver. For USA to medal, Miller has to be the best player. Anderson probably deserves to be the No. 2 goalie, but there is still a lot of hockey to play and Thomas still has a chance to make a statement and get hot as the games approach.
John Buccigross
Cool hat, huh? I wonder if sales are higher now than when the Whalers were actually in Hartford?
Hey,
Is it just me, or do you find it to be a coincidence that when the patent on the Whalers ran out, and they could start making and selling merchandise again, that the Hurricanes became one of the worst teams in the league? They are currently on a 10-game losing streak, and it doesn't look like they will start winning any time soon. Bring back the Whale!
Matt Lutheran
Stratford, Conn.
I received this e-mail the day after I bought a beautiful green Hartford Whalers hat at the South Windsor Arena pro shop.
JB,
After your column last week, I just wanted to write in and say that I had my first foray into youth hockey a few weeks back -- and it was amazing! My girlfriend's 10-year-old cousin plays on a squirt team, the Burlington Red Devils, and had a goal and an assist (way to work, Cam!) in a winning 4-3 effort in a tilt against the Medford Mustangs. It was easy to tell from the get-go that the kids loved playing hockey, and the intensity rivaled that of an NHL game, from both players and spectators, myself included. I've asked my girlfriend incessantly about going back -- I'm officially hooked. The last part of the story is this: One of the Red Devils had NOONAN embroidered on the back of his sweater. Sadly, he didn't score, but if he had, I was right there waiting with "Right in the lumberyard!" But there's always next week. Go Sabres!
Mason,
Wakefield, Mass.
Danny Noonan: "I'll be working in a lumberyard for the rest of my life."
Ty Webb: "What's wrong with lumber? I own two lumberyards."
Noonan: "I notice you don't spend much time there."
Ty Webb: "I'm not sure where they are."
BUCCI'S FAN PHOTOS
John,
What a day! Our first of what I hope to be many Bruins wins together. Boston 2, Edmonton 0.
Ed and Zach
Abington, Mass.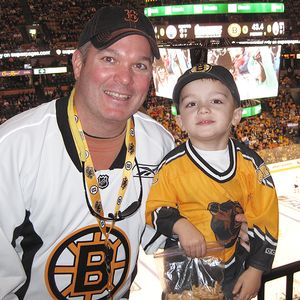 Dear Mr. Buccigross,
About two months ago, I visited my best friend, who lives in Tampa, for the opening game of the 2009 season: Lightning versus Devils. My friend and I got there early and we walked around the St. Pete Times Forum, getting lost a couple of times because it is a very confusing place. Both of us were wearing our Devils gear (yes, I own one Devils T-shirt), and we literally ran right into Sweet Lou Lamoriello. He was in shock and awe to see a Devils fan. We had a very enjoyable conversation and even got a pretzel-stand worker to take a picture of us with him, which I have included. After Lou left, the pretzel-stand worker asked us who that old guy was, and we both exclaimed that it was "Lou." Needless to say, Lou doesn't get much love in Tampa, even though he was just inducted to the HOF, but the Devils won, so it was a decent night. Your brutha in chicken parm,
Doug Dryer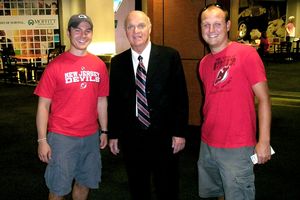 Bucci,
Please find a picture of my daughter, 1 month old, watching the Wings game. She wasn't happy about Ryan Getzlaf hammering Henrik Zetterberg with those crosschecks a few minutes ago! Thanks.
Kevin
Grand Rapids, Mich.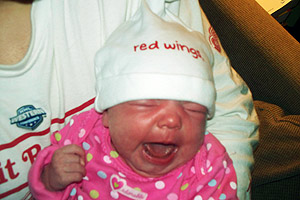 DON'T FORGET THE COLUMN ...
So what if the Olympic roster announcements are more than a month away? Bucci already has selected his U.S. and Canadian teams -- and expects your crosschecks and hate mail. Column
VIDEO OF THE WEEK
(PRESENTED BY MOZZARELLA STICKS)
-->