Obviously, there has been a lot of reaction to the Brendan Burke story from Tuesday. Justin Bourne, a former pro player and son of former Islander Bob Bourne (964 NHL games), wrote a piece recently for USA Today's Web site and on his blog about homophobia in hockey. He writes from a unique perspective. Here are some more thoughts from Justin that he sent to me via e-mail:
I do think an openly gay player could function in the NHL. At the end of the day, hockey is a game; dressing rooms, buses, flights and hotels aside, all that really matters is what happens on the ice.
I highly doubt anyone would contradict the fact that there are gay players in the NHL today. So if a gay player were to publicly acknowledge his orientation, I fail to see how that would affect his performance on the ice -- he'd still be the same guy. And to a general manager signing players to contracts, nothing matters more than on-ice success. Think about it -- teams take chances on players with actual problem-causing histories with regularity because they think it can make them better on the field, court, or, in this case, ice. On-ice results. That's what matters.
And in reality, it'd be easier to be gay in the NHL than the AHL or ECHL. At the top levels of major sports, living a life separate from the team is infinitely more possible. There's no 17-hour bus rides, never three people in a hotel room, and rarely does a team make everyone go to a "team movie" or some other event like they do in the lower levels. In the NHL, these men are employees and are judged on results. They can go home and do what they want.
The unfortunate thing is, hockey players aren't exactly known for eloquence and sensitivity. The first openly gay NHL player is gonna have to be one mentally tough dude. But then again, if he plays in the NHL, he probably already is. So sure, I think it's possible. Someone just has to be the first to stand up.
John,
I was wondering if you could help me out here. I was trying to think of a good hockey book I can ask for for Christmas, but I am just not sure which ones are the real deal. I was wondering what your top 10 hockey books are and, hey, just for fun, how about your top 5 non-hockey sports books. Happy Thanksgiving to you and your family!
Daniel
Happy Thanksgiving to you all.
Obviously, any Jack Falla book is a great hockey book. Ken Dryden's "The Game" is also another good one. I wrote a book with Keith Jones on his improbable NHL career. I need everyone reading this to buy five copies of "Jonesy" RIGHT NOW! I just bought the new biography on Jacques Plante over the weekend, but haven't started it yet.
Non-hockey sports books? Chuck Klosterman is my favorite living writer and he uses sports references enough for me to also qualify him as my favorite sports writer. Klosterman has a new book out and I bought that as well. Malcolm Gladwell also drops enough sports references for me (I also bought his new book).
For the record, I bought John Mayer's new CD and "The Game" for my son to round out the shopping spree. I also like any book by Mark Frost.
Hey Bucci, I was just wondering which players you would pick for your all-time name team. Say a starting five and a goalie, and you can only use Hakan Loob once.
James
Athens, Ga.
Athens in the house! Home of R.E.M. Great question. Here's my starting five and a goalie:
Center: Hakan Loob
Winger: Cal Clutterbuck
Winger: Ebbie Goodfellow
Defenseman: Bruce Shoebottom
Defenseman: Max Quackenbush
Goalie: Pokey Reddick
My five favorite R.E.M. songs:
1. "I Believe"
2. "What If We Give It Away?"
3. "Voice of Harold"
4. "Bad Day"
5. "Fall On Me"
Bucci,
I know the Washington Capitals have the connotation for being just an offensive team and not being a very physical team or a team that is willing to "throw down." After watching all of their games so far this season, I think this is a bit unfair.
Craig Hurley
Lexington Park, Md.
The Capitals are definitely not just an offensive team. Both Alex Ovechkin and Mike Green hit, and the team has a nice array of size and sandpaper up front. If observers don't realize this, they are not watching the games.
The question for the Caps is getting a presence in net and more personality and accountability on the back end. The same goes for the Flyers.
This is why the Penguins have an edge over everyone in the Eastern Conference. Yes, they have two of the top five players in the NHL, but they also have great balance. They have a young, talented goaltender whose only weakness is puck management and handling skills. Their defense has lots of offensive acumen and a real urgency in the defensive end. In fact, the whole Penguins team has urgency, and that's why they've reached the Cup finals for two straight seasons. The Pens have talent, but also have a defensive urgency in all three zones that the Flyers and Capitals don't have yet.
Hey John,
I think you're losing the Phil Kessel battle with Bruins fans. As a die-hard Bruins fan, I for one can attest that many Bruins fans are unfazed by the departure of Phil the Thrill.
Your brother in elbows,
Josh
I find that shocking. Kessel is one of the few -- very few -- NHL players who put you on the edge of your seat as he winds up through the neutral zone and goes into that gear which only a handful of players have. There is a hum in the arena when he gets the puck. To be able to watch that in person as a season-ticket holder 41 times a season is a big part of why you slap down so much money. You want to be thrilled. How can you not miss one of the 10 most exciting offensive players in the NHL?
Bucci,
I just wanted to say that I'm a HUGE FAN of your blog and it has entertained me, as well as the Q-Stache's presence working in place of a home security system! Now, I'm not able to catch up on my team (Tampa Bay) and being the only true puckhead (my last weekend before I was deployed, I enjoyed nothing but some Molsons and watching Dave Andreychuk raise the Cup on YouTube), I was wondering what your thoughts are on Tampa's current situation in net with the improved play of Antero Niittymaki. Could it be feasible to say that my Bolts could sneak in the playoffs?
Chris
COB Speicher, Iraq
Thanks for the note, Chris. Tampa Bay certainly has enough to be in the hunt for the last playoff spot in the East. The Lightning have decent balance and some high-level offensive players. Their issue will be goaltending, which you mentioned, and depth. Antero Niittymaki has never started more than 46 NHL games, so we will see if he has the mental and physical stamina to handle more. The Lightning also cannot afford any injuries. That being said, if I had to pick the eight Eastern Conference playoff teams right now, I would break it down like this:
Locks: Pittsburgh, Washington, Boston, Philadelphia.
Probables: Buffalo, New Jersey.
Coin toss: New York Rangers, Atlanta.
But those last two spots could go a number of ways. Carolina and Toronto are running out of time. Carolina hasn't won a road game yet! I think the Islanders will fade a bit. But I think everyone else has a shot if they stay healthy and get good goaltending.
Dude,
I had this wicked cool dream last night ...
So I'm in the Detroit locker room circa 1997 after their last practice before facing Philly in the finals. Fedorov and Shanahan had just finished playing a shooting game after practice where you have to hit all three posts with just three shots (I didn't witness this, but instinctively knew all about it). Fedorov completes the feat and is given a 2 inch circular sticker that reads "trip dingers," which is presented to him by Scotty Bowman.
So, Fedorov takes off his helmet and sticks it onto the inside of his lid where there are three or four other stickers (similar to the Buckeyes leaf sticker with OSU, but on the inside). Then, I'm suddenly on the other side of the locker room next to Stevie Y. Silently, he takes off his helmet and the thing is littered with stickers. I mean overlapping. He modestly hangs it up in his locker and begins taking the rest of his gear off. I wake up humbled and with a smile on my face. I just know it's gonna be a fantastic day.
In addition, my name is Andy. I am 26 years old and I drive a 2004 Buick LeSabre. "It is the car I have always wanted, and now I have it. I rule!" There's my one allotted exclamation point. Well-placed and deserved. So I flew home from Pittsburgh yesterday (I was upset I couldn't get a ticket to the game, especially since they were playing Marky, Stu and the Bruins) and my E-Z airpark shuttle driver says, "I have a Roadmaster and my wife drives a LeSabre, aren't those things the best?" I respond with a "Yep, you the man."
Little did he know that he earned an extra dollar for the comment.
Andy
Rochester, Minn.
Great Big Bucci,
1. Why a trapezoid and not a rectangle? Why doesn't the big league cut down that weird angle?
2. Why no back rests on the league benches? Why no respect for guys in trenches?
3. Why no Great Big Sea in your column? Why not quote Alan Doyle and wow 'em?
These questions three echo from my walls. Answers awaited in Wichita Falls.
Dan Lewandowski
Wichita Falls, Texas
The Big Lewandowski. The Dude abides.
Hey John,
What are the chances of Team USA getting a medal during the Vancouver Games?
Kenny
I actually think they are pretty good. Team USA will be able to score and have an energy that could disrupt enough opponents to grab a medal. The size and grit is a concern, as well as the youth. The Americans need to get on a roll early and gain some confidence.
Bucci,
What do you think of James van Riemsdyk? After panicking (like many Flyers fans) that he may not live up to the hype of a second-overall pick, he's quietly put up 17 points in 15 games. Four of his six goals have been game-winners. I know it's early in the season, but I'm thinking there's a chance to have another Calder Trophy in Philly that doesn't belong to the Phantoms.
Kurt Honeywell
We wrote about JVR in this space after we saw him in person in the NCAA tournament. We said then that he had great size and NHL hands. He just needed to get in shape and train like an NHL player. He is too big and too skilled not to score. He will be a consistent 30-40 goal guy.
Hey John,
I was reading an article in The Chicago Tribune profiling John McDonough, and there was one comment I found interesting, regarding if McDonough had any interest in becoming the NHL commissioner one day. Ever since McDonough took over as president of the Hawks and amazingly turned that disaster of an organization around, I thought the next logical step for him would land him in the NHL offices.
How's this one, solving two problems at once: Wayne Gretzky as commissioner, with McDonough as his No. 2? The greatest player as the figurehead and a marketing wizard as the operations guy. Even if that doesn't work, I think it would be a genius move by the NHL to bring McDonough into league management.
Joe Gleeson
Hoffman Estates, Ill.
John McDonough clearly has common sense and creativity, which is a great combination for a commissioner. I think this is why the NFL has been such a well-run league; it has creative commissioners with a common-sense touch.
Hi John,
I've been feeling old. I grew up a Blues fan and have soft spots for Brett Hull and Brendan Shanahan (despite both playing for the most hated of all franchises). Hull was inducted into the Hockey HOF last week and Shanahan retired yesterday. I remember seeing Shanahan's baby face eating at Rigazzi's on the Hill in St. Louis about 16 years ago. Guys who played when I was a kid have had long careers and are retiring and getting inducted into the HOF. What do I do? Have you listened to "In Ghost Colours" by Cut/Copy? I love it so much, I wish it would adopt me.
Jeremy Walling

Brendan Shanahan was one of the league's premier power forwards. He is the second-leading goal scorer among left wingers. He is one of just three players to score 500 goals and reach 2,000 penalty minutes, defining the term power forward.
Most goals by a left winger in NHL history:
Luc Robitaille: 668
Brendan Shanahan: 656
Dave Andreychuk: 640
Bobby Hull: 610
Players who reached 500 goals and 1,500 PIMs:
Gordie Howe: 801 goals, 1,685 penalty minutes
Mark Messier: 694, 1,910
Brendan Shanahan: 656, 2,489
Keith Tkachuk: 528, 2,179
Pat Verbeek: 522, 2,905
Bucci,
I help coach my old high school varsity team in New Richmond, Wis. Real small town, but I played against
Davis Drewiske
,
Jake Dowell
, Josh Engel and
Jack Skille
, who all happen to have a nice gig going at the moment.
I'm the only senior in our town's history to play in the state championship game. (pumping my own tires a bit). A little favor, if I may. I'm sure you have minimal time, but could you give a shout out to the boys of the New Richmond varsity hockey team, a little inspiration for them? E-mail, letter, video? And I show it to them at the next practice. They would get a kick out of it. Hockey is my life.
Luke Meier

Done and done. Go get 'em, boys.
John Buccigross' e-mail address -- for questions, comments or crosschecks -- is john.buccigross@espn.com.
Bucci's Power 5
They've dealt with their difficult early-season travel like champs. Now, the Sharks enjoy a two-month stretch of home games and Pacific time zone travel. We've seen this regular-season act before, so Shark Nation has to expect some doubters. But, the finish of Dany Heatley could be the playoff difference this year. He is the greatest goal-scoring talent in the history of the Sharks. However, his playoff goal total is not stellar. Ten goals in 34 playoff games. That is not good.
The Hawks are an elite NHL team. And to think they are about to add Marian Hossa. They score, have a low goals-against total and have young players who still have upside. A seven-game series against San Jose would be something. But, as you look at the rosters at full health, the Hawks might have an edge. They will have multiple scoring lines and a sturdy and mobile defense.
The Penguins are starting to get healthy. They have won three of four with Evgeni Malkin back and now have the human energy drink, Max Talbot, back from his offseason surgery. Historically, this group has gotten better as it has gone along. As the Pens get going and get healthy, I think this squad is a little better than last season's. I can't wait for the Penguins-Blackhawks game Dec. 5.
The Capitals are quietly accumulating points despite not really hitting their stride yet. They just got Alex Ovechkin back. Remember, the Capitals are implementing some new parts, and it looks as if they are still coming together. Yet they continue to pour in the goals and have a good edge to them. They just have to focus on the little things if they want to take it to the next level.
Many teams can get this fifth spot, but I still like the Flyers here. They can score goals, especially on the power play. The Flyers are loaded with offensive players. In a lot of ways, they are like the Capitals, which is why the two teams have such great games.
Shot of the Week
You know how it works: We present an NHL photo, and Bucci provides a caption. E-mail him your suggestions (include your name and hometown/state), and we will use the best ones and provide a new photo the next week.
LAST WEEK: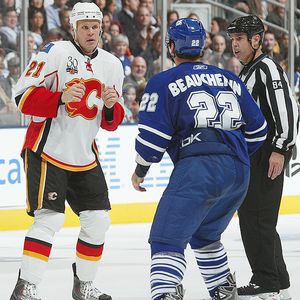 "Please break this up. Please break this up. Please break this up." (Getty Images)
Your captions:
"It figures: The ONE time I didn't put on the foil!"
Jonathan Ells (Everett, Mass.)
"Jarome? Jarome? Ahhhh, a little help here?"
Ian Langdon (Lockport, N.Y.)
"I am doing the white-man's overbite! I just don't have any teeth!"
Rusty Gonser (Terre Haute, Ind.)
"Uhh, I don't think this is a staring contest Olli."
Nick Mitrovich (Logan, Utah)
THIS WEEK: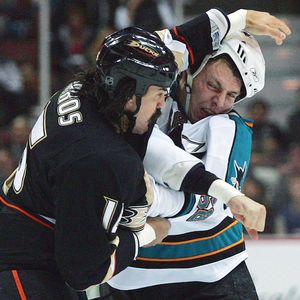 "George Parros: Yoga instructor.
BUCCI'S FAN PHOTOS
Bucci,
I'm a Bruins season-ticket holder and I'm devastated I missed you at the game you attended. I sit up in the last row of section 317, last row being a special request because no one can tell me to sit down, and I have a great view to see plays develop. You mentioned in the mailbag that you could feel in the crowd that the Bruins lacked that one guy who can electrify the building and energize the crowd, and I agree with you 100 percent.
I'm attaching a photo of my Phil Kessel jersey and what I did to it to cope with the loss of his scoring ability. As a Bruins die-hard, I just need to look to the future, can't dwell on it anymore.
Will Price
Waltham, Mass.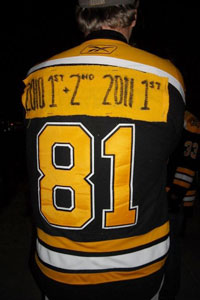 Hello John,
I'm a longtime follower, but a first-time writer. Attached is a picture of our four daughters at a recent Zamiska Family Nite at a San Jose Sharks game. Our girls are ages 24, 17, 5 and 3 -- yes, that's not a typo -- and all either are or are becoming huge hockey fans. The two older girls have been to a number of games going back to when I became a partial season-ticket holder back in 1995. Their love for hockey has translated to an appreciation for other team sports. ... Thanks for letting me share this with you and thanks for sharing yourself with us over the years.
Gene and Claire (the hockey wife) Zamiska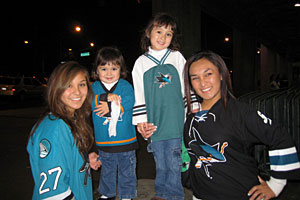 DON'T FORGET THE COLUMN ...
Imagine that your father is known as one of the toughest men in hockey. How do you gather up the courage to tell him your secret? Here is Brendan Burke's story of acceptance. Column