Rivalries, Game 7s, clutch goalies
Updated:
May 1, 2009, 4:54 PM ET
ESPN.com
With the second round of the Stanley Cup playoffs under way, our experts ponder what lies ahead. ESPN.com's Scott Burnside and Pierre LeBrun and ESPN The Magazine's E.J. Hradek answer these 10 burning questions:
Scott Burnside:
Crosby and Malkin. Too much offensive depth from the Penguins and too many question marks about the Caps' goaltending.
E.J. Hradek: Maybe this is a cop out, but I think all three guys will have big moments in this series. These guys are just too good to go cold on the big stage. Ovechkin probably will be the most dynamic. Malkin probably will record the most points. Crosby probably will make a really big play at an important time. This is going to be something to watch.
Pierre LeBrun: Well, since I picked the Caps to win in seven, solely because of home ice, this corners me in my answer. But I will say this: Ovechkin and Malkin both still have a lot to learn to become the consistent player Crosby has quickly made himself to be in the playoffs. Malkin has had bigger offensive nights and no one scores more amazing goals than Ovechkin, but No. 87 has shown himself to be the more clutch performer in the spring so far. This is a big challenge for Ovechkin to match that game-in, game-out consistency. No. 8 had some amazing moments in the first round against the Rangers, but he also had some lackluster periods. He has to bring it on every shift in the second round.
[+] Enlarge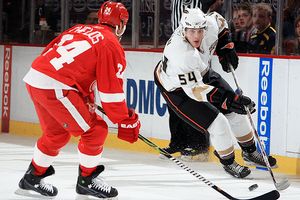 Dave Reginek/NHLI/Getty ImagesThe Red Wings posted a 3-0-1 record against the Ducks this regular season.
2. Outside of the Caps-Pens series, which individual matchup intrigues you the most?
Burnside:
I love the
Carolina Hurricanes
-
Boston Bruins
series. It's very underappreciated as a whole, but I think this should be a dandy.
Hradek: I'm going to be keeping a close eye on the Wings-Ducks series. These are the last two Cup champs. In 2007, the Ducks beat the Wings en route to the Cup. That series was a classic. It was close and it turned on a few bounces of the puck. I'm sure the defending-champion Wings would love nothing more than to get even. This is going to be another war.
LeBrun: Wings-Ducks. Anaheim had a heck of a battle with Detroit in 2007 en route to a Cup championship. Detroit barely broke a sweat in the first round, but now will have a much tougher task. The Ducks got away with taking too many penalties against San Jose because the Sharks didn't capitalize. The Wings' power play won't miss that chance. It will be interesting to see if Anaheim can better channel its aggressive style and play a more skilled game with the Wings.
3. Which series will go seven games?
Burnside:
I like how the Blackhawks made it tough on Vancouver in Game 1. I think Chicago's scoring depth, even with
Roberto Luongo
in the Canucks' net, will force this one to go the distance.
Hradek: I can see the Ducks-Wings and Caps-Pens both going the distance. You have such great competitors on both sides. Those series will be a true test for all involved. The stick boys had better be ready, too!
LeBrun: No question, Caps-Pens. Two evenly matched, great, young teams. I certainly know the NHL and NHL Players' Association is praying it goes seven for TV and revenue-generating reasons. One reason I think the Caps will surprise Pens fans who figure this will be short series is rookie goalie Simeon Varlamov is a cool customer who so far has shown he can handle pressure-packed situations.
4. Game 7. A conference finals berth on the line. Which second-round goalie do you want in net in the clutch?
Burnside: I love the way Cam Ward is playing for the Carolina Hurricanes. Reminds me of 2006, the year they won it all.
Hradek: I might have to take Carolina's Cam Ward. This guy is money in Game 7s. So far in his young career, he's 3-0 in decisive games. He's already won a Cup and a Conn Smythe Trophy. In that spot, give me Wardo!
LeBrun: How can you not say Vancouver's Roberto Luongo? The only thing that kept him from his first career Vezina Trophy this season was an injury. No offense to Boston's Tim Thomas, but Luongo is easily the best goalie left on the board. For our money, he's the best goalie in the world. There's still plenty of people who don't seem to look at Vancouver as a serious Cup threat. Louie, Louie is about to open their eyes.
5. The second round features strong blue lines. Which defensive pairing will be most key to their respective series?
Burnside:
Ryan Whitney
and
Chris Pronger
. They'll have their hands full against a very good Detroit offense, but Whitney has moved seamlessly into that rotation since coming over from Pittsburgh at the March 4 trade deadline.
Hradek: Detroit's Nicklas Lidstrom and Brian Rafalski will be the most important duo. They'll likely be tasked with stopping the Ducks' big line of Ryan Getzlaf, Bobby Ryan and Corey Perry. That's going to be a tough job. Also, those two will have to continue to be difference-makers on the Wings' lethal power-play unit. The Ducks take penalties. When they do, the Wings will have to make them pay.
LeBrun: Sergei Gonchar and Brooks Orpik from the Penguins. My guess is they'll match up more often than not against Alex Ovechkin. That's the most important matchup of the series. Gonchar is an intelligent veteran who will find ways to frustrate his friend and future Olympian. Keep an eye on that one.
[+] Enlarge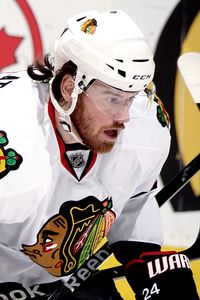 Gerry Thomas/NHLI/Getty ImagesMartin Havlat? Winning playoff beard? Time will tell ...
6. Which potential UFA will see his stock rise in the second round?
Burnside:
Nikolai Khabibulin
is already the top free-agent goalie on the market. If the Hawks get by Vancouver, he'll once again be able to write his own ticket this July 1.
Hradek: I think Khabibulin will continue to be strong in goal for the Hawks. That will make him an even more valuable commodity. There are a lot of teams that could use an upgrade in their crease. Cup-winning stoppers are hard to find. Khabibulin will have some very interested suitors come July. Funny, less than a year ago, he was on waivers!
LeBrun: Marian Hossa, Detroit. This is why he signed a one-year deal last July with the Wings and turned down some $80 million from the Edmonton Oilers. He wanted to come and win a Stanley Cup. After a first-round cakewalk, the Wings have a real playoff series to play. Hossa needs to do what the Sharks' star forwards could not: consistently break through against a tough Ducks blue line.
7. Will the eighth-seeded Ducks be able to pull off their second straight upset?
Burnside:
I wish I had enough gumption to pick them in the first round, but I think this is the end of the line. There's too much talent and experience on the Wings' roster for the Ducks.
Hradek: I think the Ducks are absolutely capable of another "upset." I put that in quotations because I don't know if any team that has both Scott Niedermayer and Chris Pronger is ever too much of an underdog. The Ducks are very good and have winning experience. I believe they will push the Wings to the limit in this series.
LeBrun: No. The Wings are rested and ready to avenge their 2007 defeat to Anaheim. The Ducks spent a lot of energy finishing off the Sharks in six. I think their run ends here.
8. Who is the one under-the-radar player people should keep an eye on? Burnside: Ray Whitney was dynamite in the opening round series for the Hurricanes against New Jersey. Eric Staal gets the press, but Whitney's getting the points this spring.

Hradek: Ducks center Andrew Ebbett quietly did a really nice job as the club's No. 2 center. In this series against the Wings, he'll be challenged to raise his game. He'll also be matched against some terrific two-way centers. If he struggles, the Ducks will be solely dependent on their top line for offensive production. That won't be a good situation against the defending champs.

LeBrun: Chris Clark, Washington. He came back in Game 7 against the Rangers and played his first game in three months. This was a very important player to this team when healthy. If he finds his legs, he can become an unexpected source of offense on a team not lacking any.
9. Who is your Conn Smythe Trophy front-runner after the first round?
Burnside: Have to go with Malkin. Nine points in six games and a great performance when the Pens needed it most in Game 6 against Philadelphia.

Hradek: After one round, I'd give it to Pens goalie Marc-Andre Fleury. For me, he's the biggest reason why the Penguins advanced to the second round. He made the big saves at the right times and stole Game 4 in Philly. I'd also consider Caps rookie stopper Simeon Varlamov, newbie Ducks goalie Jonas Hiller and 2006 Smythe winner Cam Ward.

LeBrun: Luongo. The Canucks struggled at times to find their game in the first round, but they still swept St. Louis. That's because Luongo stone-walled the Blues in a dominating performance. He's my MVP right now.
10. Paul Mara, Scott Hartnell and Chris Mason are now out of the playoffs. So, who gets your vote for the leading playoff beard and/or mullet?
Burnside: I like Martin Havlat's scruff. I think he's the only guy on that Hawks team that can actually grow facial hair.

Hradek: Ducks veteran Todd Marchant has a good beard, I think. I'm seeing more goatees during this playoff season. Scott Niedermayer has the cool salt-and-pepper goatee. Mullets? Nobody cuts their hair like that anymore, do they? Oh yeah, there is one guy ...

LeBrun: Patrick Kane? Ah, just kidding. I'll go with Boston's Stephane Yelle. He always grows a heck of beard come playoff time. Of course, these days, there's a lot of gray in it.
2009 STANLEY CUP PLAYOFFS

The second round of the Stanley Cup playoffs is here. Scott Burnside, Pierre LeBrun and the rest of our NHL team preview the action:
EASTERN CONFERENCE
WESTERN CONFERENCE
MORE COVERAGE
SPORTSNATION