Commentary
Second round ... here we come!
Shot of the Week
It's back. You know how it works: We present an NHL photo, and Bucci provides a caption. E-mail him your suggestions (include your name and hometown/state), and we will use the best ones and provide a new photo the following week.
LAST WEEK: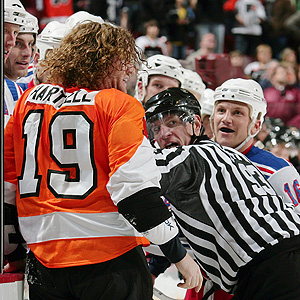 That hair would go great with my mouth full of licorice. (Getty Images)
Your captions:
"Hey, Carrot Top, I caught your show in Vegas and it was great!"
Dianne Tomb (Mission Viejo, Calif.)
"Dude! One word: pomade."
Michael Abrams (Bronx, N.Y.)
Getting Sean Avery to take a stupid penalty: So easy, a Caveman can do it.
Brian (Philly)
"What's Mickey Rourke doing here?"
Joe Lee (Dubai via Toronto)
THIS WEEK:

The Tragically Hip-check. (Getty Images)
On to the second round.
Carolina's epic Game 7 comeback is the highlight of the playoffs so far. Overall, the first round was pretty predictable. The Sharks' early exit should not be a surprise because of their history. I think the second round will be the highlight of the postseason. Unbelievable hockey will be played in this round.
Let's take a peek:
Eastern Conference
No. 1 Boston vs. No. 6 Carolina
This is a very difficult matchup. Boston has a history of taking care of business against this franchise going back to the Hartford days. But
Eric Staal
never wore green and white. He's a top-10 NHL player, talented and beautiful to watch. There is not a more graceful player in the NHL than Staal. He doesn't skate, he gallops. He should buy a horse and call him Staal. And he will see a lot of
Zdeno Chara
. Staal loves coming down on the off wing and the Bruins will try to have Chara on that side of the ice as much as possible, using his long reach and intense anger.
Carolina will see a little better defense and, quite frankly, a little better goaltending than they saw against the Devils. The Bruins also have a little more overall skill than the Devils. One of my concerns for the Bruins is they do not possess overall team speed; that's why I stated before the playoffs began that Phil Kessel is their most important player. He is the Bruins' mini-Ovechkin in terms of his explosive speed breaking down the opponent's defense.
The Bruins face a significantly better team than Montreal. Cam Ward is an elite goalie, the Hurricanes appear to be healthy and, of course, they will be confident. Still, the Bruins should be completely healthy and I think the layoff will help them recalibrate in an attempt to hit the ice like they did when they were cruising during the regular season. Boston has a very good defense and their best player this season was goaltender Tim Thomas.
The Bruins should win this series. They have the defense to match up against Carolina and enough shooters to keep the pressure on the Hurricanes and Ward. Bruins in five.
No. 2 Washington vs. No. 4 Pittsburgh
Wow.
The NHL has its dream matchup. Ideally, the league would have liked to have it in the conference finals, but better in the second round than never. The regular-season games between the Penguins and Capitals have had a playoff atmosphere the past three years. Imagine what actual playoff games will be like. I ghoulishly predict a significant injury in this series -- there will just be too many collisions and too much intensity.
Overall, the Capitals looked unimpressive in their seven-game squeaker against the Rangers. The talent disparity was large and the outcome should have been by a larger margin. Perhaps we can chalk it up to first-round nerves. Now that the Caps have won a playoff series, their confidence will grow. We will see.
Alex Ovechkin looked just fine. He continues to break down defenses on his own and take the body with ferocity; it was clearly a factor as the series went on against the Rangers. Some of the Rangers were injured, while others looked disinterested. Ovechkin will continue to be a force as long as he is on the ice. Getting Chris Clark back for Game 7 was also huge. He wears the "C" and has plenty of experience from his Stanley Cup attempts with the Flames. He can be a veteran, calming influence who can teach the Caps that less is more.
The Capitals' defense certainly can be taken advantage of. Mike Green was largely ineffective in the first round and especially in Game 7. He looks woefully out of shape, which is unbelievable to say about an NHL player in April. He had no explosion and looked listless. Tom Poti provided some real solid play in all three zones from an offensive standpoint and that will have to continue. If the Capitals play like they did against the Rangers, this will be a short series.
Goaltending looked like a major strength for Washington. Coach Bruce Boudreau's decision to go to Simeon Varlamov was brilliant. He looked cool and calm in net, a future star. Now, he had no great goal scorers shooting at him in first round. The Penguins have world-class forwards and Varlamov will face a much higher level of playmaking and shooters in this round. If he fails early, the Caps can go back to Jose Theodore.
The Penguins, especially Marc-Andre Fleury, should feel as comfortable against the Capitals as they did against the Flyers. They are similar opponents -- a deep collection of forwards, unproven goaltending and an average defense. The Capitals have skilled forwards, roughly the same as the Flyers. I would call that a push. The difference, of course, is Ovechkin. There are few people, if any, who can slow him down.
If I were the Penguins, I would play it the same way the Rangers did. I would aggressively forecheck and put pressure on the Capitals' defense. The Penguins can cause turnovers and, unlike the Rangers, will be able to score off them. Pens coach Dan Bylsma did that as soon as he was hired, and, so far, there is no reason to change. As the Penguins move on in the playoffs, they will play teams with better blue lines, so a slight adjustment may have to be made.
This is a high-octane, five-star series. Ovechkin-Alexander Semin versus Evgeni Malkin-Crosby. I think the Penguins have a slight edge in net and on the blue line. The Capitals have home ice; that is a factor, especially if there is a Game 7, but I don't think it will go that far. Penguins in six.
PODCAST

Bucci joins Dave Dameshek as they both make their picks for what figures to be a thrilling second round of the Stanley Cup playoffs.
Western Conference
No. 2 Detroit vs. No. 8 Anaheim
Anaheim got healthy, won 10 of its last 13 regular-season games and then won four out of six against San Jose in the first round. The Ducks are big, tough, fast and skilled. They are a significant upgrade over the
Columbus Blue Jackets
. I am shocked at the speed
Teemu Selanne
still has (he turns 39 in July).
Ryan Getzlaf
is one of the best players in the NHL and should be a lock for the 2010 Canadian Olympic team. The Ducks' defense, now that
Francois Beauchemin
is back, is deep, skilled and tough.
The Red Wings are skilled, fast, big enough and underrated for their toughness. They have enough jam and competiveness. Their defense is a bit of a concern because of the ages of Nicklas Lidstrom (39) and Brian Rafalski (35). Brad Stuart is an important part of this series -- he is sturdy, agile and under 30 years old. He needs to play well. The same goes for Ryan Whitney of the Ducks. The Red Wings have finishers the Sharks simply didn't have. Jonas Hiller is still a question mark, although he has looked good.
I'm very tempted to take the Ducks here, as their confidence level should be off the charts. They can use their big bodies and great speed to put a lot of pressure on Chris Osgood. But the Wings have been the one team that has had a presence about them this season. They also have a switch to turn up their game. I also think Anaheim might be the toughest opponent Detroit faces the rest of the playoffs. Osgood will have to be great; if he isn't, Anaheim will win. Red Wings in seven.
No. 3 Vancouver vs. No. 4 Chicago
This is a great, evenly matched series. Even the cities, Vancouver and Chicago, are two of the best in North America. Both teams score, both have good goaltending, both are good at home and both are good on the road. The Canucks have a little more experience, balanced scoring and hungry veterans like Mats Sundin and Roberto Luongo. They are a well-balanced team who can cycle, skate and score. The defense has good size and good sandpaper in front of a very good goalie.
The Blackhawks were very impressive against a Calgary team that had injuries and really never had its season on the rails. The Flames had some ugly losses during the regular season that made me think the Hawks would have no problem with them. Chicago is an aggressive team with a real nice blue line and a goalie, Nikolai Khabibulin, who is on the top of his game. The forwards are fearless and have some players with high hockey IQs. Kris Versteeg has a great feel for the game and a lot of hockey sense. You need that in a tight series like this one.
This is another series that's close to impossible to pick. I love the Hawks' vibe and the power of the Q-Stache. And I would love a Red Wings-Blackhawks conference final, but I'm going to go with the slightly more experienced Canucks. Canucks in seven.
The Mother of All Mailbags
Hey Bucci,
I can't believe how lackluster your playoff predictions are. You picked the 1-4 seeds in both conferences. Really, you don't think there would be one upset. With those predictions, you might as well not even play the games. I'm going with the Rangers upsetting the Caps. I'm a Rangers fan, but I really think they could pull it off. Lundqvist would have to stand on his head, but the 2003 Ducks were also a seven seed with an identical 95 points. Rangers in 6. I also see the Blues upsetting the Canucks. With the way the Blues ended the season, they are hot and are putting the puck in the net. Blues pull it out in 7. Those are predictions. Bucci, it's called going out on a limb you should try it.
Jeremy Rom
NYC
It's not about going out on a limb, it's about picking what you think will happen. If the Devils didn't have their meltdown, I would have gone 7-1 in the first round. Instead, it's a 6-2 first round for me.
---
Dear John,
Minnesota needs your help! Lemaire fired, Risebrough fired now what? Who do you think the Wild should get in here to lead this franchise?
Brad C.
[+] Enlarge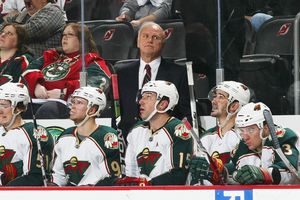 Andy Marlin/NHLI/Getty ImagesJacques Lemaire spent eight seasons behind the Minnesota Wild bench after coaching in New Jersey for five.
Jim Nill of the Red Wings has had offers before, but has yet to make the decision to break out on his own and run a club. He would obviously arrive with at least a blueprint for success. More important, the Wild need to hire a GM and coach who bring a style of aggression and swagger. There is so much passion in Minnesota and at Wild games, the organization needs to capitalize on that. The Wild have been a well-run and organized franchise since entering the league, but, at times, it seems like the team was sometimes run like a college course and not a blood-and-guts hockey team. Hockey is a blood sport, and passion and grit are its most important components.
Aaron Ward of the Bruins said something interesting recently. He said just the presence of Cam Neely in the organization gives the players a feeling of toughness. Look how the Maple Leafs responded after GM Brian Burke arrived. This is a great opportunity for the Wild to reinvent themselves a little bit. It should be a place where people really love to play and really want to go and play. The Wild have plenty of revenue from all of its sellouts and jersey sales. They should be able to attract NHL free agents and make aggressive offers to international free agents. The foundation has been put in place. Now it's time for some tweaks and attitude adjustments.
"You gain strength, courage, and confidence by every experience in which you really stop to look fear in the face. You are able to say to yourself, 'I have lived through this horror. I can take the next thing that comes along.' ... You must do the thing you think you cannot do." -- Eleanor Roosevelt
---
Hi John,
Are you watching the Blackhawks postgame? The Q-Stache looks poised to jump out of the screen and knock me out! And I don't even have HD. Also, the NHL has fun postgame shows. Another reason why this is the greatest game.
Alex
Urbana, Ill.
The Q-Stache in HD has been determined to be unconstitutional in 17 states and four provinces.
---
Dear John,
Do you think the Buffalo Sabres will ever win a Stanley Cup? If so, what's it going to take?
Scott
Virginia
Personally, I don't like the mix of personalities on the Sabres' roster right now. Perhaps some players will mature quickly into serious and committed professionals and give the rest of the team a lift. The Sabres give off the vibe of a boorish frat party at times. Buffalo gave a lot of money to Jason Pominville and Derek Roy. Pominville's contract goes to $5.3 million next season! He had 20 goals in 2008-09. He has to score 35 to 45 at that cap number. These high-paid, young players have to be the most committed and mature players on the team along with Thomas Vanek and Ryan Miller. That's how they will make the leap to an upper 90-point team.
What they lost in Daniel Briere and Chris Drury was so much leadership and direction. The young players have not stepped up to fill the void. They also are not tough enough. They need more tough players or they need to have their current players play tougher. Ryan Miller seems like a consummate professional and his injury really did hurt the Sabres. I've written in this space for much of the season that Buffalo would be a great market for Jay Bouwmeester; a small, passionate hockey market. Plus, the Sabres need help on the blue line.
---
Bucci,
With Bobby Ryan's performance in the playoffs so far, on this stage at this level of the game, he has to be getting more consideration for the 2010 Olympic team, right? Who else do you see helping their chances?
Shawn
San Diego
[+] Enlarge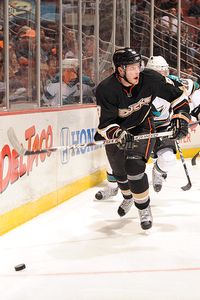 Len Redkoles/Getty ImagesBobby Ryan scored four goals for the Ducks in their first-round series against the Sharks.
I guarantee, right now, Bobby Ryan will be on the 2010 U.S. Olympic team. Remember, Brian Burke (now GM of the Maple Leafs and Team USA) drafted Ryan in Anaheim and that would help any tiebreaker situation. But Ryan would make the team if Dora the Explorer was Team USA's GM.
Ryan had 31 goals in 64 games this season and looks like a 40 to 55 goal scorer. He makes $1.9 million next season and is then a restricted free agent. I would look to extend him by five years this summer with a contract that looks something like this: $3.5 million, $4.5 million, $5.5 million, $6 million, $6.5 million. That's a six-year extension that takes Ryan to age 28, his prime years, and at a cap number of $5.1 million, less than Pominville. It's a contract that Ryan would be foolish not to take. It keeps him on a good team that should be competitive for some time. It's $26 million guaranteed.
The Anaheim Ducks are really set up well cap-wise and have lots of options based on a number of variables. If Scott Niedermayer retires, they could instantly sign Bouwmeester. Even if Niedermayer doesn't retire, the Ducks still have some flexibility to sign Bouwmeester if they choose to do some other things. The Ducks could achieve more cap space by potentially trading Jean-Sebastien Giguere to a team looking for an experienced goalie. Giguere has two years left on his contract at $6 million and $7 million. The Flyers or Avalanche or (gasp!) Kings or others could take a flyer at a deal like that instead of risking a longer-term deal with a free agent.
Also, Chris Pronger is in the last year of his contract next season at $6.25 million. The Ducks could be very proactive there and look to trade Pronger this summer (he turns 35 in October). I'm sure there are a number teams, almost every team, who would love to bring Pronger in at a one-year, $6.25 million deal. Can you imagine Pronger in a Flyers uniform? I shiver. How about Pronger for Simon Gagne? The Ducks could use a winger with a left-handed shot and Gagne only has two years left on his deal. Anaheim also saves a million that they could use to try and re-sign Beauchemin, who is a free agent this summer and will probably get long-term offers from multiple teams. Beauchemin turns 29 in June. I could see someone giving Beauchemin a big contract.
Now, all of this stuff is contingent upon different things happening, but the Ducks have the flexibility to be aggressive and set themselves up for years to come.
---
Booch,
Long-time fan. Just wanted to let you know that, thanks to your superb naming skills, BOTH of my fantasy teams (both of them named Hakan and the Loobs, logically) took the title in their respective leagues. As the only female in each league, it earned me some major bragging rights. Thanks!
Cait
Winterthur, Del.
And his Loobness thanks you, as well.
---
Sir Bucc's-A-Lot,
Lets role play. You are Garth Snow with the first pick in the 2009 draft. Do you go with Tavares or Hedman, and why?
With love,
Dan from Hoboken
The interview process would be the deciding factor for me. I've read some very compelling quotes from John Tavares, saying how much he loves the game and what it means to him. That, plus talent, is what you want. Tavares looks to be a player who would be mature at a young age. That is important. But after watching Hedman play at the world juniors, it would be hard for me not to take a player that big who moves that well. It's safe to say the Islanders will never have a chance to get a player like that again. The Islanders can't mess this up unless they draft Carrot Top.
---
Hello Mr. Bucci,
I had a quick question regarding the salary "floor." From what I've heard, the Isles might have a hard time getting up to the floor this coming season, as they continue to develop their young players, who cost apparently very little. I believe one of the Islanders' TV commentators mentioned the Isles might need to sign a few free agents just to make it to the minimal team salary allowed.
Mike Levak
Brooklyn, N.Y.
The NHL's collective-bargaining agreement contains a "Lower Limit of the Payroll Range," the minimum each team must pay in player salaries. The lower limit is $16 million below the cap, or around $40 million. The Islanders have about $32 million committed to next season, so they won't have a problem getting to the floor. Assuming their first-round pick plays in the NHL next season, it would be close to a $4 million cap hit. And there are plenty of free agents who can be had.
The Islanders should fish for players who are on teams that have cap issues. The Bruins are going to have major challenges with their payroll next season. Marco Sturm turns 31 in September and has only two years at $3.5 million left on his deal. Getting players who have short-term money and can instantly help is a good way to supplement the Islanders' young players without having long-term contracts from older players on the books. The Islanders can make a major move next season if the player they draft at No. 1 makes an immediate impact and they make the right decisions with veteran players. Their goaltending is the great mystery.
---
Bucci,
I just saw the Norris finalists ... are kidding me?! No Dan Boyle?? What a colossal crock. Who decides this stuff?
Rich
Abilene, Texas
The Professional Hockey Writers' Association votes on the NHL's best defenseman. (For the record, I am not a member. Dan Boyle would have been in my top three.)
---
John,
Greetings from the land of the morning calm, South Korea. I am stationed here and don't get to watch as much as I would like. Anyway, why is it that Pavel Datsyuk does not get more consideration? He is the most complete player in the NHL, he scores goals, makes every linemate better and plays great D. What more can you ask for? Oh wait, he is really good at the shootout, too. Is it that he plays for the best team in the league and that overshadows him some? Thoughts, please.
TSgt Randy Harrison
Kunsan AB, ROK
Datsyuk has received plenty of attention this season. Sports Illustrated had a big story on Datsyuk in one of its issues this year. No one can dispute Datsyuk is one of the league's better players. His MVP talk would improve if he won the scoring title (he is one of this year's Hart Trophy finalists) -- he has finished fourth the past two seasons. And, yes, playing on a team with so many great players probably does hurt him a bit. He doesn't quite have the burden Ovechkin, Malkin and Crosby carry on a daily basis, but that doesn't take away from what he is.
---
Hey John,
You excited for Pete Yorn's new album?
Geoff
Yes. Yorn's new CD "Back and Forth" will be released June 23. When an artist I like has a new CD pending, I load up the CD changer in the car with his or her library and listen multiple times leading up to the release of the new CD.
---
Hey Bucci,
How about a big round of applause and congratulations to both the U.S. women and our under-18 boys for winning gold in their respective World Championship tournaments over the past couple of weeks! U-S-A!! U-S-A!! U-S-A!!
Derek
Lewisville, Texas
---
John,
We are expecting our first kid, a boy, in August and would like a suggestion for a name. Mom is an Avs fan, and I am a Flyers fan.
Pete Harrington
Denver, Colo.
Oscar Joseph Harrington.
Hockey fact: The last five Conn Smythe Trophy winners are Henrik Zetterberg, Scott Niedermayer, Cam Ward, Brad Richards and Jean-Sebastian Giguere.
---
Bucci,
This is just one giant "thank you." Thanks to you for writing an awesome article every week. Thank you to the NHL for providing the best time of year -- playoff hockey. In all of professional sports, I have never seen so many players give it their all, night in, night out. Thank you for truly awesome goaltending from young players like Mason, Varlamov and Price. Thank you for fighting. Thank you for letting Sean Avery back in the league so I can have someone to despise. Thank you for the tradition of the handshake after every series. Thank you for Ovechkin and everything that he brings to the game. You haters can hate all you want, but he is what the NHL needs, and I, for one, am glad he is going to be in D.C. for a long time. Lastly, thank you for Blind Melon. Bucci, you have to listen to "Mouthful of Cavities" off of Soup -- an absolutely great song from one of best frontmen ever. "Oh, please give me a little more; And I'll push away those baby blues; cause one of these days this will die; So will me and so will you."
Craig Hurley
---
Hey John,
I wanted to introduce you to our newest fan! Auden Jackson Carr weighed in at 8 pounds and measured 22 inches. He's a right-handed shot and looks to be a dominating force on the blue line! We sent the attached picture around as our announcement photo. Go Pens!
Zac Carr
A brand new compact Carr.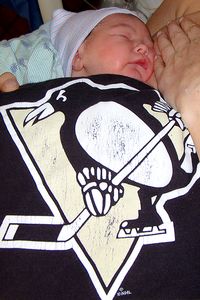 John Buccigross' e-mail address -- for questions, comments or crosschecks -- is john.buccigross@espn.com.
SportsCenter anchor
John Buccigross joined ESPN as an anchor in October 1996. He currently can be seen as an anchor on "SportsCenter." Buccigross frequently contributes to ESPN.com during the season.
2009 STANLEY CUP PLAYOFFS

The second round of the Stanley Cup playoffs is here. Scott Burnside, Pierre LeBrun and the rest of our NHL team preview the action:
EASTERN CONFERENCE
WESTERN CONFERENCE
MORE COVERAGE
SPORTSNATION