Commentary
What a Cup win would mean for ...
Most of us look back at our youth and/or early adulthood and cringe at what we recall.
Normally, childhood awkwardness leads to shyness; shyness begets a lack of confidence; and a lack of confidence plus a lack of experience plus a desperate search for acceptance usually results in an embarrassing high school or college moment involving public nudity, alcohol and a Garden Weasel.
Shot of the Week
It's back. You know how it works: We present an NHL photo, and Bucci provides a caption. E-mail him your suggestions (include your name and hometown/state), and we will use the best ones and provide a new photo the following week.
LAST WEEK: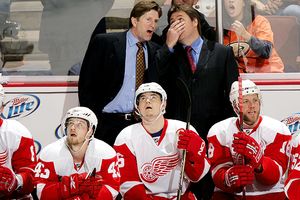 "The girl in the orange T-shirt does not have a real knife. It's imaginary. You're fine." (Getty Images)
Your captions:
"That smells HORRIBLE. Do you think it was Huds or Helmer?"
-- Scott Brunning (Troy, Mich.)
"Brad, quit stressing about the Q-Stache."
-- Chris Boyd (Atlanta, Ga.)
"Jiri wants nachos with extra cheese. I'll have the burger with fries."
-- Kevin Johnston (San Diego)
"Anchovies, pineapple and octopus, and put it on Mr. Ilitch's tab."
-- Nick Krieger (Wash. Twp., N.J.)
THIS WEEK: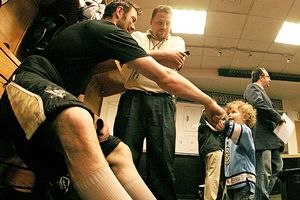 "Your stinky diaper will fit right in in here, Sparky." (Getty Images)
This cringe factor multiplies for artists, athletes, rural American men who sported mullets in the early 1990s, musicians, writers and people who perform in front of a camera. If we fail, the video sins are there for all time. And with the Internet, the sins are uploaded for the world to see. (Just Google "boom goes the dynamite" or any Enrique Iglesias song.)
For most of us, it takes time to find our voice, find our way. And in today's society, we no longer have the comfort of anonymity for growth and development. The long and bumpy road to mere competence is fraught with delusional overconfidence and debilitating underconfidence, especially when we're put under a big spotlight at a young age. Some performers and athletes never survive the negative first impression or even get a second chance. We are either stoned off the stage or drowned by a big, cold bucket of "I QUIT!"
This also is true of hockey players in 2009, and it's mostly not their fault. The pressure and navel-gazing starts at a young age and usually starts because of overzealous parents who in most cases probably do have the child's best interests in mind.
This is the time of year when we have parents of 8- and 9-year-olds taking their young hockey players from their local town programs to out-of-town "elite" hockey tryouts and programs, programs that are more expensive and require more travel. This switch is done despite a parent's failure to implement an understanding of children and parenting: Prepubescent athletic achievement is, 99.9 percent of the time, completely irrelevant to postpubescent athletic achievement. It's too much, too soon for children and comes at a needless and unnecessary cost to the parent. It's usually a lose-lose situation that plays with the fragile brains of children.
So, what does all the above have to do with the Stanley Cup playoffs? Well, I used the word "hockey" a couple of times, and sometimes I just like to get a hockey thought out in the open. But when I watch these playoff games and see an isolated camera shot of a player, I often wonder, "How did he get there?" What was his path to this moment? How was he raised? What would winning the Cup mean to him?
The courage and dedication nearly all players show during the playoffs is mind-boggling. They have the focus and intensity of Green Day's Billie Joe Armstrong. Through sheer will, focus and energy, Armstrong is fast becoming rock's pre-eminent composer and performer. He is rocking out with his Stanley Cup playoffs intensity out.
Scanning the rosters of the Red Wings, Blackhawks, Penguins and Hurricanes, some players intrigue me. What would a Cup win mean to them? I respect every player's desire to win a Cup. No one player is more important than another in terms of winning a championship, so I feel a bit uncomfortable picking one from each team, but here it goes:

Chris Osgood:
Hall of Fame? I mean, the guy is going to retire with, like, 425 wins, at least. That's more than
Grant Fuhr
or Tony Esposito had. Osgood will have four Stanley Cup rings, three as the primary goalie. I mean, what more does he have to do? How is he any different from, say, Gerry Cheevers? Cheevers is in the Hockey Hall of Fame. If the Red Wings win the Stanley Cup this season, I will answer yes to the numerous e-mails I receive that ask whether Chris Osgood is a Hall of Famer. Vezina Trophies and All-Star Games are subjective; Stanley Cups are not.

Martin Havlat:
This one is on a few levels. I still wonder what the significance of a Cup win would be for someone born in Czechoslovakia in 1981. I have written here that the Stanley Cup has become the universal symbol of perseverance and excellence in hockey, and I'm sure there is a little more emotional attachment to it for Europeans and Russians. But will it ever be the same as it is for North Americans? Also, Havlat will be a free agent in the summer, and I wonder what his stellar postseason will mean for him. He has been the most dangerous Blackhawk for most of the playoffs. He also has an excellent beard.

Cam Ward:
Look at Cam Ward's career. Every season, his wins and save percentage have improved and his shutouts have increased. His playoff record is stellar. A second Stanley Cup for Ward would put him right at the top of the goaltending elite and in line as the starting goalie for Team Canada at the 2010 Olympics in Vancouver. I know the hockey world is in love with
Roberto Luongo
, but should Stanley Cup playoff results have the most significance in choosing a goalie? I recently did a radio show in Pittsburgh, and I was shocked at the attitude toward
Marc-Andre Fleury
. I think Fleury is as much an Olympic lock for Team Canada as Ward.

Sidney Crosby:
I have many column ideas, but unless they take over my brain and develop, they just sit there. Earlier this season, I asked myself, "Why does everyone hate Sidney Crosby?" and contemplated writing an entire column on it. It still could happen someday. It always has baffled me. Why is someone who dedicates his life to hockey -- in how he trains, eats, lives and plays so fast and in such breathtaking and entertaining fashion -- so reviled? Watching No. 87 this postseason makes that question even more baffling. He's been quiet, workmanlike and clutch. Simply put, he has never been better. And wait until you see him next season. I sense a
gigantic
statistical year from Crosby, along the lines of 50-88-138. A Stanley Cup would validate Crosby for what he is: the best in the game.
The Mother of All Mailbags
Bucci,
Jim Balsillie:
(a) Extremely dedicated to Canadian hockey;
(b) Extremely annoying to the rest of us;
(c) Both;
(d) I would rather have a spontaneous colonoscopy than answer a question about Jim Balsillie!
Jon
Haslett, Mich.
Jim Balsillie is first and foremost a businessman. Most successful businessmen are relentless, energetic, risky and visionary. Balsillie may indeed have some national pride in his DNA, but his motives are primarily business-oriented. A successful NHL team in Ontario would be VERY profitable with a franchise value that would grow much more than its current value in Arizona.
Balsillie sees the Coyotes as a buy-low/eventually sell-high opportunity, whether it's for him or his children. The greater Phoenix area is a place where people with money are hovering like … coyotes. The Los Angeles Times reported the Phoenix area had perhaps the biggest housing bubble of any in the United States. As a blog post from The Daily Dish summarized from the Times' report:
"[Home] prices have plunged from $268,000 in June 2006 to $120,000 -- the sharpest decline of any metro tracked by the Case-Shiller home price index."
Now, money and price are not major concerns for Balsillie in this situation; he wouldn't be quibbling over the price for a new Chevy Malibu as you and I would. He won't fret over the price of his house. In fact, Balsillie is probably overpaying ($212 million) for the Coyotes in terms of how they relate to Arizona. But he is not thinking in those terms. Balsillie is thinking how many season tickets he can sell in Ontario and the hero worship that will come his way.
Understand this: Jim Balsillie, or any other owner of this team, can sell more season tickets in Ontario, charge more for those tickets in Ontario and have WAY more people watch his team locally on television. The Coyotes have one of the lowest local television ratings in the NHL. Obviously, part of that is because they are not a compelling team, but the numbers I have seen are 7,000-9,000 viewers per game -- 7,000-9,000! That number probably would be more than 50,000 in Ontario.
When it comes to NHL teams, the real estate in Canada is worth much more than it is in warm-weather climates.
---
John,
Am I alone in hoping and praying that, next season, there will be a crackdown on holding the stick and diving?
I'm glad the league has done what it has to get the flow back in the NHL. I'm no fan of the neutral-zone water skiing we saw for much of the '90s; it degraded the heart of the game (which I've always seen as speed and power). I am, however, very much tired of "hooking" penalties being called when puck carriers armpit a defender's stick to draw a call, or players dropping to the ice the second a pokecheck comes their way. That diminishes another core concept of the game -- heart.
What made players like Peter Forsberg and Jaromir Jagr so much fun to watch was the way they simply bulled their way to scoring chances. You couldn't take them off the puck with a bulldozer. In today's NHL, you could knock over anyone with a flyswatter the way people fall to the ice -- and they do this because it gets the call.
The constant jockeying for ticky-tacky penalties takes just as much, if not more, away from the game as the hooking and holding did. Both are lazy, and both are against the rules.
Tara
Texas
At times, I have noticed a change in the way games are being called this postseason. The overtime between the Bruins and Hurricanes was especially graphic. A penalty simply would not be called. As a result, the game was dragged to a halt. The game was slow and got only slower because of the increased hooking and holding.
Keith Jones, aka "Jonesy," told me while writing his biography that playing that style is very tiring because players are working so hard to get through the hooking and holding. From Scott Walker's punch of Aaron Ward to the standard of officiating, the NHL is proving once again it rules more on emotional whims than with a core-value belief system.
I liked how Game 2 in Detroit was called Tuesday night.
---
John,
As an admitted Wings fan, I may be biased, but I wouldn't have sent this if we had lost last night, so no sour grapes. Why is Chris Pronger allowed to get away with all the cheap shots and dirty hits? I respect him as a very skilled player, but having now faced him 41 times in the playoffs, I don't respect the constant dirty play.
Pat
Detroit
Some athletes, at every level and since the dawn of sports, have a certain charisma that can persuade an official to give them a little more leeway. That charisma can be strong interpersonal skills, a genuine likability or an unspoken respect based on a player's physical presence or track record. Chris Pronger is one of those players. I think it is clear, and it is based on a respect the officials have for him as a player: his talent, his heart, his toughness, his likability, his smile and power of persuasion. There is a human element to this that I have always enjoyed observing.
Zdeno Chara is another player who comes to mind; despite his large size, he is given some extra rope by officials. You would think it would be the other way around. Big athletes are sometimes at a disadvantage because their sins appear to be magnified. NHL officials do a good job of not succumbing to that physical prejudice. I'm not making an opinion on any of Pronger's incidents, just a theory on why he doesn't always get punished.
"In three words, I can sum up everything I've learned about life: It goes on." -- Robert Frost
---
Hi John,
I recently saw a mailbag where you commented on the retiring of the numbers of Kirk Maltby or Kris Draper and you think they will fall a little bit short. It was something I hadn't really thought about, but I did start wondering whether Nicklas Lidstrom will get his jersey hung up in the rafters after he goes. My gut says no, but logically, I can't figure out a reason not to.
Matt Bertelsen
Michigander transplanted to Los Angeles
Of course Nicklas Lidstrom will have his No. 5 raised to the Red Wings' rafters. That is a no-brainer.
---
Bucci,
Greetings from the Sunshine State and home (for now) of the Lightning. It was really quite nice of the Capitals to let the Bolts play Game 7 for them the other night. That game looked so eerily familiar to what we Lightning fans endured this season. Tampa Bay's powers that be keep insisting the team is just one blueliner and one top-six forward away from being relevant again. I'm not seeing it. What's your take on this mess we have down here, and, if you were a betting man, what sweater will Vincent Lecavalier be wearing on opening night next season?
Joe Rauner
I have been writing in this space all season long, even before the "rumors" began, that I think it would be in the best interest of the Lightning, Lecavalier and the Montreal Canadiens to deal Lecavalier to Montreal. Lecavalier has a cap number of $7.7 million through the 2019-20 season. He'll turn 30 next season and is probably at the beginning of a slide from his peak. The Lightning need to rebuild their team from the goalie out; that includes taking Victor Hedman with the No. 2 pick if the Islanders select John Tavares with the No. 1 overall selection.
---
Hey Bucci,
Well, I just finished mourning my Ducks. I can't really complain, though, on what almost never was. We took out the top-seeded team in the league (an accomplishment of disputed magnitude, seeing San Jose doesn't like playing playoff hockey very much) and took the defending champs to the last three minutes of Game 7. I'm excited for an offseason that holds a lot of potential for the future. How's this for a scenario:
1. Francois Beauchemin re-signs for a two-year, $3.5-4 million deal.
2. Scott Niedermayer re-signs for one year at $7 million.
3. Chris Pronger is sent packing to Philadelphia for Jeff Carter, straight up.
4. GM Bob Murray sells his soul for Jay Bouwmeester at three years, $21-23 million.
This would give the Ducks a top-six forward corps of Getzlaf, [Corey] Perry, [Bobby] Ryan, [Teemu] Selanne, Carter and Ryan Carter/[Andrew] Ebbett/[Drew] Miller, depending on who ends up on coach Randy Carlyle's naughty list. It would leave the top four defenders boasting Niedermayer, Bouwmeester, Beauchemin and [Ryan] Whitney with [James] Wisniewski making things competitive for the fourth spot. Bouwmeester may be a dream and a long shot, but the Pronger deal I can see happening pending Scotty's decision on whether to hang them up or not. What do you think?
Matt Miller
Redlands, Calif.
1. I would think Beauchemin, who will turn 29 in June, will get at least a four-year deal at $3-3.5 million a year. Unless he REALLY wants to stay a Duck, you are dreaming with that contract, Matty.
2. I could see this happening, but at less than $7 million. It would help the Ducks if Niedermayer would play for $6 million. Niedermayer is the Brett Favre of the NHL. He can't seem to make up his mind. I can't imagine him ordering from a menu.
3. I wrote about the Ducks' being proactive and trading Pronger, who has one year left on his deal. I would not trade Carter for Pronger. Carter is not a good two-way player and lacks the kind of desperation play I personally like, but I think that skill can be learned over time. If the Flyers believe Carter will not add more sandpaper to his game, I would consider this trade, but only if a prospect or draft pick were thrown in.
4. If the Ducks could persuade Jean-Sebastien Giguere ($6 million per) to accept a trade and deal Pronger ($6.2 million), they could afford Bouwmeester.
---
Hey Bucci,
To clarify, I still haven't heard of Lady Gaga, and I'm probably glad.
Frank Filipo
Medford, N.Y.
Frank, just think Katy Perry with a touch of Pussycat Dolls and a dash of Fergie. I'm sure that clears things up.
---
Hello Mr. Buccigross,
A friend of mine suggested that I send you a quick note about our new baby. We had a baby girl on May 12 and named her Sydney Jordan McKinzie. Yes, she is named after Sidney Crosby and Jordan Staal. And yes, it was fitting that both Sid and Jordan scored goals in crushing the Caps 6-2. If I have my way, she will be a Pens fan for life. ... It is in her blood (her mom and I are huge fans), and now it is in her name. We were watching the game on May 11 waiting for her to come into the world, and we watched the game on May 13, her first day in the world.
Kevin McKinzie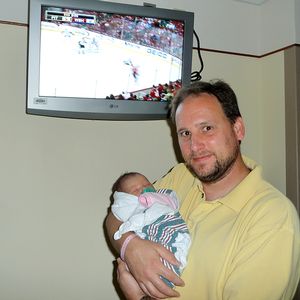 Playoff-tested tube baby.
John Buccigross' e-mail address -- for questions, comments or crosschecks -- is john.buccigross@espn.com.
SportsCenter anchor
John Buccigross joined ESPN as an anchor in October 1996. He currently can be seen as an anchor on "SportsCenter." Buccigross frequently contributes to ESPN.com during the season.
EDITORS' PICKS
Boston dealt a blow to Florida, while other Eastern playoff contenders looked to keep pace.
Inside the NHL

While it's too late for this season, the Blue Jackets are getting healthy and showing how tough they will be moving forward.
LeBrun »

Marc-Andre Fleruy has to prove he can dominate in the playoffs before anyone will expect the Penguins to make noise this spring.
Inside the NHL