Commentary
10 factors lead to my Cup winner
Every man and woman on the Red Wings' or Penguins' payroll -- from checking winger to Zamboni driver, as well as their dependents -- believes his or her team will win the Stanley Cup. After all this time and travel, sweat and media releases, stressing, praying and morning skates, letting yourself think anything else this deep into the game would be masochistic.
You have to believe. You have no other choice.
Momentum built on results is very intoxicating; for some, it's numbing. That numbness can lead to mental lapses and improper amounts of desperation. At this stage of the game, one has to have a little humility and an awareness of self in order to plan and confront the enemy.
The Red Wings won't fall into that trap because they are champions. They have a relentlessly driving coach; they are so beat up, they will have to think their way through every shift of the game; they are 12-4 in the postseason so far.
The Penguins are 12-5 (last season, they were 12-2 through three rounds) and have won eight of their past nine playoff games and outscored their opponents 42-24. They have 35 or more shots on goal in nine of their 17 playoff games. The Wings have 35 or more shots in 11 of their 16 games.
[+] Enlarge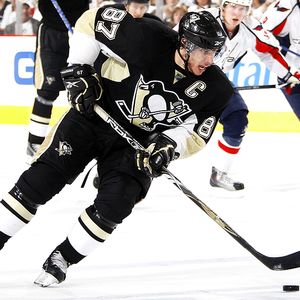 Gregory Shamus/NHLI/Getty ImagesHeading into the Cup finals, Sidney Crosby is tied with teammate Evgeni Malkin for the league lead in postseason points (28).
The Penguins' confidence is probably sky-high because they are young and appear to be the healthier team. And the Stanley Cup schedule favors youth and health. Games 1 and 2 are on back-to-back days to appease an American television network that doesn't pay a rights fee. The first four games of the series will be over six days and the first five over eight days. Five games in eight days. That favors the young and healthy.
Will the Red Wings resemble the Hurricanes in terms of energy? Possibly. But they can overcome that because, well, they are more talented than Carolina and they have high-IQ players, collectively higher than any other team in the NHL.
I believe wholeheartedly the following statements are quite possibly absolutely true:
1. When completely healthy, the Red Wings are the best team in the NHL.
2. If you told me the Red Wings would only have the players they had for Game 5 against Chicago, I would tell you they couldn't beat the Penguins.
But the statements above will be moot because the Red Wings will not be completely healthy in the Stanley Cup finals. I would be shocked if Nicklas Lidstrom missed Game 1, but Pavel Datsyuk is a different story. He must have a cracked bone or something in his foot, something you can't just tape up.
The two injuries bring the Red Wings back closer to the Penguins. But if Lidstrom returns and plays all the games at 80 percent or above, Detroit will ice a level of defensemen the Penguins haven't faced yet this postseason. The weakness of the Flyers and Capitals was their defense, and the Hurricanes were absolutely spent after back-to-back seven-game series. The Red Wings can turn defense into offense in a way the Penguins' previous opponents could not.
Here are 10 thoughts that enter my mind as I ponder this series and attempt to forecast who will win:
1. Marc-Andre Fleury has to be the Penguins' third-best player after Sidney Crosby and Evgeni Malkin for them to win. The Penguins will probably get outshot in the majority of the games because a healthy Red Wings team outshoots everyone. I believe Fleury has that in him. He is very athletic and talented. He made 55 saves in the Penguins' Game 5 road win against Detroit in last season's Cup finals. He is clearly one of the top three Canadian goaltenders in the NHL.
2. The Penguins lost the first two games of last season's final 4-0 and 3-0 in Detroit. After those games, both teams went on to win two games apiece and each scored 10 goals. It was an even series after the Penguins were shell-shocked in Games 1 and 2.
3. The Penguins have no one in their lineup like Marian Hossa and Johan Franzen. They are beasts and cause major matchup problems for Pittsburgh's defense. If you are too slow or too small, these Cyborgs will eat your brain for lunch while singing a Five Finger Death Punch medley. Brooks Orpik needs to step up and have a big series. He's been kind of quiet this postseason. The Wings are very good around the offensive net; the Penguins are not. This could define and decide the series.
4. Which brings us to Hossa. The man left Pittsburgh last summer, parting ways with the guys he went to hockey war with just a month after the war ended. He left a lot of money on the table to sign a one-year deal in Detroit to, allegedly, have a better chance to win a Stanley Cup. There are two ways to look at this, and I look at it through my prism.
I get attached to people I like and compete with very quickly. Where I come from, one stays loyal to those bonds. I could never have left Pittsburgh, or any place, to play for the team who beat me and my teammates. That's just me. A loss for Hossa would mean he signed with the wrong team and, one would think, less money on the table this summer because of the falling cap. I suppose one can assume if the Penguins win the series, Hossa will leave Detroit for Pittsburgh this summer because they give him the best chance to win a Cup next season.
People use that logic while gambling on football games, and nobody wins betting on football games.
5. If the Red Wings win the Stanley Cup, I think it will be because of Chris Osgood's play. Thus, he should win the Conn Smythe Trophy. So how can you then keep him out of the Hockey Hall of Fame? As Dr. Evil would say, "I mean, really? Who throws a shoe?"
6. In last season's Game 6, Kris Draper won 15 of 18 faceoffs. The Wings will miss that presence.
7. The Red Wings are not the defensive team they were last season. This past regular season, Detroit gave up 244 goals. When it won the Cup last season, the Wings gave up 184.
8. I've been calling for Malkin and Crosby to shoot more during this postseason, and they are. Clearly, they read this blogumn. Crosby has gone from three shots on goal a game to 3.7. Malkin has gone from 3.5 shots to 4.7. The trend has to continue against Detroit.
Hossa, meanwhile, has to think "attack and shoot," as well. I'm sure he will. He will play the most desperate hockey of his career because of his decision to leave Pittsburgh for Detroit. He can't lose this series. I suspect he will have a big series if he is energized and healthy. Right now, Ruslan Fedotenko has as many playoff goals (six) as Hossa.
9. Red Wings coach Mike Babcock will retire with between 600 and 711 coaching wins and be inducted into the Hall of Fame.
10. Penguins in six.
The Mother of All Mailbags
Bucci,
Right or wrong, here's the deal with Sidney Crosby:
a) How can someone be "the best" if he only plays on one end of the ice? In Game 2 of the conference finals, he has 00:00 time short-handed midway though the third period. Is it because he's not very good on the PK, or is it because he's not committed enough?
b) I'm a referee, and I can tell you Crosby spends way too much time talking to the officials (I can only speculate that it is not small talk or complimentary to the job they are doing).
c) I am a Red Wings fan, so I can appreciate the players who aren't fighters, but what's with the sucker punches?
d) Last but not least, I do not like Crosby because media types like you are constantly telling us he is the best. We are being bombarded with it by print, television and Internet media, and it has worn completely thin.
Chris Gorton
St. Joseph, Mich.
Sidney Crosby plays all 200 feet of the ice. Anyone who says otherwise is not watching the games. The reason why some elite players don't usually kill penalties is because shot blocking has become a huge part of the penalty kill, especially for the Penguins. You can't have your best players out there blocking shots. Plus, there have been games in which the Penguins have dressed seven defensemen and Crosby was double-shifting.
The reason the Penguins and Red Wings are playing for the Stanley Cup again is because their best players play hard and smart all over the ice. It is what separates Crosby, Malkin, Datsyuk and Zetterberg from Eric Staal, Marc Savard, Joe Thornton, Vincent Lecavalier, Jeff Carter and other talented offensive players.
Crosby is the Penguins' captain. His job is to communicate with the referees. He talks to the referees no more than Wayne Gretzky or any other captain does or did. If anything, Crosby has been largely subdued in his dealings with the referees this postseason.
Alex Ovechkin has been hailed as the game's best player by most of the media and players over the past two seasons. My pick is Crosby as the best player because I believe his combination of talent and commitment, on and off the ice, is the greatest in the game.
"This is the beginning of a new day. You have been given this day to use as you will. You can waste it or use it for good. What you do today is important because you are exchanging a day of your life for it. When tomorrow comes, this day will be gone forever; in its place is something that you have left behind … let it be something good." -- Unknown
---
John,
I was thinking about why people hate Sidney so much, and it reminded me of why I dislike DMB [Dave Matthews Band].
When I was in college (1995-05), DMB started to get popular, and I, like many, enjoyed his music. After a month of "Ant Marching" playing on the radio every other song, I grew tired of DMB and changed the channel every time it came on. People kept telling me how great DMB was and questioning why I decide to not listen to their music. I just grew tired of hearing them. Everyone tells me the DMB jam sessions are incredible in concert. Someday, I may break down and go.
I think that is how the hockey world feels about Sidney at this point. Everyone (except us Pittsburgh fans) is tired of hearing about him. Sidney vs. Richard, Sidney vs. Ovie, Sidney vs. Staal. People have just burned out and hate for no apparent reason, because I agree with you that he is what hockey is all about. Also, I think that if people watch the live version of Sidney, they would have a newfound respect.
Terry Ayers
Fort Mill, S.C.
I've never grown tired of Dave Mathews Band, Ben Folds, Nicklas Lidstrom or any artist or athlete with originality, talent and commitment. I find these people inspiring. I understand growing tired of Lady Gaga, Cheez Doodles or ham, but not unique greatness.
---
John,
I was just reading your most recent column and you posited the question "Why does everyone hate Sidney Crosby?" And here's the answer: it's 'cause he's the best, he works hard and is a good guy. Americans used to love the best, the good guy. This is from the famous speech from General George Patton:
"When you, here, every one of you, were kids, you all admired the champion marble player, the fastest runner, the toughest boxer, the big-league ball players, and the All-American football players. Americans love a winner."
That just isn't the case anymore. We have become a society that has come to see losing or weakness as a virtue; those who fall short do so because something held them back or the situation "wasn't fair." We scorn those that are successful as "privileged." We love the anti-hero, Tony Soprano, Deadpool, Alex Ovechkin. Crosby? He's too perfect, too stuck-up, too polished. He's not real.
What has been a frequently suggested way for Crosby to become more popular? For him to do a Dwayne Johnson-Rocky Maivia-The Rock heel turn and become that anti-hero. Time for Crosby to be the bad guy. Then we will love him. And there's nothing more appealing to Americans than seeing a hero fall.
Michael Mayer
Fairfax, Va.
I don't know if Americans or any country enjoys watching heroes fall. I do believe they enjoy watching entitled or arrogant people fall, whether they are athletes or financial advisors. One reason why athletes' failures are not sympathetic or empathetic to fans is because of their immense wealth. I wrote about it in 2005:
"Athletes always made more money than the average worker, but now it is so out of proportion that it makes a close relationship nearly impossible. The average salary in the U.S. is about $40,000 a year. Your average NHL player makes 45 times that amount. That's right, 45. This wasn't the case in 1988. The average working salary was $30,000. The average NHL salary was just less than seven times more, at $200,000. You could relate to the players. They lived and thought much like the fan did. You felt like you were rooting for your neighbor or friend. Today, hockey players think and live completely different lives than their fan base."
---
Mr. Buccigross,
A couple things I would love to hear your take on, if you have a moment:
a) What kind of statistical season do you think Gretzky (in his prime) would put up in the 2009 NHL? You know the many factors to consider (better and bigger goalies, new technology, more athletic and skillful players, current rule interpretations, etc.).
b) I know the Bruins have a lot of tough decisions to make in the next couple years. But not until reading [Boston Globe beat writer] Fluto Shinzawa's season-ending mailbag did I consider trading Marc Savard as a serious option. I know the importance of keeping the young guns around, but I would hate to see Savvy (my current favorite Bruin) be the odd man out.
c) Saw Kings of Leon for the fifth time in concert Sunday night. Stellar again. So was the Airborne Toxic Event; great performance.
Charlie
Los Angeles
A. Gretzky in his prime would still be among the best players in the NHL. He wouldn't have the gaudy numbers he had in the 1980s because of better goaltending and conditioning, and better mobility by defensemen. Also, the NHL is a much more international game than it was in the early 1980s, with a larger pool of better players.
Perhaps a 20-25 percent reduction in statistics? But The Great One's strength was his anticipation and innate understanding of time and space. That applies to any era. Plus he had great teammates in his prime. That also helped. But Wayne ultimately had an insatiable appetite to score and win, something I haven't seen matched in today's NHL.
B. The Bruins do not have to trade Savard and definitely should not. The Bruins should be able to return to the top three of the Eastern Conference next season, and Savard is a very important part of that. I have been writing about the Bruins' cap concerns all season, but I think they can get by next season, the last of Savard's $5 million a year contract.
The problem with the Bruins is they have multiple players who are slightly overpaid. The big key is to trade Marco Sturm and his $3.5 million salary. If Sturm is healthy, that shouldn't be a problem. He is 31, scores 25-30 goals and only has two years left on his contract. If healthy, Sturm brings good value. Losing Sturm's salary could give the Bruins enough relief to get through next season, although they have other cap concerns, like Glen Murray and Peter Schaefer.
Phil Kessel had a $2.2 million cap number this past season. A four-year deal for $3.5 million, $4M, $4.5M and $5M seems fair to me. That's a $4.25 million cap number.
There are still too many uncertainties in the world economy to not assume there will not be a slight drop in revenues. I don't think David Krejci will be a tough sign; he is a good player, but not a superstar. I wouldn't go nuts with his contract; four to five years with a $3 million average. That should get the Bruins through next season.
After that, some big contracts start to come off the books. There is no doubt in my mind the cap is going south in 2009-10 and 2010-11, so perhaps the Bruins will have to do more. Savard is a center and the Bruins do have some depth in that department. But Savard is the Bruins' best offensive center; Boston should hang on to him next season and then reevaluate things at the trade deadline.
C. Don't forget Margot & The Nuclear So and So's.
---
Dear Mr. Buccigross,
Just wanted to hear your take on the Niklas Kronwall hit on Martin Havlat in Game 3 in Chicago. Was it a dirty hit? Personally, I think it was a clean hit with an unfortunate outcome.
Andreas Karlsson
Írebro, Sweden
Hello, Sweden! Andreas, I thought the hit was clean, as well.
---
John,
With another possible Stanley Cup run, what do you think the Penguins will do this offseason? Who do they let go and re-sign? Their significant free agents are:
Hal Gill
Rob Scuderi
Petr Sykora
Miroslav Satan
Bill Guerin
Ruslan Fedotenko
Philippe Boucher
With Sergei Gonchar's contract expiring in 2010, do we try to re-sign him short-term or leave Alex Goligoski to fill those shoes? Despite the expected drop in the salary cap, do you think the Pens have the ability to go after a big free-agent winger to play alongside Crosby, say a Marian Gaborik? What do you anticipate them doing in the offseason and how do you see themselves improving in the draft?
Mike
Hartford
Hal Gill: The Penguins will likely not re-sign Gill unless he is a last resort. His $2 million number is about right, but his foot speed is really at the point where he is close to being too slow. He has played pretty well though this postseason.
Rob Scuderi: He is 30 years old and has found a nice niche with the Penguins. I would think he would basically take Gill's $2 million salary. I could see Scuderi getting a three-year, $6 million contract.
Petr Sykora: He only turns 33 this fall and has been a dependable mid-20s goal scorer for the Penguins at only $2.5 million. There is chance he could return, but I think the Penguins would like to get younger and faster at the winger position.
Miroslav Satan: He made $3.5 million this season. I doubt he will be back except as a last resort. He is a low-impact player in the playoffs.
Bill Guerin: I think Guerin will retire. He probably could score 15-20 goals and is a smart, experienced player. I suppose he could find a team to pay him around $2 million a year, but he has a young family and, at some point, he would like to stop moving around. He has played on five teams in three seasons and has had a great career. Then again, people live a long time and I suppose it would behoove one to take a $2 million contract until people stop giving them to you. The Penguins would only sign him at a low number.
Ruslan Fedotenko: I think Fedotenko has a chance to stay. He is only 30 and has had a nice postseason for Pittsburgh. I wouldn't give him any more than $2.5 million a year and three years. But he probably could be replaced by a young player at a small cap number and one wouldn't see a major difference.
Philippe Boucher: If he takes around $2 million a year, it is possible. Boucher is a fifth-sixth defenseman who can step up in case of injury and play some power plays.
All of these decisions are also based on how the Penguins plan to spend their $8 million of cap room. The cap will likely come down to about $55 million next season and could drop again to around $50 million in 2010-11. That has to be part of the plan. Do the Penguins try to sign a $5 million player and then fill the gaps with players at smaller salaries? Or do they spread the money out to get more predictable depth?
If they have lots of trust in some young or international players at a small number, they can take a run at Havlat if he fits under the cap. Sergei Gonchar's $5 million does come off the books after next season. As the cap falls, it makes it harder for the Penguins to carry two $8.7 million cap numbers in Crosby and Malkin. You could see Crosby's next contract being one of those 10-12 year deals that is frontloaded to get his cap number down and help build a deeper team.
All of this illustrates how important the drafting and development of an organization is, especially among players not taken in the first round.
---
God,
Can you please settle an argument that I'm having with my non-hockey playing friends on who is the better player, Sidney Crosby or Alexander Ovechkin, and tell me why???
Thanks God
Dan
(P.S.: Also what's your fav song from "Boy" and "October"?)
Like I've said before, Crosby and Ovechkin play different positions, so it's hard to say who is better. I usually gravitate to the centermen when evaluating hockey players and I think Crosby's long-term production potential might be a little more predictable. I just enjoy them both.
Favorite song on "Boy:" "Out Of Control"
Favorite song on "October:" "Gloria"
---
JB,
I was hoping I could get you to weigh in on a baby name recommendation. I didn't get to you in time for the first (Nathan Ryan -- an 18 month old player in the making), but I was hoping you could weigh in for the second. We are a hockey family at heart, and more importantly, we believe in the Bucci mojo. We have season tickets to the Everett Silvertips, and catch the odd Canucks game, when we can find tickets. The new arrival is due in late August. I am a beer league defenseman with better than average feet, and no hand/eye coordination -- and a huge Canucks fan. Mom is a Penguins fan, who likes goalies of all things, and is rooting for the names Marty or Sydney -- which isn't going to happen. I am a firefighter, she is a nurse.
Tom Fields
Trevor Everett Fields
Hockey fact: Montreal Canadiens 1984 draft: Shayne Corson, first round; Stephane Richer, second round; Patrick Roy, third round.
Another hockey fact: Brett Hull was a sixth-round pick.
"It is not the strongest of the species that survives, nor the most intelligent, but the one most responsive to change." -- Charles Darwin
---
Hi John,
Your most recent blog about the unintended pressures put on young hockey players enrolled in select programs was right on the mark. Natural selection has more to do with determining a child's success in a sport when they are a young adult than the program that he or she selects to play in as a youth. This is not so much a criticism of "select" programs, but rather a vote of confidence for the ever shrinking list of local hockey associations.
Thanks for providing so many Jack Falla quotes in your columns this year. Now that our backyard rinks are dismantled and tucked away for the off-season, I have a Jack Falla quote for you. As a member of an online group dedicated to backyard rinks, Jack would often contribute an experience or story about building and maintaining his rink. Here is one that he sent out last summer and one that is worth sharing. It is classic Jack.
Sincerely,
Scott Millin
Thank you, Scott, for this Falla gem most of us otherwise would not have ever read:
"I was set to open the back door when I saw him through the window. He was a small probably immature mouse up on a table nibbling the leaves of a potted ivy plant. I didn't think mice ate plants. A veteran mouse would've been working along the baseboards and the walls. This had to be a rookie mouse working right out there in the open, far from the walls. I named him Joe Thornton.
"I did not go into the house through the back door. Instead I looked to my left where two hockey sticks still remained (the rest having been put down cellar at the end of skating season). My choice was either a Jr-size straight-bladed Hespeler that my granddaughter uses as a combination mallet and war club. Or my old Titan TPM2020 with a tapeless and chipped blade. I'd been planning to saw off the blade and use the shaft to support a tomato cage when the cage began to tilt. But now I had other plans. I headed around the house to the front door so as not to disturb Joe Thornton.
"I walked through the living room, dining room and into the kitchen where the mouse was still on the little table frolicking amidst the ivy leaves cascading down out of a hand-made, hand-painted flower pot. My plan was to use the toe of the stick to flip the mouse against the nearby refrigerator. I approached the table holding the stick out in front of me, blade pointed down (think Tim "Dr. Hook" McCracken in "Slap Shot"). The mouse was oblivious to my presence. I swung hard. A one-timer. But what I hit was not the mouse but the unseen wide base plate of the flower pot, a plate apparently used to hold water but obscured from my view by the plant's foliage. The potted ivy went sailing toward the refrigerator where it fairly exploded in a shower of potting soil, leaves and broken shards of pottery. The mouse got away. Almost. He headed for the baseboard under an overhang near the sink. That's where I Todd Bertuzzi-ed him. No style points for that. Although I scooped his body onto my stick blade and deposited it in the waste basket not unlike a player scooping up a puck to give to a linesman.
"The mess from the broken flower pot was so extensive that I needed to use a snow shovel in lieu of a dustpan to pick up most of the dirt, etc. I had the vacuum out and was finishing the job when my wife Barbara arrived home to see the top of her favorite indoor plant sticking up out of the wastebasket that also contained the remnants of her favorite flower pot. I told her what happed. "Un-freaking-believable." was all she said.
"We caught Joe Thornton's two siblings and one parent (we think it was a single-parent family) in glue traps (might've been Jacques Lemaire autograph models, not sure). We have not had any mice in a month. Word gets around.
"Ahh, the offseason … " -- Jack Falla
---
Bucci,
In March of 1989, the two best high school hockey teams in the state of New Jersey were poised to play the most anticipated game in the state's history. That game would never happen due to the last known measles outbreak in the United States happening at the Delbarton School in Mendham, N.J. The state hockey finals, #1-ranked St. Joseph Regional vs. #2 Delbarton, was subsequently cancelled forever … and forever leaving all the players and fans alike wondering what would have been [the outcome] of the most anticipated hockey game in New Jersey high school history? Well, fast-forward 20 years and the sport's popularity has grown by leaps and bounds here in the Garden State. Subsequent Stanley Cup victories by both the N.Y. Rangers and the New Jersey Devils have brought hockey to a feverish pitch here finally. And so we unanimously agree … what a great stage we now have as a backdrop for an even greater story to unfold upon it!
Call it a combination of two great sports movies … "Slap Shot" meets "The Best of Times." Some aging former athletes with the ultimate axe to grind. A chance for closure on a chapter of life for many … and a chance to benefit so many others at the same time. Its THE win-win scenario! With the recent article in the Star-Ledger drumming up the 20-year anniversary of what never was, it has also inspired once-tarnished memories just the same.
Former players from both sides of the ice have been talking on Facebook and e-mailing each other about doing a charity hockey game to quasi-settle the neverending question … who would have won? As we all know, that question will never truly be answered, but we may collectively have an opportunity to do something even bigger today for an even greater cause. The charity hockey game being planned will benefit several causes, some very close to the game itself. For more information on "the game that never was," please e-mail Scott Williams at sendittscottw@gmail.com.
---
Bucci,
You talk about finding a girl who loves hockey; well, my father sure did it. My mother and I watch every Hawks game, and love to discuss over the phone afterward. She really knows her stuff. Sometimes if she overhears people talking about the Hawks in public, she'll butt in, and most of the time she'll be more knowledgeable about the team than they are. Add in that she drove my brother and me to hockey practice and games almost every day for 18 years, I give her my vote for the ultimate hockey mom. Anyway, for Game 5, I was watching in Minneapolis, my mom and brother in Denver, and my dad at home in Chicago. Midway through the first period, my dad sent us all this picture of our beloved Great Pyrenees, Callie, from his phone. Thought you might appreciate it … Thanks, Bucci, and enjoy the playoff hockey. This is the best time of year for a reason.
Josh
Minneapolis, MN
Deerfield, IL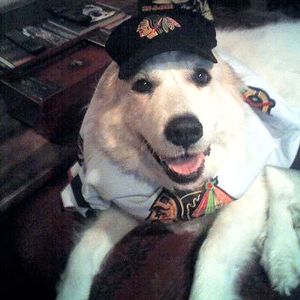 If you put the Q-Stache under a microscope, this is what you would see.
John Buccigross' e-mail address -- for questions, comments or crosschecks -- is john.buccigross@espn.com.
SportsCenter anchor
John Buccigross joined ESPN as an anchor in October 1996. He currently can be seen as an anchor on "SportsCenter." Buccigross frequently contributes to ESPN.com during the season.
EDITORS' PICKS
Boston dealt a blow to Florida, while other Eastern playoff contenders looked to keep pace.
Inside the NHL

While it's too late for this season, the Blue Jackets are getting healthy and showing how tough they will be moving forward.
LeBrun »

Marc-Andre Fleruy has to prove he can dominate in the playoffs before anyone will expect the Penguins to make noise this spring.
Inside the NHL