Commentary
My player observations from Cup finals
So far, so last year.
It's 2-1 Detroit after three.
Game 3 of the Stanley Cup finals was just amazing television. Mike Emrick and Ed Olczyk were really on their game, Pittsburgh fans provided the soundtrack and both teams were playing for their lives.
Shot of the Week
It's back. You know how it works: We present an NHL photo, and Bucci provides a caption. E-mail him your suggestions (include your name and hometown/state), and we will use the best ones and provide a new photo the following week.
LAST WEEK: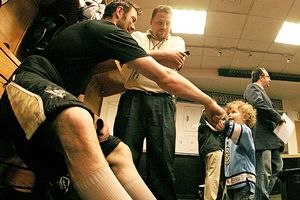 "Your stinky diaper will fit right in in here, Sparky." (Getty Images)
Your captions:
"Wonder Twin powers activate ... form of baby Mike Commodore."
-- Norm Wylie (Manitoba)
"Quarter Pounder."
-- Ryan (Bozeman, Mont.)
"For playoff games, I always stick this little guy in one of my skates for luck."
-- Toby Hansen (Solon, Ohio)
THIS WEEK: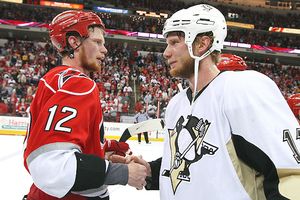 "And who do the ladies think is hotter now?" (Getty Images)
It is television like this that makes me wonder what other sports fans don't see. The lack of action in football (five-second plays, 30 seconds of standing around and a player who actually changed his name to Ochocinco) and the hundreds of whistles in basketball (do you realize how long it takes to play the last two minutes? And it can't be good when there is more than one NBA referee that resembles Mr. Roper) pales in comparison to this kind of hockey.
And I am not a hockey sycophant. I grew up watching and loving all sports and nothing can compare to this game. Like the new Green Day CD, it lacks nothing. (The new Green Day album is by far their best record. There will not be a better record made in 2009 unless Ben Folds releases his version of Def Leppard's "Hysteria" using only his piano.)
For this week, I thought I would check out the Game 3 box score and provide observations on each player. Here they are in uniform number order:
Nicklas Lidstrom: Played 26:40 and didn't get a shot on goal. I think he will be more assertive in Game 4. It was his third game in four nights and he might have been pacing himself a bit. Lidstrom and the Red Wings will be in Game 7 lockdown mode in Game 4. They know Game 4 is the series. And when Nick senses a big moment, he turns into Kobe Bryant without the trash talk and false bravado. He is a silent assassin. He stalks, he sees, he pounces. He is one of the best of all time at that. There has never been anyone like him.
Justin Abdelkader: He provided seven more minutes of fast and smart hockey. I don't see how he comes out of the lineup. And you can't spell Drake Lebda without Abdelkader.
Dan Cleary: A little quiet in Game 3. He's been playing a lot of high-energy, physical hockey and I'm sure he and other Red Wings and Penguins are starting to feel it. But like every other winger, all of his senses will be on full throttle in Game 4. I'm telling you, this next game is going to be seismic.
Kirk Maltby: He doesn't skate quite like he used to and it's sometimes hard for him to engage as quickly and effectively as he used to. But he is a five-star confrontational player, and those kinds of guys provide a lot of energy when they don't take away from the team. Maltby has always been very good at it. He was born in Guelph, Ontario. Gosh, I wish I was born in Guelph. I love the sound of that town. Guelph, Guelph, Guelph. I could chant that all day long.
Ville Leino: Solid again. Assisted on the Zetterberg goal when he made a nice move to the front of the net. He's the first Ville in the finals since Ville Nieminen, who remains the owner of the largest mouth in NHL history. I don't mean in terms of trash-talking, I mean actual circumference. He could easily swallow a head of lettuce. Thank god he is playing in Finland. When he looked at me, I felt like a Tim Horton's doughnut in Guelph on a Sunday morning after the 10 o'clock Mass.
Brett Lebda: A beautiful skater to watch. Reminds me of a younger Kris Draper. No relation to Drake Lebda.
Brad Stuart: Minus-2 in Game 3. He was a little quiet. I think you will see a better version in Game 4. Maybe he was saving something, too.
Jiri Hudler: Didn't see too much of Jiri in Game 3. Every time I see Hudler's face in a hockey helmet, it reminds me of the lead singer of a-ha, Morten Harket, and that makes me quite happy because a-ha's "Take on Me" gets my vote for best 1980s pop song. It's a song I have never turned off. It still sounds like the sixth time I heard it. Jiri is a restricted free agent this summer.
Brian Rafalski: Twenty-two more high-level minutes. I am quite proud to be a part of the U.S. Hockey Hall of Fame selection committee this year. Someday, Rafalski will be in the U.S. Hockey Hall of Fame. What a high-level, classy player. He should get one more shot at the Olympics in February.
Mikael Samuelsson: If his shot that hit the post is three inches to the right, Detroit might be up 3-0. His strength is his great shot and he got a few of them off in Game 3.
Henrik Zetterberg: The only thing Zetterberg lacks is confrontation skills. He doesn't yap or scrum all that much, so he doesn't get many TV close-ups. That's why he is under the radar to the average NHL TV-watching fan. But look closely: He does everything well. And, most important, he plays hard all the time with no arrogance. He is making a late charge for the Conn Smythe Trophy if the Red Wings win the Cup. He got a late start to his career at age 22 and then lost a season to the lockout. He turns 29 this fall, but has played just 432 regular-season games. He should be able to get to 1,000 NHL games if he stays healthy. That will get No. 40 to the Detroit rafters and the man to the Hockey Hall of Fame.
Darren Helm: His 22-year-old legs are fresh as a Winnipeg daisy. He is making it hard for Kris Draper to get back into the lineup. He has five career playoff goals and zero regular-season goals. Weird, wacky stuff.
Valtteri Filppula: Minus-2 for the dude who could totally let his hair grow out and join A Flock of Seagulls onstage. But he's been strong lately and is one of many Wings capable of a bounce-back game in Game 4. I really believe the winner of Game 4 will win the series. If the Wings collectively come back with 60 good minutes and win Game 4, the series is over; if they don't, Game 4 will be the tipping point.
Jonathan Ericsson: A ninth-round pick with lottery hair; top-notch salad on the lad. He is a good player. How in the heck does one have his appendix removed and then play playoff hockey a few days later? I had hernia surgery in 1992 (not the scoped kind, but the hunting knife kind) and stupidly played a street hockey game a week later. I also had hernia surgery when I was 5 and I couldn't ride my Big Wheel for a month. Thankfully, that qualifies as the most traumatic moment of my life. I am two hernias away from hitting for the cycle.
Niklas Kronwall: He seemed to be a bit on his heels as well, but I wonder if that's how the Wings wanted him to play this game. They were playing position-first hockey and were outshooting the Penguins 26-11. It was the Wings' best two periods of the series. I would think Kronwall will look to make some major physical statements in Game 4. The Wings need to excavate all the hope from the Penguins in Game 4.
Marian Hossa: Hossa seemed to be lacking a little jump. I wonder if he is injured? He still is dangerous, but the Penguins are doing a good job taking the body on him. If he isn't injured, I expect Hossa to score in Game 4 and I expect Pavel Datsyuk to feed him on the power play.
Johan Franzen: "The Mule" is a pain in the mule to the Penguins. "The Mule" rules. He had a beautiful off-wing move that showed off his amazing feet and lightning hands. He didn't score, but he took my breath away. I just live for those little world-class talent moments on the ice. Franzen is a massive talent at a $3.95 million cap number for the next 46 years. That is highway robbery for the Wings. That's a cap number less than Shane Doan, Jason Blake, Martin Erat, David Legwand, Daymond Langkow, Mike Fisher, Pierre-Marc Bouchard, Dustin Penner, Michael Ryder, Scott Hannan, Derek Roy and many others.
Tomas Holmstrom: He is 36 now with a lot of miles. He plays with such heart and soul, but the body is taking longer to get to the puck. But he knows his game. He is like a dog that runs to the back door (the net) when he has to go to the bathroom. He knows what he is and lives by the quote down in the e-mail bag that says we should think more about what we do well than what we don't do well.
Chris Osgood: Game 3 was not his best effort. Maxime Talbot's goal beat him stick-side from 30 feet, Kris Letang beat him five-hole and he whiffed on Sergei Gonchar's slapper. The Red Wings were the better team in Game 3 and lost. I wouldn't be worried about Osgood's play in Game 4. I think he will play better and make the saves he should. His track record shows that, yet I get the sense Wings fans worry about him the most. Patrick Roy didn't win every playoff game. The Penguins will need ugly goals or beautiful goals. I think Osgood make the stops on all the ones in between. But his Conn Smythe chances took a little hit in Game 3 and brought Franzen and Zetterberg back in the picture.
Hal Gill:
Pittsburgh's defense is not in the same class as the Red Wings', so the Penguins need to play above their heads to stay in this series, especially on clearing their own zone and making breakout passes. Gill looks like he is skating in a pool of heated salt-water taffy. His wraparound-his-own-net clearing plays often land on the stick of the Red Wings. Around the net, he sometimes looks like the staggering uncle at the family Christmas party. But he is trying real hard and has been pretty effective along the boards.
Rob Scuderi: A classic Pittsburgh, blue-collar athlete. Four of the Penguins' six defensemen are American. They need to get one of them there Swedes. Scuderi is the best Penguins defenseman in his own end.
Mark Eaton: Played more than 17 minutes. I'd actually like to see him engage more offensively. If the Penguins want to win this series, they need to engage their defensemen a little bit more. Eaton can do that. They will have to take some chances and hope their goalie can make a couple of odd-man-rush saves. If the Penguins sit back too much and try to outwait the Red Wings, they will lose.
Pascal Dupuis: Dupuis looks pretty good and I think Dan Bylsma should give him some run with the Jordan Staal line. I think the Penguins need to give Staal a better offensive option and maybe Dupuis is that guy.
Jordan Staal: I know he hasn't scored, but he is a looming presence. He is such a pillar and he is only 20. Just wait until he becomes a man in the next 12-24 months. He is so smart and big, once he continues to gain some experience, explosiveness and confidence, he will be an All-Star. But the Penguins need some of that to happen now. Like Game 4.
Bill Guerin: Another future U.S. Hockey Hall of Famer. The pace is a little fast for him at times, but he is still dangerous, still a sturdy presence and still so strong on his skates. Guerin needs to have his best outing in Game 4. You know Sid will give him a couple of tasty servings. He needs to bury one.
Chris Kunitz: He needs to give himself a kick in the butt and get his confidence back. He is a good player who has good hockey sense. He skates well and hits, skills that always makes him a positive influence even if he doesn't score.
Matt Cooke: If they make a psycho lumberjack movie, he's your guy. He has a mouth that appears to have engulfed 700 cans of Copenhagen. He has a look in his eyes as if it's his first NHL game. He is such an upgrade over Jarkko Ruutu. But one area where he is lacking is on the offensive end. Some of his cycling is killing the Penguins' offense. Staal has been open on a number of occasions and is not getting the puck. Matty Flannel needs to settle down a bit when he has the puck and look for a similar sweater. The Staal-Cooke-Tyler Kennedy line has maybe been the most consistent Penguins line from a pressure standpoint and that's what makes it hard to tinker with. But Staal is a cycle centerman who needs to play with at least one bigger or defter winger. Defter? I'll go with it.
Maxime Talbot: He has been one of the Penguins' most important players. What a bargain at $1 million a year the next two seasons. I would go to him this offseason and offer a three-year extension at $2 million, $3 million and $4 million. That takes him to age 30 and a $3 million cap number, which seems about right for the Penguins. I think his offense will start to trend up next year by playing on the wing with Malkin. I'm sure Talbot would want more years as a UFA, but can he really turn down those numbers? He hasn't been the most durable player. That there is a lot of Max Talbot analysis.
Ruslan Fedotenko: This might be a guy to play a bit with Staal. Good size and has shown pretty good fight in his game. He has earned himself a three-year contract somewhere this summer.
Craig Adams: He has been a steady and strong force along the boards. Smart and relentless. Penguins GM Ray Shero identified his team's holes during the regular season and slowly caulked them with smart moves. The Penguins were a soft team at the start of the season.
Tyler Kennedy: He has been really good this postseason. Lots of energy and puck-possession time. Would also make an excellent Dr. Seuss character. I think he would help the Penguins more if he threw the puck toward the net more often. The Penguins will not penetrate the Red Wings off the cycle. The Wings are the best in hockey at defensive-zone coverage. Pittsburgh should wheel from the corners and throw the puck off the skates in front of the Wings' net once in a while. The Pens will have to score an ugly goal or two from fluky deflections.
Sergei Gonchar: He clearly has a knee injury that will probably require some offseason something, but at least he can shoot off it now. He has one of the premier blue-line slap shots in the game. I interviewed him for this space when he was a member of the Capitals and I was surprised at how introspective and caring he was about his quality of play. You can really see that in these playoffs.
Kris Letang: He has been outstanding. He has stayed away from the occasional ugly turnover that was plaguing him in some of this spring's playoff games. He is really playing with confidence, activating himself into the play. It may lead to an odd-man rush in the future, but Letang has to do it to give the Penguins a chance. Great instincts and great shot. I would try to extend Letang's contract this summer, as well. Five years with a $3 million cap average. He will earn just $835,000 next year, making him one of the league's best bargains.
Evgeni Malkin: Three assists in Game 3. He needs to have his game of the series in Game 4 and try to find an extra gear and get more shots off. His goal should be two shots on goal a period, six for the game. I wonder how the Penguins handle Malkin mentally. Do they tell him to step up? Do they say, "This is your chance to make a statement to the world"? I wonder if they just let him go play and hope they see greatness. I wonder how many Penguins know what the capital of Pennsylvania is? My over/under is four.
Sidney Crosby: One point and a minus-2 in the series. I would put that sentence all over his locker if I was his teammate. I'd repeat it over and over again in the dressing room and at any practice or morning skate. I wouldn't say anything else to him. Maybe get T-shirts made up for Game 4. One point and a minus-2. Put it on a Post-It on his steering wheel and on his perfect pushup, perfect pull-up and his tub of protein powder. Then, watch him respond in Game 4. If it's enough, we got a series.
Marc-Andre Fleury: The Penguins were outshot 14-4 in the second period and the score remained 2-2. Game 3 was Fleury's game. He made all of the necessary saves to keep the Penguins in it. Because he didn't really have any flashy glove saves, some of his stops went under the radar. He will need to keep getting better in Game 4. As we said before the series, Fleury and the Penguins are a little loose around their own cage. That led to a few quirky goals in Detroit.
If Fleury can keep it simple and rely more on his reflexes, quiet his mind and have good positioning, the Penguins have a shot against the mighty Wings. Detroit won last season's Game 4 2-1. Fleury has to make sure the 1 is on the left side of the scoreboard this year or this puppy is over. The series is in his hands. The Wings' skaters are collectively better than the Penguins. Fleury has to be that much better than Osgood for the Penguins to win the Stanley Cup.
The Mother of All Mailbags
Bucci,
With this talk about the next Winter Classic taking place at Fenway in Boston next season, it got me thinking. Now I know the Penguins played in the first classic just last season, but how awesome would a classic at PNC Park in Pittsburgh be? Penguins hockey, Crosby, Malkin, the best ballpark in all of baseball and the Pittsburgh skyline would make for one amazing sight (throw in a little snow for good measure). Do you see the Penguins hosting the Classic in the near future?
Steven Lautman
Pittsburgh
That would be a great call. A Penguins-Flyers game at PNC Park would be ratings gold. One of my summertime hobbies is visit baseball parks with my boys and I have hit almost all of them. PNC is right at the top of the list. It's difficult to top Wrigley Field and Fenway Park on the overall ballpark list because, let's face it, Babe Ruth hit home runs in both places.
The century-long layers of history at Wrigley and Fenway are unparalleled in American sport and that's why this season's Wrigley game and the expected Winter Classic at Fenway are such no-brainers. Remember, the outdoor game is a television show first and a spectator game second. The only sight lines that matter are the blimp shot and the Green Monster in the backdrop of a Milan Lucic thunder check.
But as long as this franchise continues to remain vibrant and profitable, finding interesting venues in hockey-rabid cities will be the first concern. Pittsburgh is obviously one of the best hockey markets in the United States. No place gets better television ratings. And as far as a visual venue, downtown Pittsburgh and PNC Park cannot be topped.
Some other American outdoor games that come to my mind:
Dallas versus Colorado at Coors Field

Red Wings versus Capitals at Camden Yards

Islanders versus Rangers at Yankee Stadium

St. Louis versus Minnesota at the Twins' new ballpark, which opens next season. Podes drops the first puck.

"Too many people overvalue what they are not and undervalue what they are." -- Malcolm Forbes (1919-1990)
---
John,
I look forward every week to your post until reading the latest. Your insights into hockey, music and your unparalleled appreciation for the good and noble in sports and in turn life are the psalms of what inspired people should study within ivy covered walls. Then suddenly, you veer from all that is good to throw the king of all meats ... ham ... under the bus of banality. I'm shocked.
The meat that I once saw Ric Flair consume a whole pound of -- Plumrose, if my memory serves me -- straight from the package and chase with a Cheerwine in the span of about 30 seconds outside of a 7-Eleven in Roanoke, Va., has now been kicked to carnivore curb. The only meat that can truly contend for is the three-meal triple crown of breakfast, lunch and dinner, while mingling in the upper-crust appetizer league. It truly is a sad day, and I can only hope that The Cure just doesn't become another band someday for you.
Mike
Augusta, Ga.
I learn many things from the readers of this column, and reading all of the e-mails over the past eight years has truly made me a better and more informed person. I was not aware of the underbelly of this nation that so vociferously defends the honor and blandness of ham. I received multiple e-mails from readers trumpeting their mighty ham god.
---
Bucci,
Longtime reader and fan. Still have the "NHL2Night" ringtone on my phone and hope one day to hear it again live on ESPN with you and The Mullet back behind the desk.
Hearing the news that Julie Walker, wife of Hurricanes tough guy Scott Walker, had been diagnosed with cervical cancer the same week Scott had such a crazy week, had a huge effect on me, my wife and the rest of the Caniac Nation. We want to do all that we can to support the family during these trying times and I was hopeful that you could share our grassroots efforts to support the Walker family.
My wife and I are riding in the official 24-hour cycling event of the Lance Armstrong Foundation called "24 Hours of Booty." Stealing a great idea from your previous request to raise money for the Cam Neely Foundation, we are asking all Caniacs and hockey fans in general to show your support for the Walkers by donating some version of Scott's No. 24: $2.40, $24, or heck, even $240. We are raising money through the end of July and then hitting the bikes for 24 hours and pushing hard, just like each and every cancer victim and all those third- and fourth-line guys we love so much.
We are going to share the donation information with the Canes and the Walker family in the hope that it will buoy their already great spirits a bit. For more info about the event and how to donate, you can visit www.24hoursofbooty.org/goto/lflanagan
Michael Flanagan
---
Hello Bucci,
I have been SHOCKED at the lack of officiating in the finals. I thought we sat out a year to get out of the clutch-and-grab, hook-and-hold hockey? I am also SHOCKED that nobody is mentioning it? Has the NHL put out a gag rule on bashing the officials to the media? By NOT calling penalties like the one Marian Hossa put on Pascal Dupuis, they are influencing the outcome just as much, if not more, than if they made the right call.
The lack of calls has hurt the Pens more than Detroit, but I don't think it's been biased, just bad. I have replayed both games and I came up with 34 obvious penalties. The refs called five and they were not even close to the worst fouls. Can someone ask Gary Bettman to explain what happened to the NEW NHL? Because watching Games 1 and 2 reminded me of the Pens-Panthers conference finals in 1996 and we were NOT supposed to see this kind of garbage anymore.
Mike Litzenberger
Reading, Pa.
Mike, I believe that the games are being called very well. They are allowing big-time hits to occur, hits that are penalized during the regular season. The pick plays on faceoffs are now not being called as they once were, but to tell you the truth, I don't have a problem with that. I like a little time and space to be created and it's a play that in no way causes injury.
The Hossa play was close to a hook, but officials let skill players get away with that move because they are skill players who often make that play legally. Compared to the mess of some of the NBA playoff games, NHL referees are in complete control and largely invisible. I thought the team of referees Paul Devorski and Dennis Larue and linesmen Derek Amell and Pierre Racicot was top-notch. They did miss the Penguins' having too many men on the ice, but in a frenetic, loud Stanley Cup playoff game, that's like trying to find the extra car someone snuck into a NASCAR race.
I think video review should be used in too-many-men-on-the-ice situations. The best of the NHL officials are the best in sports because they are great skaters and they understand the soul of the game better than other officials from the four major North American sports. They are the youngest, fastest and fittest, and played more games at a higher level.
---
Dear John,

I thought I would extend this little story your way. This saint Jeff from MA made a posting sometime yesterday on KuklasKorner that he had two tickets he needed to give away for Game 2, and as opposed to selling them, decides to give them to a real hockey fan who posts on the website (I received the tickets today, and they were both $190 at face value, and yes, that's upper bowl). Turns out he is also a Pens fan and I am a Wings fan, which just makes the act of kindness seem all the better to me. Now, me and my dad are set to see our first playoff game at The Joe, in the finals. Incredible. Thank you, Jeff!

RJ
Toledo, Ohio

Further research on Jeff reveals he donates a pint of blood every Thursday, randomly mows one lawn a week in the Midwest, provides free Friday night babysitting, donated his "Matlock"/"Murder She Wrote" DVDs to the local senior center and donated BOTH kidneys to a welder in Holland in 1988. And still, he marches. After all, he's a hockey fan.
---
Dear Mr. Buccigross,
I just wanted to tell you about my new daughter and newest Red Wings fan. She waited until just after the Red Wings-Ducks game on May 12 (over around 1 a.m. and we went to the hospital at 3 a.m.) and she was born so fast (9:35 a.m.), we were out of the hospital and home in time to watch Game 7. I hope the Wings can keep up the magic for her.
Andy
Lord Stanley's sippy Cup.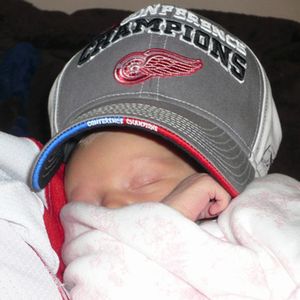 John Buccigross' e-mail address -- for questions, comments or crosschecks -- is john.buccigross@espn.com.
SportsCenter anchor
John Buccigross joined ESPN as an anchor in October 1996. He currently can be seen as an anchor on "SportsCenter." Buccigross frequently contributes to ESPN.com during the season.
EDITORS' PICKS
Boston dealt a blow to Florida, while other Eastern playoff contenders looked to keep pace.
Inside the NHL

While it's too late for this season, the Blue Jackets are getting healthy and showing how tough they will be moving forward.
LeBrun »

Marc-Andre Fleruy has to prove he can dominate in the playoffs before anyone will expect the Penguins to make noise this spring.
Inside the NHL