Commentary
This series now smashmouth hockey
PHILADELPHIA -- So, what's on the menu for the rest of the Pittsburgh/Philadelphia playoff series? Ah, a heaping helping of Plexiglas pâté and a side order of end boards bouillabaisse. Mmm. Sounds tasty.
While it seems to be true in every playoff series this spring, it is especially so in this Penguins/Flyers series: The hockey trenches, those uncomfortable spaces in the corners and behind the goals, are increasingly where games are being won and lost, and ultimately figure to be where this conflict will be decided.
For as much talent as there is in this series (five of the top 26 point-producers in the regular season are represented here), that talent has become dessert to the games' main course -- smashmouth hockey, plain and simple.
[+] Enlarge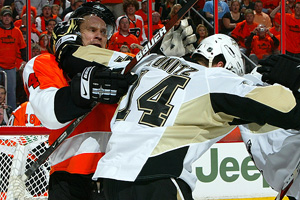 Jim McIsaac/Getty ImagesFlyers defenseman Kimmo Timonen (left): "I will get hit and that's playoff hockey. That's normal and move on."
Don't believe us?
Think of the crucial plays in the Flyers' 6-3 victory Sunday.
Maxime Talbot, one of the top energy players for the Penguins, took a rare shift with NHL scoring champ Evgeni Malkin and Ruslan Fedotenko at the end of the first period. Talbot zeroed in on Philadelphia defenseman Braydon Coburn and separated him from the puck behind the Flyers' net with a crushing hit. A moment later, the puck is centered by Fedotenko and rammed home by Malkin for what could have been a crucial goal.
That it didn't turn out to be a turning point in the game was due in large part to Claude Giroux chasing down and stealing the puck from Sergei Gonchar in almost the exact same spot in the second period and finding Simon Gagne for a monster short-handed goal that essentially kept the Flyers' playoff hopes alive. Now, the teams are preparing for a pivotal fourth game Tuesday night with the Penguins leading the series 2-1.
Beyond those specific plays, both of which resulted in goals, Pittsburgh agitator Matt Cooke insists the cumulative pounding on another team's top players can take its toll mentally and physically.
By the end of a series, if a top defenseman like Kimmo Timonen or Gonchar flinches when he goes back to get a puck or makes a pass too quickly to avoid being hit, it's possible the series can turn on one of those plays.
"It can have an effect over the course of a seven-game series, whether or how guys are going to go back and get pucks," Cooke said.
"Obviously, it wears you down," Gonchar said. "That's why you have to be smart, once again, to make sure you're not really thinking about it that much."
One of those moments that has become a kind of defining moment in this series came early in Game 3 as Chris Kunitz, the human torpedo, bowled over Timonen at the side of the Flyers' net.
No penalty was called, and Timonen, who has been hit more than a dozen times since the series started, went on to play more minutes in Game 3 than any other skater. But the hit has become a lightning rod for debate in this battle for physical supremacy in the series.
"You're not just trying to get the puck back there, you're trying to hurt him," Philadelphia coach John Stevens said. "That's playoff hockey, so emotion runs high."
Timonen has been reluctant to discuss the hit, perhaps not wanting to play into the psychological element of this battle of the bodychecks. He left the Wachovia Center before reporters could talk to him Monday, but then agreed to chat via a brief conference call.
"I know they are going to try and hit me and other guys, too," Timonen said. "If you start thinking about that before the game, you will let your own game down. I go into the game [knowing] I will get hit and that's playoff hockey. That's normal and move on. I won't let it affect my game."
Whether the gifted Finnish defender is good to his word will be revealed in the coming hours and days.
It is, in some ways, the ultimate playoff test of wills.
As an attacker, the question is whether you can control yourself enough to make the hit without missing and crashing pointlessly into the boards or, worse, taking a penalty.
If you're the defenseman trying to control the puck, if you flinch or hurry your pass as you hear the chink, chink, chink of Talbot's skates bearing down on you, it's a mistake that may quickly end up in your net.
"To me, a lot of times, a good bodycheck can do as much for your team as scoring a goal," Cooke said.
It's Playoff Hockey 101, added physical Flyers winger Scott Hartnell.
"It's a game of hitting, hitting our skill," Hartnell said. "We want to hit their skill, take their time and space away. It's part of the game. It's not rocket science. Every bump you give Malkin and [Sidney] Crosby, hopefully, it wears them down over the series. But you don't want to go cross that line and take someone out."
He should know; he was assessed three minor penalties and a 10-minute misconduct in Game 1, a 4-1 Penguins victory. He also went after Kunitz following the hit on Timonen on Sunday and both players ended up with fighting majors.
Still, it was instructional that few of the Flyers would condemn Kunitz for his hit, the implication being clear that the Flyers will do their best to put the same kind of hit on anyone in a Penguins jersey.
"That's kind of maybe our strategy for Gonchar and Crosby and Malkin. Every chance I get, I'm trying to hit Malkin and Crosby and taking runs at Gonchar, too," Flyers captain Mike Richards said. "I'm sure they're not too thrilled about that, but it's playoff hockey. That's what you try to do; you get them off their game."
Over the course of the first three games, but especially in the last two games, the opening moments of each contest have featured frenzied, ferocious action that has set the tone for the rest of the game. The Penguins hit everything that moved in a glorious seven-minute span of whistle-less hockey to open Game 2, and the Flyers did likewise in their best period of hockey to open Game 3, scoring twice early and forcing the Penguins to chase them all day.
On Tuesday night, the series starts to enter an even more dramatic stage with the Flyers needing a victory to even the set at 2, while the Penguins can set up a potential series-ending game Thursday at home with a win Tuesday.
While it's somewhat of a cliché to suggest the home crowd gives the Flyers an edge, the Wachovia Center response to big hits by their players was deafening Sunday.
In the playoffs, where everything is magnified, crowd noise can give the home team an emotional lift, "while for the other team, the rink is kind of shrinking in on them," said Flyers forward Darroll Powe.
When asked how he defined toughness, Pittsburgh coach Dan Bylsma said it was being able to play the game your team wants to play without being deterred by the opposing team.
"I didn't start this series trying to be the tougher team," Bylsma said. "I started out to win four games and play our game. Part of that is being physical, part of that is dictating the pace of the play and where it's at. And we know how to do that and we know that we need to do that more, and we didn't get to do it enough in Game 3 and, as a result, the Flyers got to their game more."
But here's the thing. While this series may not have started out as a tough-guy competition, that's how it may finish, with the toughest team moving on to the second round.
Scott Burnside covers the NHL for ESPN.com.
ESPN Senior Writer
Covers hockey for ESPN.com
10 years at Toronto Sun, Windsor Star and National Post
Wrote best-selling true crime book "Deadly Innocence"
EDITORS' PICKS
Boston dealt a blow to Florida, while other Eastern playoff contenders looked to keep pace.
Inside the NHL

While it's too late for this season, the Blue Jackets are getting healthy and showing how tough they will be moving forward.
LeBrun »

Marc-Andre Fleruy has to prove he can dominate in the playoffs before anyone will expect the Penguins to make noise this spring.
Inside the NHL