Commentary
Hot topics: Coyotes, testing, economy
DETROIT -- NHL commissioner Gary Bettman held his annual "state of the NHL" news conference before Saturday's Game 1 of the Stanley Cup finals. Here are Scott Burnside's and Pierre LeBrun's takes on the major issues discussed:
The Coyotes and Jim Balsillie
Canadian business tycoon Jim Balsillie may ultimately force his way into the NHL club through the courts, but it is patently clear he will never get there by going through normal channels, to whit, with the support of the NHL's 30 owners.
NHL commissioner Gary Bettman, again insisting there is nothing personal in Balsillie's fight to push his way into ownership, said there is unanimous support for how the league is handling Balsillie's bid to buy and relocate the Phoenix Coyotes.
[+] Enlarge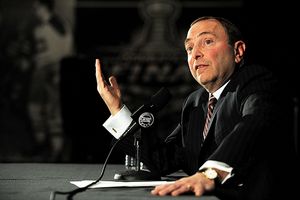 Harry How/Getty ImagesNHL commissioner Gary Bettman said Saturday he believes the league should have a stronger, 'more comprehensive' drug-testing policy.
"In the final analysis, the owners -- and I've spoken to all of them in the last two weeks -- couldn't be more supportive of the positions we've been taking with respect to this franchise and with respect to the issues in court," Bettman said. "And there's no issue there at all.
"People in the league believe in the markets that we're in. And people in the league, and particularly the owners who have been around long enough to have gone through some of the history I've described before, understand the benefits of fixing franchise issues and not running out on cities."
Bettman insisted he has not offered his opinion on whether Balsillie would be a good owner, but will if he's asked.
"You may find it unbelievable, but the fact of the matter is, if and when the board is going to consider Mr. Balsillie as an owner, if I'm asked my opinion, I will express it and I will express it to the board first before I express it to the world," Bettman said. "And I'll be happy to express it to the world after I express it to the board."
Gee, wonder what that opinion would be.
The matter is moot, though, given that Bettman's support is virtually unanimous, unless there is a mass defection from the ownership group. Who among the owners would back Balsillie against Bettman? It would certainly be a major shock if anything close to the three-quarters majority needed to approve new ownership would ever actually happen and allow Balsillie to get his foot in the door.
And while you can debate whether it's personal or not, the bottom line is, this is a fight between Balsillie and the NHL, and Bettman is the NHL for all intents and purposes.
"It's not [personal], at least from me," Bettman said. "Now I know some of you get calls on a regular basis from PR people. I know some of you, I've heard the rumors, are getting directions how to cover this story. I can't help that. From my standpoint, it's not personal. It's about league rules and it's about doing the right thing in terms of the stability of this game and this league."
It seems clear that if the owners ever decided that the brash BlackBerry mogul was the kind of guy they wanted -- even though he's costing the league tens of thousands of dollars in legal fees by trying to force the courts to give him what the owners almost certainly will not -- then it would mark the end for Bettman.
It is inconceivable that Bettman, after fighting to keep Phoenix where it is and bring in ownership that will keep the team alive in the desert, could continue to lead the league if he is unsuccessful in this seminal battle.
Given his history of successes in keeping troubled franchises not just alive but also helping them to thrive in places like Calgary (remember when the upper bowl was covered in dark curtains because fans weren't going out to see the Flames in the late 1990s?), Buffalo, Ottawa and Pittsburgh, it's hard to imagine the ownership group will throw Bettman under the bus on this issue.
"Truth be told, it's probably fair to say that the Pittsburgh Penguins during their bankruptcy period were in worse shape [than the Coyotes] because they didn't even have at the time the prospect of a new building and look at where they are today, look at where we are today getting ready to watch them tonight," Bettman said.
"We didn't walk out on Pittsburgh. We fought to fix their problems and we're fighting with everything that's going on and fighting for Phoenix because of our covenant with the team and the fans there."
Jerry Moyes, Phoenix's current owner who is now suspended from all activities surrounding the club by the NHL, put the Coyotes in bankruptcy with the hopes of selling them to Balsillie, who would then move them to Southern Ontario as a condition of completing the sale.
The NHL is arguing the team shouldn't be in bankruptcy at all and that a court has no right to circumvent the league's bylaws regarding who becomes an owner and when or if a team is relocated.
Bettman pointed out the other three major sports -- the NBA, NFL and Major League Baseball -- have also appeared in court in Phoenix to support the NHL's position.
"This is a profound issue for all sports leagues," Bettman said. "This is not just an NHL issue. This is not a Canada versus U.S. issue. This is not a Phoenix versus Hamilton issue and this is certainly not a personal issue. And any notion to the contrary we think is simply off the mark.
"We owe it to the game, we owe it to our fans, we owe it to the communities that support them."
-- Scott Burnside
Reaction to steroids allegations
Major League Baseball and its steroids nightmare seem to have taught an important lesson to the NHL.
Bettman made his strongest comments to date Saturday regarding NHL drug testing and his desire to toughen the current policy. Five years ago, quite frankly, the league's and the players' response to the issue, for the most part, was that there was no problem with performance-enhancing drugs in the sport. That stance really didn't cut it.
But likely for reasons of optics and wanting to avoid scandals that have plagued baseball, the NHL has decided it wants a better testing policy in order to assure the paying public its sport is indeed clean. And we say hallelujah. It's about time.
"We don't believe there is a performance-enhancing drug problem in this league, but I acknowledge that our testing program could be more comprehensive and it is time, we believe, that the players' association step up and agree to make the changes that the World Anti-Doping Agency [WADA] has recommended that we make to make the program even more comprehensive than it is," Bettman said.
The current policy, the first in the league's history, came into effect in January 2006. While it beats not having one at all, it's full of holes. For starters, it doesn't test players in the offseason, and if you believe people who know this stuff, they'll tell you that's when a cheater would use. Secondly, it tests only for the banned substances on WADA's "out-of-competition" list, which isn't nearly as comprehensive as the "in-competition" list.
I asked Bettman about specific changes he wanted to see and he said, "in-competition, year-round testing."
The ball is now in the players' court. The NHL Players' Association will hold player meetings in Las Vegas on June 19-20 and this will be a major agenda item.
"The players' association has not been ready to embrace it, but [NHLPA head] Paul Kelly has indicated that he supports it and I take him at his word," Bettman said. "He believes he needs some time to persuade his members to go along with it, but I think we need to be more comprehensive, both in terms of the calendar on which we test and the substances for which we are testing.
"Both Paul and I testified before Congress not too long ago that we both believe in having the strongest possible program. I still believe it. I want it, but I need the players' association to be a willing partner in that regard."
The players are concerned about offseason testing in large part because they don't want to get pulled out of a family get-together in the middle of July at some northern cabin in Ontario or B.C. (where hundreds of players spend their summers) and have to go to Toronto or New York or wherever for a random test.
I understand that point of view, but I still think they have to suck it up and accept tougher testing. This is about maintaining your trust with the people who buy tickets and put money in your bank account.
I'm often asked whether I think performance-enhancing drugs are a problem in the NHL. I honestly can't answer that. I've been around these players for 15 years and never got a sense that they were. But then again, I don't think you can be na´ve enough to think no one is using. The best part of improving the league's drug-testing policy is we'll be able to answer that question, either way.
Of course, Bettman's strong comments on the issue come less than a week after a story broke in the Tampa Tribune alleging that members of the Washington Capitals had ties to a busted steroid peddler. So I don't think the timing is a coincidence.
"There were no specifics to the allegations other than someone who got arrested said without naming any particular people or players," Bettman said of the Tampa story. "No one is certain, based on what we've been able to learn so far, that there is anything there, but because we take this entire matter very seriously -- the matter of performance-enhancing drugs -- we are investigating."
-- Pierre LeBrun
The NHL and the economy
Despite the global economic downturn, Bettman said the league's hockey-related revenues will grow by 4 percent this season, although there will be some adjustment for a slight decline in the Canadian dollar.
The salary cap, currently at $56.7 million, could remain the same next season or drop by about 5 percent depending on whether the players vote to adjust the cap up as they are allowed to under the collective bargaining agreement. The players have voted to apply a growth element to the CBA every season since the lockout.
Bettman said there are positive signs regarding the economic health of the league -- most significantly, playoffs ticket sales and season-ticket renewals -- despite the larger economic problems.
Bettman said playoff teams have played "to over 100 percent capacity." He said renewals "are now approaching 80 percent. It's not even June yet. That is quite a strong number, particularly in this environment to say the least."
From Russia, with love
A Bettman news conference in the past few years can't go without questions regarding Russia.
As we reported earlier this month, the KHL in Russia has decided to draft 17-year-old players, starting with their next draft in a few weeks. The idea is those kids, if they want to play in the KHL, would sign five-year deals. After those five years, they would become restricted free agents with KHL teams, which supposedly would be able to match any contract offer from NHL teams or other teams in Europe.
Not exactly sure how that would stand up in any court of law, but hey, that's what KHL president Alexander Medvedev told NHLPA executive director Paul Kelly in Switzerland a few weeks ago.
"Is that true? I've heard the rumor," Bettman said.
Believe me, he knows.
"That's consistent with their desire not to lose players who want to come to the NHL," continued Bettman. "So if they have developed some plan or scheme to tie up players for up to 10 years, we'll have to analyze it, as will the players who have to decide at 17 whether they want to sign with the KHL and understand that they are there potentially for 10 years, or maybe some of them will go other places to play hockey because they want to come to the NHL.
"At some level, the players will adjust. The players that want to come will figure out a way to do it."
Then, Bettman added as a joke: "Maybe the union here will decide to have a 16-year-old draft. We'll get 'em first."
The Russians continue to be a thorn in the NHL's side. They led the defection of all European countries out of the NHL's player-transfer agreement with the International Ice Hockey Federation. The NHL and NHLPA is currently in talks to form a new agreement, although it definitely would not include Russia.
-- Pierre LeBrun
The Cup schedule
By now, you've surely heard the
Detroit Red Wings
aren't happy about the schedule for the Cup finals. They had only two days off after the conference finals, and the Cup finals start with back-to-back games.
Bettman revealed Saturday the back-to-back scenario had been agreed upon several months ago by all 30 NHL GMs.
"The back-to-backs was planned a year ago, it was something that I discussed with the general managers and something that they unanimously blessed," Bettman said. "We wanted to try something different, we wanted to try and build an intense start to the series. Unlike the Super Bowl, where you know a year in advance where you're going to be and when you're going to be there, we felt that we needed to do something a little bit different to see if we can really get the final off to a fast start and an intense start."
As for the short turnaround, Bettman said that also wasn't uncommon.
"We're starting within three days of the end of the conference finals. The average since 2000 has been four, but this is the third time we've used three days, so we didn't do anything extraordinary with the down time. The good news, the player comments at least, have been positive in that regard. They seem to be excited with the fast start to the final. And so are we."
An NHL source confirmed to ESPN.com on Saturday that the 30 GMs gave the back-to-back start their blessing; however, part of that agreement was to have the road team in town three days ahead of the Game 1 start to allow for two days of media buzz. That was not followed this week and that's part of the reason the Red Wings aren't happy.
As for the actual yearlong NHL schedule, as many of you readers know, I abhor June hockey and believe no games should be played past May 31.
"End date is function of start date," Bettman said. "Many owners don't want to move earlier and would, in fact, rather start in November, so [they] don't have to challenge as much of football season or any of baseball pennant races and playoffs."
The LeBrun Proposal: Puck drops for the first regular-season game mid-September. Stanley Cup awarded no later than May 31.
-- Pierre LeBrun
Scott Burnside and Pierre LeBrun cover the NHL for ESPN.com.
ESPN Senior Writer
Covers hockey for ESPN.com
10 years at Toronto Sun, Windsor Star and National Post
Wrote best-selling true crime book "Deadly Innocence"
ESPN Senior Writer
Covers the NHL for ESPN.com and TSN in Canada
Six years on the "Hockey Night In Canada" Hotstove panel
13 years at The Canadian Press national news agency
2009 STANLEY CUP PLAYOFFS

The Stanley Cup finals are here. Scott Burnside, Pierre LeBrun and the rest of our NHL team preview the action:
CUP FINALS
MORE COVERAGE
SPORTSNATION