Commentary
What more can Crosby do to save Pens?
PITTSBURGH -- We often talk about time and space being crucial for skilled players in the Stanley Cup playoffs.
On Monday, it was time and space day for Sidney Crosby and the rest of the Pittsburgh Penguins' star players as they prepared for the biggest game of their careers Tuesday night.
After Pittsburgh's back-to-back 3-1 losses on successive nights against Detroit to open the Stanley Cup finals, Monday was all about regrouping … or was that retreating?
With the media making the trek from Detroit to Pittsburgh on Monday morning, Crosby, Evgeni Malkin, Marc-Andre Fleury and Bill Guerin were all given the day off from talking to the media.
[+] Enlarge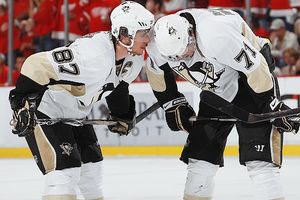 Gregory Shamus/NHLI/Getty ImagesSidney Crosby, left, has been held pointless in the Cup finals, and Evgeni Malkin has just one goal and an assist.
Malkin, who rarely makes himself available except under duress, refused to meet with the media after Sunday's game.
Fleury, who so far has been outplayed by a wide margin by Detroit counterpart Chris Osgood, certainly could use a break from answering questions about his confidence.
As for Crosby, fair enough. Given his tireless patience in dealing with the media throughout the playoffs, we are more than prepared to cut him some slack.
"Well, I actually have a game plan for the playoffs. I made a point of saying every day doesn't need to be Sidney Crosby Day," Penguins coach Dan Bylsma said Monday. "So there have been days when he hasn't been out here. So that was it. We made a choice to give other people a chance to be up here and for you to talk to them and feel it's important for it to be a team thing, not just Dan Bylsma and Sidney Crosby talking at the podium every day."
Nice sentiment, but with all due respect to the players who did answer questions from the media -- Matt Cooke, Kris Letang, Chris Kunitz, Tyler Kennedy and Sergei Gonchar -- well, their importance to the Pens' chances of rebounding in this series pales in comparison to the role Crosby is likely to play. Because as much as this is a team game -- and the Penguins have a lot to answer for collectively for their two-game deficit -- history suggests that if Pittsburgh is to mount a comeback in this series, Crosby will be a catalyst.
The problem facing Crosby and the Pens is that we're not exactly sure what more he can do. The youthful captain has created chances, chances his linemates have been unable to convert. He has had glorious chances himself and been the victim of bad luck.
The prevailing theory from the Penguins' camp is it's all a matter of time. Stay the course, and the ship will right itself. But there have been obvious illustrations of frustration from both Crosby and his trusty ward Malkin.
In Game 1, Crosby got into a vigorous jawing match with Marian Hossa, then gave Red Wings agitator Kirk Maltby a love tap on the foot with his stick. In Game 2, it was Malkin who went off the rails late in the game, mauling Henrik Zetterberg and narrowly avoiding a suspension after being assessed an instigator penalty.
"You worry as a coach about frustration, and frustration is when you can't let go of previous events," Bylsma said. "You know, I think for the most part, our guys have been able to. You know, they're emotionally attached. They want to do well; they want to drive. Detroit is doing a good job of resisting that and being on our guys."
Malkin has a goal and an assist in the series, and Crosby has been held pointless. In part, that's because the Wings, with the last change in Detroit, have used Zetterberg and his line to stymie Crosby and his line. Malkin's unit has had a little more space and, as a result, his line has been more dangerous and certainly more productive.
Being at home for Games 3 and 4 might help Bylsma create a better scenario for Crosby.
"Certainly, I thought Crosby has done a good job of working and battling through it. We've gotten a number of situations where we've gotten scoring chances, good scoring chances, and those are indications that you look for," Bylsma said. "We've had pucks in and around their goalie. We've talked about a couple of situations where it's in the crease and the goalie, you know, scrambles there.
"If those go in, you think Sid had a great game and he wins the matchup. But he did not, and now we're coming home and we may give him different looks depending on the situation of the game."
Last season, the same dynamics presented themselves as the Penguins were outscored 7-0 through the first two games in Detroit, and it was Crosby who delivered a virtuoso performance in Game 3 to get his team back into the series. The Penguins ultimately lost in six games, but Crosby willed his team to stay close.
Had the Penguins been beaten in five games or even swept last season, nary an eyebrow would have been raised. The talented young squad was well ahead of its expected learning curve.
But these Cup finals are vastly different. This season, the expectations for this team -- both externally and internally -- are profoundly different, even as the Pens face the same stark reality: Win Game 3 or accept that the series is lost.
The Wings have injuries to top players -- including Hart Trophy candidate Pavel Datsyuk, who has yet to appear in the finals -- and were forced to open with back-to-back games. The Pens couldn't take advantage. Now they must win or risk going down 3-0, a deficit from which no team recovers.
Has there been a bigger game for this franchise, then, since Mario Lemieux was leading Pittsburgh into battle in the 1992 finals?
A player like Crosby craves these situations, expects so much of himself in these situations; there has not been a bigger game in his young career.
Win, and there is new life; lose, and this day of rest will seem like just a quiet prelude to the inevitable.
Scott Burnside covers the NHL for ESPN.com.
ESPN Senior Writer
Covers hockey for ESPN.com
10 years at Toronto Sun, Windsor Star and National Post
Wrote best-selling true crime book "Deadly Innocence"
EDITORS' PICKS
Boston dealt a blow to Florida, while other Eastern playoff contenders looked to keep pace.
Inside the NHL

While it's too late for this season, the Blue Jackets are getting healthy and showing how tough they will be moving forward.
LeBrun »

Marc-Andre Fleruy has to prove he can dominate in the playoffs before anyone will expect the Penguins to make noise this spring.
Inside the NHL