Commentary
Khabibulin comes full circle with Hawks
Updated:
April 16, 2009, 1:05 PM ET
By
George Johnson
| Special to ESPN.com
CHICAGO -- Kris Versteeg was a mere moppet of 9, living due south in windswept Lethbridge, Alberta, on the night of Feb. 6, 1995. It was the night Nikolai Khabibulin took the measure of the Calgary Flames for the first time.
"Wow!" said the Chicago Blackhawks' immensely impressive rookie right winger. "That long ago?"
Understand, against the Flames, Khabibulin isn't merely a Wall. He's been upgraded to a Fortress.
"I can't explain it," said the acrobatic goalie. "I don't know why. Just because I've had success against them before doesn't mean anything now."
[+] Enlarge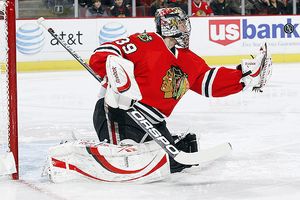 Bill Smith/NHLI/Getty ImagesNikolai Khabibulin won a Stanley Cup with the Tampa Bay Lightning in 2004.
Like hell it doesn't. That night was the beginning of the Khabby Hex.
Recently called up by the Winnipeg Jets from the AHL Springfield Falcons to caddy for Tim Cheveldae, Khabibulin won his first NHL game 5-4 at the Pengrowth Saddledome on that February night, on the strength of a Dallas Drake goal at 19:42 of the third period. By a standard Khabibulin would set in the future, it was hardly a scintillating performance; he stopped only 21 of 25 shots. It was the ninth game of a lockout-shortened season.
"Oh, sure, I remember that game," Khabibulin said with a slight smile crossing his face. "We scored with something like 20 seconds to go to win, right?"
Right.
"See ... I have a pretty good memory."
At the time, no one gave the outcome much of a second thought. What most people left the building talking about was not the unknown Russian in net, as quick as a cat batting a ball of string, but Calgary goalie Trevor Kidd thwarting Finnish Flash Teemu Selanne on a penalty shot.
This week, 14 years later, the significance of that night has been all the rage, though. Because, since then, the Bulin Wall has owned the Flames, going 22-5-2 in regular-season meetings, including a 3-0-0 mark this season. Oh, and he only tore their hearts to bits in the 2004 Stanley Cup finals, backstopping Tampa Bay to a historic seven-game triumph.
Not that this is a new phenomenon.
"I think Ken Dryden dominated the Boston Bruins, for example," said Calgary coach Mike Keenan, the man who skippered the Hawks to their last Cup finals appearance back in 1995. "Well, obviously [Khabibulin] is a confident goalie, he's playing well right now ... two shutouts in his last four games [of the regular season]. We know that. It's one thing that's going to be intriguing about this series -- two excellent goalies."
Khabibulin versus Miikka Kiprusoff.
That Khabibulin should be confronting his old nemesis again in the first round, in a season that has been so bittersweet for him personally, only adds to the plotlines of a series thick with them.
"Khabby has been great down the stretch," Blackhawks coach Joel Quenneville said. "His experience, the fact that he's won a Stanley Cup before, is something our guys can lean on.
"He's given an indication that he can rise to the occasion, and we're going to need him."
In his final 10 starts of the regular season, Khabibulin went 8-2-0, including two shutouts, finishing off with a 37-save performance against the Detroit Red Wings, no less. Where once the notoriously hard-to-please ChiHawks faithful jeered him, they now fete him as the Aztecs would a sun god. When he took a twirl as the game's first star after the closer against Detroit, the 22,000-plus crowd stood and chanted his name.
The air in the United Center that night was thick with love and irony.
This has been a season of redemption for the netminder.
First, dissatisfied with his unsettled play and injury woes, the Blackhawks signed unrestricted free agent Cristobal Huet to a four-year, $20.4 million deal on July 1 to replace Khabibulin. Then, the ultimate indignity, they placed the 2004 Stanley Cup-winning goaltender on waivers in preseason.
He was due to earn $6.7 million this season, but nobody bit.
"It's been a tough situation for him, but through it all, he's been the consummate pro," said Hawks left winger Andrew Ladd. "If he was upset by some things that happened earlier on, he never let it show. He just came to the rink and did his job. No complaining. No fuss. And now, here is, the go-to guy in the playoffs.
"Khabby's been our MVP this season. So has [Cristobal] Huet. We're very, very fortunate to have two goalies who can both go in and win games for us. When Khabby's back there, with all that he's accomplished in his career, everyone's so calm. You just feel as if you're in safe hands."
Just when it seemed the Bulin Wall had crumbled, he put it back together himself. By hand. Brick by brick.
"Nik doesn't say much, but this is a very proud guy," said Blackhawks broadcaster Steve Konroyd. "When that happened, I think -- no, I know -- he was embarrassed. For a little while there, he didn't even have a team. That has to be a shock to the system when you're as good as he is, have done what he's done in the game.
"So when he did come back, you could detect a real fire in his eyes, a determination. His attitude was 'I'm going to show you guys.' And he sure has."
Khabibulin's then-franchise record deal is about to end. On July 1, he'll be a free agent. Whether this is his swan song as Hawk remains to be seen. But a long postseason run would, you'd think, be more than enough reason for Chicago not to make the same mistake his previous employers did. Much to their detriment.
"He's actually in a pretty similar situation now to the last time he was coming up to be a free agent," said Konroyd. "That, if you'll remember, was the spring he took Tampa Bay to the Cup.
"Nik's such an analytical athlete. I've been around this game a while, and from what I've seen, his focus is second to none. I've heard that he's a chess aficionado. That makes perfect sense. Now, I don't know whether he plays or he just studies the game, but it makes sense. In net, he's always trying to stay a move ahead of the shooter, just like a chess champion, a Bobby Fischer, say, would."
The baby-faced Hawks may lack playoff experience heading into this series, but as Game 1 beckons Thursday night, they have plenty of intangibles going their way.
They'll have a sellout crowd at the United Center urging them on ("The fans here have been waiting for this night since 2002," said Versteeg. "I can't imagine what it's going to be like during the anthem. Our crowd has been great all season but it is going to be insane. Crazy. Nuts. They'll blow the lid off the place.").
They're armed with the bold na´vetÚ of youth.
Best of all, they have Nikolai Khabibulin, redemptive hex-master, at the ready to bedevil the Flames. Fourteen years later, the spell lingers.
George Johnson, a columnist for the Calgary Herald, is a regular contributor to ESPN.com.
George Johnson, a columnist for the Calgary Herald, is a regular contributor to ESPN.com.
2009 STANLEY CUP PLAYOFFS

The Stanley Cup playoffs kick off Wednesday. Scott Burnside, Pierre LeBrun and the rest of our NHL team preview the first round:
EASTERN CONFERENCE
WESTERN CONFERENCE
MORE COVERAGE
SPORTSNATION