Commentary
Goalie question rears ugly head for Caps
WASHINGTON -- There's an extra off day before the Eastern Conference quarterfinal series between the New York Rangers and Washington Capitals resumes Saturday afternoon.
An extra day for Washington coach Bruce Boudreau to contemplate the biggest decision in his short NHL coaching career.
Jose Theodore or Simeon Varlamov?
A little early, perhaps, for that kind of drastic decision, and maybe some would see it as a sign of panic. But when you outshoot a team 35-21 and lose 4-3 to a New York team missing Chris Drury on four goals that should have been stopped, it's the kind of decision you have to consider, even if 20-year-old Varlamov has all of 329 minutes of NHL experience under his belt.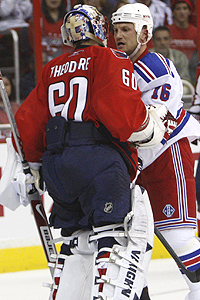 AP Photo/Evan VucciEven Sean Avery tried to get under Jose Theodore's skin in Wednesday's Game 1.
"There's a chance anything can happen," Boudreau responded when we asked him about a change in goal for Saturday. "I said earlier: When you lose, you make changes. I'm not saying in goal [necessarily], but there's a possibility of changes in a couple of positions."
Boudreau has to sit down and think this through carefully. The stakes could not be any higher. If Theodore goes back in and delivers another stinker, the Caps could be down 2-0 headed into Madison Square Garden. Season over. But if rookie Varlamov isn't ready for this kind of task, what's your next move after that?
Perhaps the safer move, in the end, is going back to Theodore and hoping the 2002 Hart and Vezina Trophy winner bounces back. We'll give Theodore credit for not ducking what was an ugly performance.
"I'm not happy with my game," Theodore said after Wednesday's Game 1. "I wasn't good enough. But in the playoffs, you bounce back and that's it -- you have to turn the page.
"I've been around long enough that there's really no excuse," he added. "When you're out there, you have to be ready to make a couple of key saves and key moments, and tonight that just wasn't the case."
When told Theodore had shouldered the blame for the loss, Boudreau didn't hide his feelings.
"He's right," the Caps coach said. "He didn't make the saves when we needed it. But I'm sure he's going to bounce back. He's played this game long enough."
It was a night where the masked men stole the headlines for different reasons. Henrik Lundqvist leads the best-of-seven series with the Caps 1-0. King Henrik was the difference in the opener, especially in a lopsided first period when the shots were 14-4 for the locals and Lundqvist made a series of difficult saves.
"He's done it all year. That's what he's been to us," Rangers defenseman Wade Redden said.
Many of the previews for this series commented that Lundqvist had to steal a game or two for the Rangers to have a chance. Well, consider one game stolen right off the hop.
"We're going to need it, we're going to need it," Rangers coach John Tortorella said. "As I said, goaltending is a key part of winning, and if we're going to be able to compete, we're going to have to get good goaltending."
They're also going to have to score on the power play. They got a pair Wednesday night thanks to top-corner wrist shots from Nik Antropov and Markus Naslund, giving New York a 3-1 lead in the second period.
"The power play was great," Lundqvist said. "Did we have two power-play goals? Special teams will be very important in this series. They have a great power play, so we need our power play to be good, and tonight it really stepped up."
The Rangers' 29th-ranked power play this season scored two or more goals in only nine of 82 games, so this was no small achievement in the team's playoff opener.
"Our power play has fought us at times over the last couple of months," Tortorella said. "Our power play is going to have to score big goals at certain times for us to stay in there."
But perhaps the most telling development from Wednesday night's victory by the Rangers was the way they reacted after the Caps rallied to tie the score at 3 on Alexander Semin's power-play goal early in the third period.
The Verizon Center was rocking, smelling blood, but the Blueshirts hung in there. After a big penalty kill, Brandon Dubinsky scored the game winner at 11:43 on a beautiful individual effort, the Rangers forward turning Caps defenseman Jeff Schultz inside out and roofing a shot on the glove side to beat Theodore. The Verizon Center wasn't too loud at that point.
The Rangers -- again, we stress, without their captain Drury -- stood up to a Caps comeback and delivered a big victory. How can you not be impressed? And this was on the heels of sweeping a home-and-home with the rival Philadelphia Flyers to close out the regular season.
"Right now, we feel pretty good about how we're playing," Lundqvist said. "We believe in each other. Confidence is huge in the playoffs. Especially on the road, you need to stand up. They came out pretty hard, but we came back."
Two off days now for the Rangers to grow in confidence, two days for the young Caps to fight losing theirs.
But we ask you again, Bruce Boudreau, who will get to start in goal Saturday?
Pierre LeBrun covers the NHL for ESPN.com.
ESPN Senior Writer
Covers the NHL for ESPN.com and TSN in Canada
Six years on the "Hockey Night In Canada" Hotstove panel
13 years at The Canadian Press national news agency
2009 STANLEY CUP PLAYOFFS

The Stanley Cup playoffs kick off Wednesday. Scott Burnside, Pierre LeBrun and the rest of our NHL team preview the first round:
EASTERN CONFERENCE
WESTERN CONFERENCE
MORE COVERAGE
SPORTSNATION