Commentary
Caps finally show some playoff moves
NEW YORK -- On Day 6 of the NHL playoffs, the Washington Capitals finally played postseason hockey.
Alex Ovechkin played a near-perfect game on both sides of the puck; Alexander Semin stopped being a passenger; Nicklas Backstrom looked like Peter Forsberg; and the Caps, as a team, not only outshot the New York Rangers but also, more importantly, outworked them in a decisive 4-0 Game 3 victory Monday night.
In what was a rare sighting in the opening two games, we saw Washington players fighting their way to the Rangers' net, taking hits to make the right pass and getting their faces smashed into the glass to keep the cycle going in the offensive zone. There were sacrifices made all over the ice.
Consider the opening three goals Monday night, a pair from Semin and a rebound goal from Brooks Laich. All three tallies were from within 15 feet of the net. That's a dirty area of the ice that is painful to access. But good things happen when you're willing to fight your way there.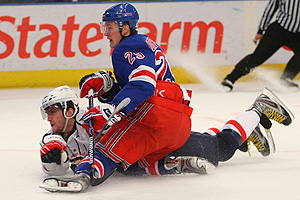 Bruce Bennett/Getty ImagesAlex Ovechkin stepped up his defensive play in Monday's Game 3, including poking the puck away from Lauri Korpikoski on a potential Rangers breakaway.
"The good thing tonight is that it gave us a glimpse to what we need to do to be successful," said veteran Caps defenseman Brian Pothier. "It's never a secret how you score in the playoffs, and tonight we did it. We can talk about it, but until you actually do it, it doesn't make a whole lot of sense to you.
"Tonight I think we scored some goals that were kind of greasy and banging around in that area. Hopefully we can stick that in the memory bank and keep it for next game."
The Caps adjusted to a Rangers team that blocked 29 shots in Game 2; that number dropped to 13 on Monday.
"We tried to create," Ovechkin said. "They go deep all the time; they go down all the time. I think we have great skill to find the open space and open stick in the offensive zone. We got chances, and we scored goals."
The play of the night? How about Ovechkin's chasing down Lauri Korpikoski, who thought he had a clean breakaway, and diving to poke the puck away from the Rangers forward. That's the kind of defensive hustle the great ones have to produce in the postseason.
"It's the end of his shift and he's exhausted and you see the effort that he's putting in," Capitals coach Bruce Boudreau said. "How can players not just read off that and say, 'If he's going to try that hard and make such a great defensive play at a very pivotal point in the game, then how can we not work that hard?'
"I thought it was a tremendous leadership play, and that's why he is who he is."
That play summed up the night for the re-energized Caps. It was a gritty, blue-collar effort from a high-end offensive team that tried to finesse its way through the first two games only to meet with disastrous results.
Hey, let's not kid ourselves; the skill was still there. How about those passes from three-assist man Backstrom?
"I don't know if there's words," Boudreau said. "I think the pass he made on the fourth goal was as good as any pass I've ever seen. We talked in the room, the coaches, about it. But he kills penalties, he plays the power play and a regular shift. He was fabulous tonight."
Boudreau broke up his top two lines, putting Backstrom with Semin. Instant magic. Ovechkin settled in with Sergei Fedorov and Viktor Kozlov. No. 8 didn't score again, but his two-assist night saw him avoid forcing shots when they weren't there and make better use of his teammates.
"He's a smart enough player and an unselfish enough player that he knows if everyone is keying on him, it's probably not bad if he moves the puck a little bit," Boudreau said. "I thought all of our so-called stars stepped it up tonight and played a great game."
The Rangers still lead the best-of-seven Eastern Conference quarterfinal series 2-1, with Game 4 right back at Madison Square Garden on Wednesday night.
But know this: the self-doubting in the minds of the Washington players (and believe us, there was plenty of it) is gone. Ovechkin has his swagger back. The young Caps believe again, and that's a dangerous thing for New York.
"It was just an old-fashioned spanking tonight," Rangers coach John Tortorella said. "So we need to take our medicine here and get back to work and try to figure some things out."
Tortorella is a smart coach, so he'll have his players regrouped for Game 4, but it's going to take their very best hockey of the season to see this through.
"I thought we were terrible defensively," Tortorella said. "A very important part of trying to compete in this series is having the puck. You're not going to have the puck if you play defense like we played it tonight."
The discipline the Rangers displayed in Washington dwindled in Game 3. There was no better example of that than New York winger Sean Avery. He was a positive force in the opening two victories, but he hurt his team Monday night with four minor penalties -- three of them of the needless/selfish variety. The right-hand jab to goalie Simeon Varlamov late in the game, which resulted in a 10-minute misconduct, sealed an evening of idiocy. He needs to get back to what made him successful in the first two games.
It was the less experienced Caps who showed poise Monday night. Defenseman John Erskine took a punch in the face from Avery 3:07 into the second period and did not retaliate, turning away while Avery got nailed with a roughing penalty. That's the kind of unselfish play that wins you hockey games in the playoffs.
"You know what, the bench jumped up and they all patted John on the back," Boudreau said. "Listen, these are the sacrifices and things you have to do. Because, in the end, it doesn't hurt. But you have to do it if you want to win."
Oh, and we got this far without mentioning the Washington goaltending story. That's a good thing if you're the Caps. Rookie Varlamov looked cool as a cucumber as he shoved aside 33 shots for his first career playoff shutout. Boudreau raised eyebrows when he replaced veteran Jose Theodore before Game 2 with a 20-year-old netminder with 329 minutes of previous NHL experience. Varlamov has responded by stopping all but one of the 57 shots he has faced. Guess the Caps coach knew what he was doing.
Boudreau was hoping to sleep a little better Monday night.
"Maybe, but we're back at it tomorrow," he said.
At least he's in a series now.
Pierre LeBrun covers the NHL for ESPN.com.
ESPN Senior Writer
Covers the NHL for ESPN.com and TSN in Canada
Six years on the "Hockey Night In Canada" Hotstove panel
13 years at The Canadian Press national news agency
EDITORS' PICKS
Boston dealt a blow to Florida, while other Eastern playoff contenders looked to keep pace.
Inside the NHL

While it's too late for this season, the Blue Jackets are getting healthy and showing how tough they will be moving forward.
LeBrun »

Marc-Andre Fleruy has to prove he can dominate in the playoffs before anyone will expect the Penguins to make noise this spring.
Inside the NHL