Commentary
Varlamov gamble paying off for Caps
NEW YORK -- Steve Mason is the first goalie from the 2006 draft class to make a splash in the NHL. But he's not the first netminder from that group to earn a victory in the NHL playoffs.
That honor belongs to Simeon Varlamov.
While Columbus' Mason will deservedly walk away with the Calder Trophy as rookie of the year and maybe even the Vezina Trophy as the league's top netminder during the regular season, there's a chance it's Varlamov who will leave NHL fans with a more indelible playoff impression this spring.
OK, we might be getting a little ahead of ourselves. It's only two games after all. But the rookie goalie from the Washington Capitals has made quite an entry, stopping 56 of 57 shots in his 119-minute debut otherwise known as a baptism by fire.
Madison Square Garden in the playoffs? Ha, no problem. Try on a 33-save shutout for size. The native of Samara, Russia, who turns 21 on Monday, is acting like he's been there before.
[+] Enlarge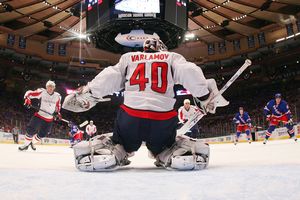 Bruce Bennett/Getty ImagesSimeon Varlamov has allowed just one goal over the two games he's played in the Rangers-Caps series.
"Well, in some ways he has, because he played in the championship in the Russian League last year, and who knows, maybe that was bigger for him than this is, to play in your home country in the finals in the best league there," Capitals GM George McPhee told ESPN.com on Tuesday. "But he came into Montreal this year to play his first game, and obviously that's a tough environment, and he played very well. It looks like he can handle this."
Varlamov stopped 32 of 33 shots in the frenzied atmosphere at the Bell Center on Dec. 13. He went 4-0-1 with the Caps this season, posting a 2.37 goals-against average and .918 save percentage. Not a large body of work, but combined with his AHL work with the Hershey Bears, it was impressive enough to convince Capitals coach Bruce Boudreau he was worth the gamble last Saturday when veteran Jose Theodore sat on the bench.
It was the biggest decision of Boudreau's short NHL coaching career, and there wasn't too much to base it on.
"I had seen him play in Hershey a few games this year and I've seen him play for us," Boudreau said. "He played really well for us, so I had the comfortability that he would be OK. We're talking two games, but I had a lot of faith in him."
Truthfully, it's not a decision the Caps' goalie coach would have made had he been left to his own devices.
"I think like a goalie," Dave Prior said Tuesday. "Bruce deserves full credit because I would not have made that switch, initially. I think as a goaltender you want to be able to come back and be able to demonstrate that you're better than what you gave us. And I understand that totally. I told Varly that, had it been up to me, I would have put Theo back in. He understands that, and why. He would hope I would do the same for him if he was in that position."
Prior, however, is a huge fan of the young Russian goalie. Heading into the 2006 draft, Prior told the Caps' front office he was high on Varlamov.
"Dave Prior really liked him," McPhee recalled. "He was adamant that he was the guy we had to take in the first round."
And so they did, 23rd overall. Mason would go 69th overall, third round, that year. Most hockey fans know Mason's story by now. He only played 12 games in the Ontario Hockey League that season, so scouts really didn't know much about him, but Columbus had the inside scoop because one of the Blue Jackets' scouts lived in London, Ontario, where Mason played.
Six goalies were drafted ahead of Mason in 2006: Los Angeles took Jonathan Bernier 11th overall, Riku Helenius went 15th overall to Tampa Bay, followed by Varlamov, Leland Irving 26th overall to Calgary, Michal Neuvirth 34th overall to Washington and Jhonas Enroth 46th overall to Buffalo.
Mason is the obvious steal of the draft, but the Caps still believe they got the real deal in Varlamov.
"Well, we think so," McPhee said. "We also took Neuvirth in the second round, who may be every bit as good. We just think Varlamov is ahead of him because of his experience playing against men the last few years. We felt we needed help in that position and it was a good draft for goaltenders."
McPhee remembers watching Varlamov during a grueling test at the draft combine in Toronto that year.
"He did that [VO2 max] test, that's a tough test," McPhee said of the test used to measure aerobic capacity. "Most kids are in rough shape after that and some of them vomit. Varlamov did it, and somehow didn't get the right reading on it, so they asked him to do it again and he did five minutes later. And really had good numbers. So, that's one of the things you like about a player."
Prior had actually not seen Varlamov in person, but recommended him based on what he saw on film.
"One of the things that stood out was his ability to get to places where not a lot of goaltenders can," Prior said.
Varlamov showed some of that athletic ability Monday night, including a lightning pad save on Markus Naslund and a flashy glove save on Marc Staal. At times, he looks a little unorthodox, like he's getting by on raw talent instead of polished technique.
"I think when he gets a little unorthodox-looking, he's usually recovering from an error or over-propulsion on his part to a certain part on the ice, and he has to rein himself back in," Prior said. "I think he plays a very sound style of game. He's just a very powerful goaltender, and he can get places hard and in a hurry; and then, sometimes, if the situation doesn't quite unfold that way, he may have a great leg save like he made last night in the third period. He had to rein himself in and react to it. That's his special talent, his physical ability that way."
With Prior's tutelage, Varlamov will learn to channel that athletic explosiveness and use better positioning and technique, which will help reduce the wear and tear on his body.
"I think there's more of a similarity between Varly and [Marc-Andre] Fleury when he came into the league," Prior said when asked for a comparison. "They've got a lot of ability to react quickly and get around with good mobility. It's just managing it so you're successful in this league."
Varlamov, with Prior's blessing, didn't practice Tuesday as he recuperated from Monday's game. Game 4 is Wednesday night at the Garden with the Rangers holding a 2-1 lead in the series. And the veteran Theodore will again sit on the bench in what must be a tough time for him.
"It's the business," McPhee said. "It's all based on hunches and adjustments during the playoffs. We saw what Carolina did a few years ago. Gerber went in and they went with Ward in Game 3. Then they came back with Gerber in another series. You play your hunches. Obviously, Varlamov plays the next game, but we'll see what happens after that."
Varlamov has limited English skills, but he's working hard on improving them. Helping along the way is Boyd Gordon, his road roomie.
"Our conversations are pretty basic," Gordon said. "But he's a good guy and easy to get along with.
"He fits in well in the room," Gordon added. "He's done a great job for us since he's come here. He's still pretty young, he's 20 and he's learning a new language in a new country. I can't imagine how hard of an adjustment that would be. He's done a tremendous job for us."
Pierre LeBrun covers the NHL for ESPN.com.
ESPN Senior Writer
Covers the NHL for ESPN.com and TSN in Canada
Six years on the "Hockey Night In Canada" Hotstove panel
13 years at The Canadian Press national news agency
EDITORS' PICKS
Boston dealt a blow to Florida, while other Eastern playoff contenders looked to keep pace.
Inside the NHL

While it's too late for this season, the Blue Jackets are getting healthy and showing how tough they will be moving forward.
LeBrun »

Marc-Andre Fleruy has to prove he can dominate in the playoffs before anyone will expect the Penguins to make noise this spring.
Inside the NHL