Commentary
Caps exposing average Rangers team
NEW YORK -- We bring you this announcement during a break in the public relations battle between the New York Rangers and the NHL:
The Washington Capitals are crushing the Blueshirts into submission.
Do we really need to play Game 7 on Tuesday night? Does it matter who is behind the bench for the Rangers?
[+] Enlarge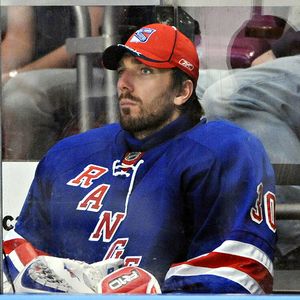 AP Photo/Bill KostrounFor the second straight game, Rangers goalie Henrik Lundqvist was pulled after two periods.
Mercy.
The hounds have been unleashed. Sunday's 5-3 whipping of the Rangers (ignore those two meaningless third-period goals) evened the Eastern Conference quarterfinal series at 3. If you can call it even.
Finally, there's some logic in this series. The team that has outscored the other 17 goals to 10 is no longer trailing.
Henrik Lundqvist made this a series in the opening four games. But the Rangers' netminder left the Superman cape behind in the past six periods. Check that -- make it four periods. He was pulled after 40 minutes Friday night and again after the second period Sunday.
"Like I said, he can't play every time like a god," said Caps superstar Alex Ovechkin. "He can't save the game every time."
The poor guy. Lundqvist hasn't had any support. Nikolai Zherdev, have you already gone back to Russia? Scott Gomez had a goal and an assist Sunday, but it doesn't make up for a poor series.
We'll say it again: What do you have when Lundqvist isn't superhuman? A very average Rangers team.
"We do have to give Hank better support," said veteran Rangers blueliner Paul Mara. "He has played incredible for us. We have to stand up, play for him and play for everyone."
As opposed to what happened again Sunday.
When Milan Jurcina opened the scoring 7:09 into the game with a wrist shot that beat Lundqvist glove-side, a shot the Swedish star should have stopped, you just knew what would happen the rest of the afternoon. Sure, the Rangers came right back with a Gomez power-play goal, but that was a brief respite from the oncoming Caps onslaught.
Something about scoring the first goal relaxes this Caps team.
"When they score the first goal, they just go back and try to play defensively," said Ovechkin. "So when we have the opportunity to play the first goal, they open up the space, and when they open [up], we have more chances to score."
The Capitals' young guns smell blood. They've got their swagger back, and they know if they pay the price, they can't lose this series.
"When we play our game we play simple and we play hard and nobody can stop us," said Ovechkin. "We believe in each other. We believe in our group and everybody believed we could bounce back."
Defenseman Mike Green scored his first goal of the series Sunday, ripping a wrist shot past Lundqvist (another one glove-side) on a power play at 13:58 of the first period. Green has played his best hockey of the series in the past two games, and to have the dangerous offensive blueliner become such a factor is another headache for the Rangers.
Ovechkin, who scored his third goal of the series Sunday, has been unstoppable. The Rangers have no answer for him.
And Tom Poti had a four-point day. Tom Poti!
Yes, folks, things are going Washington's way. The cream is rising to the top. And unless Lundqvist pulls off one last magic trick Tuesday night, the second-seeded Caps will be playing May hockey as most of us had predicted to begin with.
"We play like that and we're going to win most nights," Green said of Sunday's performance. "I thought we played a good game as far as five-on-five, playing simple. When we do that, we're very successful."
It's been a dramatic weekend in between shellackings for the Rangers. Coach John Tortorella was suspended for Sunday's game because of his altercation with a fan at Verizon Center in Game 5. To add some fuel to the fire, the Rangers released to the media the letter they sent to NHL commissioner Gary Bettman, underlining their issues with the Game 5 security, or lack thereof, surrounding the Rangers' bench.
Nothing like airing out your dirty laundry in public, eh?
To a man, none of the Rangers' players wanted to use L'Affaire Tortorella as a legitimate reason for Sunday's stinker.
"We can't use that as an excuse," said Gomez. "Torts ... he got us here. For us to use that, we are just making excuses. Schoeny and the coaches did a great job. We couldn't get it done."
Whether it's Tortorella or his Game 6 replacement, interim assistant coach/assistant GM Jim Schoenfeld, calling the shots behind the bench, the Rangers still don't have any answers for the Big Red Machine. It was hard enough trying to focus their efforts on thwarting Ovechkin or Alexander Semin or Nicklas Backstrom, but a dynamite line the past two games has been David Steckel between Brooks Laich and Matt Bradley. They opened the scoring again Sunday, setting up Jurcina.
"They played with confidence, they played great," Ovechkin said of the Steckel line. "Sometimes when the best players on the team can't score goals, somebody has to step it up and score goals. They do an unbelievable job. They play hard, they score goals, they bring energy and we play well."
One year later, the Caps have Game 7 at home again. Last spring, they dropped it in overtime to Philadelphia. But, boy oh boy, do these Washington players look confident heading into Tuesday's game at the Verizon Center.
"Yeah, they look good," said Caps coach Bruce Boudreau. "But at the same time, when you're down 3-1, there's no pressure on ya. There is, but they expect you to lose. Now, we'll see how they can handle it when you're expected to win. It's a different kind of pressure.
"It's probably something where the Rangers have switched now. They're sitting there going, 'There's no pressure on us because now nobody expects us to win.' So we have to be really well prepared."
Boudreau must have read Chris Drury's mind.
"The pressure is on them," said the Rangers captain. "They smoked us twice. Now they're going home. They're going to be saying it's over, it's their building. Clearly, we just have to be ready to play."
We're not convinced that will be enough, Chris.
Pierre LeBrun covers the NHL for ESPN.com.
ESPN Senior Writer
Covers the NHL for ESPN.com and TSN in Canada
Six years on the "Hockey Night In Canada" Hotstove panel
13 years at The Canadian Press national news agency
EDITORS' PICKS
Boston dealt a blow to Florida, while other Eastern playoff contenders looked to keep pace.
Inside the NHL

While it's too late for this season, the Blue Jackets are getting healthy and showing how tough they will be moving forward.
LeBrun »

Marc-Andre Fleruy has to prove he can dominate in the playoffs before anyone will expect the Penguins to make noise this spring.
Inside the NHL